Xiao Hong (1911-1942) was a talented female writer and part of the literary circle during the days of the Republic of China (1912-1949).
Although her life span was just half of that of widely known female writer Zhang Ailing (1920-1995), Xiao's literary talent and achievements were comparable to Zhang's.
At the 85th anniversary of her birth, the United Nations Educational, Scientific and Cultural Organization (UNESCO) hailed Xiao as one of the most outstanding contemporary women writers of her time.
Early Life
In June 1911, Xiao was born as Zhang Naiying in Hulan County, northeast China's Heilongjiang Province. She would later adopt the pen name Xiao Hong for her signature novel, The Field of Life and Death. Her mother passed away when she was young.
In 1927, Xiao attended a girls school in Harbin, capital of Heilongjiang Province, where she learned about the progressive ideas of the May Fourth Movement (1919), as well as Chinese and foreign literature.
When she graduated from the middle school in 1930, Xiao ran away from home to escape an arranged marriage, although she was eventually followed by her fiancé, Wang Enjia.
With no other alternative, Xiao ended up living with Wang. In 1932, facing severe financial difficulties, Wang abandoned Xiao at a hotel when she became pregnant.
As Xiao had no money to pay for the room, the hotel's owner threatened to sell her to a brothel. Xiao had to write to a newspaper publisher for help.
In this way, she met Xiao Jun (1907-1988), who would become the most important man in her life. He worked as an editor at the newspaper and the two shared an interest in literature. They soon fell in love and moved in together, during which time Xiao started her writing career.
In 1933, she wrote the short stories Trek and Tornado, and the couple later published a joint collection of short stories called Arduous Journey.
In 1934, Xiao got to know Lu Xun (1881-1936), one of the major Chinese writers of the 20th century. That same year, Xiao finished The Field of Life and Death, which helped her gain a place among China's literati of the time.
In its foreword, Lu described the work as "a female writer's meticulous observation and extraordinary writing to vividly portray the tortured lives of several peasant women". Lu also declared that Xiao would one day surpass Ding Ling (1904-1986) as China's most celebrated female writer.
In 1935, the couple completed a collection of autobiographical essays titled Market Street, named after the street on which the couple lived in Harbin. Later, Xiao published a long set of poems titled Sand Grains and some short stories, including On the Ox Cart.
Due to various emotional entanglements, Xiao broke up with Xiao Jun and married writer Duanwu Hongliang (1912-1996) in 1938. Two years later, the newly married couple made their way to south China's Hong Kong.
While in Hong Kong, Xiao wrote her most successful long novel, Tales of Hulan River, and a number of short stories based on her childhood, such as Ma Bole and Spring in a Small Town.
Xiao's Tales of Hulan River, which reflects the backward and ignorant mode of social life in northeast China's rural areas by recollecting various characters and life scenes in her hometown, had a preface written by Mao Dun (1896-1981), one of the best realist novelists in modern China, who praised the novel as an epic effort.
Lu also said that Xiao's writing represents the northeastern people's strong will for life and hard struggles with death.
Unfortunately, on the third day that the Japanese army took over Hong Kong in December 1942, Xiao was sent to hospital with severe tuberculosis. As a result of a misdiagnosis, Xiao underwent an unnecessary throat surgery, which left her even weaker and unable to eat or drink.
One week later, Xiao passed away.
Despite having been active in literature for less than 10 years, Xiao left a lasting impact on China's literary landscape and inspired thousands of others like her.
(Source: Yangcheng Evening News/Translated and edited by womenofchina.cn)
---
Xiao Hong died more than seventy years ago, the promotion by the media.
Xiao Hong is one of the most important novelist of 20th century Chinese literature. She died in Hong Kong in 1942 after a literary career of less than ten years which had in China a great impact. She remains very popular especially with a female audience .
Xiao Hong and Hong Kong media :
In 2012, the anniversary of her death had resulted in several events. Novelist known and admired in China, who died in Hong Kong, a good topic for the media industry who managed a few years ago the promotion of Eileen Chang (Zhang Ailing ) .
In 2013 took place: a dance theater production, "The life and death of Xiao Hong", an opera for the Arts festival, " Heart of Coral " and especially in a few days Ann Hui 's film " The Golden Era ". Ann Hui is a director of great talent but we can worry about the galaxy of stars she has regrouped for this film . We can fear that the film is only interested with the very active private life of Xiao Hong. This is what was criticized with a recently released Chinese film " Falling Flowers " directed by Huo Jianqi , which was not a success.
Hulan and Manchuria :
Xiao Hong was born in 1911 in Hulan, north- east of Harbin. You 've probably seen pictures of beautiful ice sculptures in Harbin, a few days ago, temperature was currently -40 °C at night!
A landowning family; her mother died when she was six years old. Her father remarried and was not interested. She was raised with her younger brother by her grandfather she loved. Boarder in the girls high school in Harbin, she wants to become a painter. Her grandfather died in 1930 and she escapes an arranged marriage by her father.
She runs off to Beijing with a student who she discovers is already married. Her fiance joins and convinces her to live with him in a hotel and leaves her pregnant and responsible for his debts. Xiao Jun, a writer already well known, allows her to escape. She gave birth to a daughter whom she abandoned at the hospital. She married Xiao Jun in 1932 and published her first novel "The death of sister Wang " ( 1), and a collection of short stories with Xiao Jun. In 1934, in Qingdao, she wrote the famous text "Land of life and death " ( 2) which Lu Xun, met in Shanghai, will have published after writing a preface .
"Land of life and death", an anti-Japanese novel ?
For Lu Xun, " this book combines meticulous observation by a woman author and her original style, beauty and freshness. The spirit is strong and even those who deeply hate the utilitarian function of literature and arts, if they read this novel, they will not remain unconcerned. "
In 140 pages, she describes the primitive peasant life in the Harbin area. Crops and livestock are much more important than children. "The death of a child is small matter. Do you think that at the death of my child, I burst into tears or went screaming "( p.132)
All positive characters in the book are women. Men are tolerated only as lovers but not as husbands and much less as fathers. Jinzhi will soon give birth, " she has been married for just four months and she already cursed her husband and felt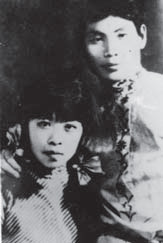 increasingly the insensitivity of the male characters ! Like the other women in the village . "( p.191 ). Besides her husband kills the little girl one month old in a fit of anger.
The book describes this northern Manchuria, little known at the time; it is with the talent of the author, one of the reasons for its great success. But it was presented as an anti- Japanese novel. This is not the case . Farmers are passive, fatalistic, few among them join and sometimes just for food. Resistance groups communist or not, are numerous and uncoordinated but the author shows her preference for the Revolutionary Army .
She was not a member of the League of leftist writers and kept an independence of judgment regardless of ideological creeds . A style very far away from the official realism; this could explain perhaps why she was forgotten until the 1980s.
The men in her life :
In August 1936, she published " Market Street " , which includes many small texts. A wonderful book that, through the triviality of everyday life tells us about her life in Harbin with Xiao Jun ( Langhua in the text), until they leave for Qingdao. Dozens of pages concerning hunger and cold, and Langhua's efforts to find employment as a teacher. She is isolated and lives only by her relations with Xiao Jun. "Yes I learned from my grandfather that besides coldness and hatred, life aussi includes warmth and love " (quoted by H. Goldblatt ) . A remarkable literary autobiography.
In the fall of 1936, she went to Japan partly to escape a difficult relationship with Xiao Jun who deceives her. Lu Xun 's death, her spiritual father, is a strong blow. In Wuhan, she meets Ding Ling who fails to convince her to join Yan'an. She parts with Xiao Jun to live with a writer Duanmu Hongliang , whom she married in 1938. With uncertain health between Wuhan and Chungqing, where she will give birth to a dead child. Early 1940, the couple retreated to Hong Kong  Her tuberculosis was not properly treated and she dies on January 22, 1942 .
Memories and nostalgia :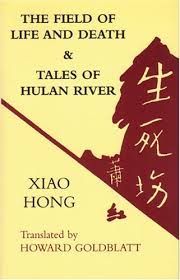 In Hong Kong, she completed and published " Tales of Hulan River " ( 5). This is a beautiful autobiographical novel about the small town of Hulan. Sometimes prose poems, sometimes nostalgic and rather sad developments and all this through the eyes of an innocent little girl. She describes the town, its festivals, its merchants, the shamans . She talks about her garden and the very happy relationship with her grandfather. She mentions tenants of her parents and among them the Hu family, which with a terrifying sadism, will cause the death of a child bride .
I will not comment on "Ma Bole ", which I have not read; a satire of war with a character who is an anti- hero. But we must insist on the quality of her short stories. Two are particularly striking: " Hands " ( 1936) ( 6 );in a college, the daughter of a dry cleaner is despised because her hands are black with dye; she tries to learn, to integrate, but she can only fail. Similarly " Mars in a small town " (2 ), where she evokes the life of Aunt Cui whom she met at her grandfather, " as a child of a widow (she) had neither a good destiny nor a good education. Besides her mother had remarried after the death of her husband, a scandalous thing … "
Finally it should be noted the essential role of Howard Goldblatt who introduced Xiao Hong outside China. He translated much of her work and in 1976, with his debut translation, wrote a biography. As he says : " I've never divorced Xiao Hong ." In 1980, he met Xiao Jun and received permission to go to Harbin and Hulan and interview people who knew the writer. He even in 1988 translated for Panda, a collection of short stories by Duanmu Hongliang " Red Light ". Xiao Hong, for Goldblatt is with Lao She, one of the great writers of the first half of the 20th century.
Bertrand Mialaret