Urbana, IL — When Gregory Davis, a US accounting professor, opened his first roster at the University of Illinois at Urbana-Champaign three years ago, he was shocked by the number of Chinese students in his class.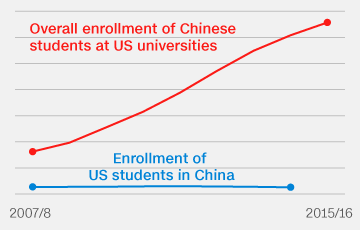 "Oh my gosh," he recalled thinking. "How am I going to pronounce these names?"
Davis previously taught on the East Coast and thought the student body in this Midwestern town surrounded by soy and corn fields would be predominantly domestic. This year, he says, his graduate class is at least 80% Chinese.
The number of Chinese students at UIUC has risen fivefold to 5,629 since 2008 — they make up a trend that's playing out in college towns across the United States as cash-strapped public institutions welcome the higher fees paid by international students.
It's easy to see the impact the Chinese students have had on this town of 207,000 — bubble tea stores, Sichuan food joints and Chinese hair salons have popped up. One street has at least six Chinese restaurants.
The number of Chinese students in the US has more than tripled since fall 2008 to 329,000. The Chinese students, who believe a US degree will dazzle employers back home, are also transforming US classrooms and shaping the way professors like Davis teach.
"I try to address in my first couple of classes that I'm okay with wrong answers in class because that's how the learning helps."
It's a shift in teaching patterns shared by many other professors, according to Yingyi Ma, a Syracuse University sociologist who is working on a book on Chinese international students in the US.
"Their (Chinese) classroom participation patterns right now really have pushed a lot of professors to think about how they can adjust the way they teach," says Ma.
To bridge the divide between domestic and Chinese students, Davis makes sure group projects and classroom seating aren't split along ethnic lines.
While most domestic students appreciate the diversity, some feel negative about the big Chinese presence, Davis says. They feel sore that international students take seats away from their high school friends.
It works the other way too. Before coming to college, Wang Dinghong said he'd imagined having a lot of American friends, but the sheer number of Chinese students means he has very few.
"The only way to solve this issue — and this might not sound very good — is to reduce the number of Chinese students admitted every year," Wang says.
Charles Tucker, UIUC's Vice Provost for Undergraduate Education and Innovation, says administrators are well aware of the lack of integration between Chinese and US students and are making efforts to correct it.
"Just as there is no learning without teaching and without student effort, there is no cultural learning or cultural integration without some programmatic effort and some individual effort," he says.
Ma says there's much discussion on university campuses about the lack of integration but few have found a way to address it.
There's a lot at stake. She says for Chinese students, it's a lost opportunity to be fully immersed in US culture and get truly fluent in the slang-laden conversational English of their American peers. US students miss out on learning about the culture of a rising superpower. For the university, she says, graduates with little sense of school spirit aren't likely to be the university's best ambassadors when they return home.
China's weight on US campuses is also felt by the 110 Confucius Institutes Beijing has opened nationwide. Their goal is to promote Chinese culture and language but several US institutions have cut ties over fears that a hidden ideological agenda undercuts academic freedom.
Davis, the accounting professor, says diversity will ultimately benefit all students.
"There's a lot of walls put up in the classroom," Davis says. "But if you actually spend that time to break down that wall, wow, it just makes the whole class and learning environment a whole lot better."
CNN