China increased its holdings of U.S. Treasuries by the most in two years, a sign that the world's second-biggest economy is stabilizing and stricter capital controls have helped to stem capital flight.
The nation raised its ownership of U.S. government bonds, notes and bills by $27.9 billion to $1.09 trillion in March, the biggest increase since March 2015, according to a monthly Treasury Department report released on Monday. That means China remains the second-largest foreign holder of American debt.
Adding the $3.7 billion surge in Belgium's ownership, which is often seen as a home to China's custodial accounts, the total increase was the biggest since 2014.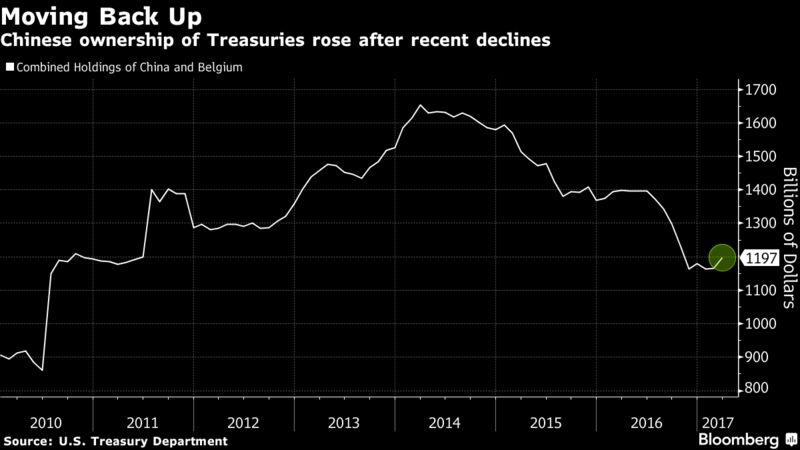 China's economy is staging a comeback as quickening inflation boosts factory profits, while stricter capital controls and a stabilizing currency help stem outflows. The curbs have helped arrest declines in the world's largest foreign-exchange reserves, where the Treasuries are held. The country's coffer ticked up for the third month to $3.03 trillion in April, after falling below $3 trillion in January. Reserves are still down sharply from a record $4 trillion in 2014.
"A lot of foreign demand is dependent on China's demand: the fact that they're such a concentrated holder means their purchases or sales will have an impact on the market," said Aaron Kohli, a fixed-income strategist at BMO Capital Markets. "Watching China's sale has been the market's obsession for the past couple of years. The question is whether China's reserves are going to stabilize or keep dropping."
Japan, the largest non-U.S. holder of government debt, increased its total to $1.12 trillion, up $3.4 billion from a month earlier.
Total foreign ownership of U.S. Treasuries amounted to about $6.08 trillion in March — the highest since September, but down from a peak of $6.3 trillion a year earlier. Net purchases of U.S. Treasury bonds and notes by foreigners were $24.4 billion, the data show.
The report, which also contains data on international capital flows, showed net foreign buying of long-term securities totaling $59.8 billion in March. It showed a total cross-border outflow, including short-term securities such as Treasury bills and stock swaps, of $700 million.
by Andrea Wong Bloomberg