The Kushner family wants a piece of the huge tide of money that'sbeen flowing out of China.
Over the weekend, the Kushners' business was trying to drum up millions of dollars in Chinese investment for a New Jersey skyscraper project. To do so, they're promoting a program that allows people to pay big money to emigrate to the U.S.
Wealthy Chinese citizens have been falling over themselves to participate in the EB-5 program, which makes immigrants eligible to apply for a green card if they invest over $500,000 in a project that creates U.S. jobs.
It has attracted tens of thousands of applicants and billions of dollars from China in recent years.
Chinese citizens have snapped up more than 80% of the visas issued under the program since 2011, according to Invest in the USA, an industry association, and there's a huge backlog of applications.
Related: Kushner family in Beijing: 'Invest $500,000 and immigrate' to U.S.
China's growing middle class is attracted by the prospect of better opportunities for their children and what they perceive as a safer place to funnel some of their money, according to industry experts.
"Chinese people are pretty affluent now," said Stella Guo, a marketing director at CanAchieve Consultants, which helps Chinese clients obtain visas under the EB-5 program. "Their main reason for wanting to immigrate is … for their kids' education."
The program, which has been around since 1990, is big business for developers like Kushner Companies, whose former CEO, Jared Kushner, is President Trump's son-in-law and senior adviser. The firm has already raised money from Chinese investors through the EB-5 program for another tower in New Jersey, which licensed the Trump name.
Jared Kushner has stepped away from the business since taking a key role in Trump's White House. His attorney, Blake Roberts, said Kushner is not involved in the operation of Kushner Companies and divested his interests in the New Jersey project by selling them to a family trust that he, his wife and his children are not beneficiaries of, which was suggested by the Office of Government Ethics.
Related: Where millionaires are moving: Australia tops the list
Chinese investors often seek a country offering a Western education system and better quality of life than China. After Australia and Canada changed their immigration rules, the U.S. program is one of the cheapest and least restrictive, according to experts.
"It's the usual reasons: education, political uncertainty, pollution, quality of life issues, and how much bang can you get for your buck," said Eugene Chow, an immigration lawyer at Chow King & Associates in Hong Kong.
Three-year waiting list
The EB-5 program also gives wealthy Chinese the opportunity to move a big chunk of their savings abroad at a time of uncertainty about the future of the world's second-largest economy.
But soaring Chinese demand in recent years has made the visas increasingly hard to obtain. Only 10,000 people a year are granted one, and the U.S. government has limited the number that can be issued to citizens of a particular country in a single year.
That's helped drive up the waiting time for Chinese investors to around three years, according to immigration law firm Wolfsdorf Rosenthal.
Related: Stocks crash to push more China cash into global real estate
And the big investments in U.S. projects don't always work out.
"It's not the best vehicle for getting into America, although it could be the right one for certain Chinese who don't care about losing a half a million so long as they get their green cards," Chow said.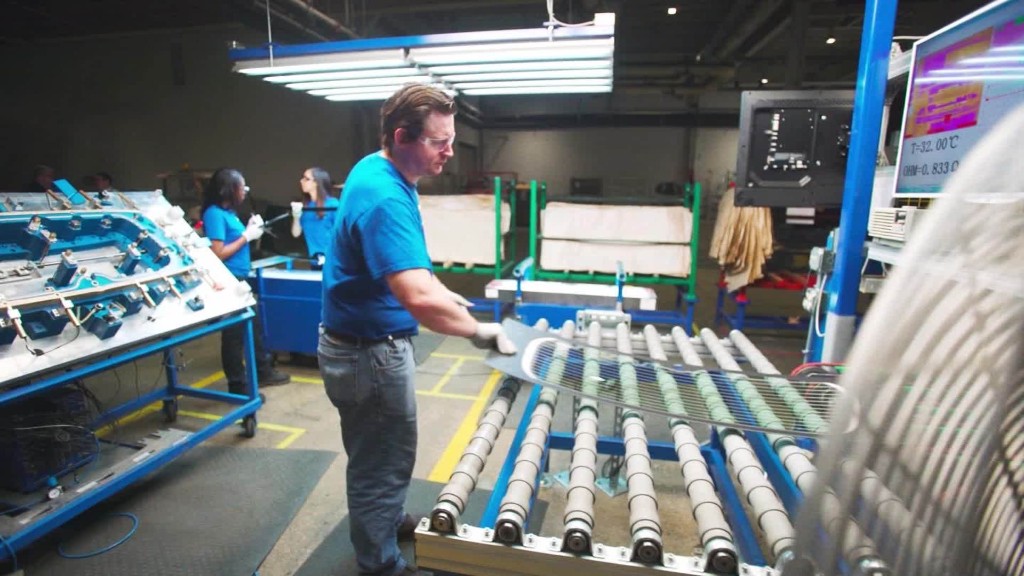 That may be the case for the super rich. But according to Guo, the money matters a lot to the growing numbers of middle class Chinese applicants.
"They care about the cost, they care about the green card, they care about the security of their investment," she said.
Under fire in the U.S.
The program has stoked controversy in the U.S.
President Trump has taken a tough stance on immigration and vowed to severely tighten the use of work visas. The EB-5 program has come under fire by members of Congress on both sides of the aisle.
A Government Accountability Office report has found that the program is susceptible to fraud. Its defenders say it's created or sustained hundreds of thousands of American jobs.
Last week, Congress extended the program without any changes until Sept. 30.
Related: Congress takes aim at visa program that benefited Trump family businesses
In Beijing on Saturday, potential investors in the Kushner project were told they should act quickly because the minimum investment for the EB-5 program could go up.
In January, the U.S. Department of Homeland Security proposed increasing the amount to $1.35 million from $500,000, which experts say has caused an additional flurry of applications.
But interest isn't expected to wane even if the price goes up.
"We have every reason to believe there will continue to be a lot of demand for visas for the U.S. from Chinese investors," said Dave Platter, global communications director at Juwai.com, a property search engine that lists real estate around the world for Chinese buyers.
by Alec Macfarlane
— David McKenzie contributed to this report.
CNNMoney