The revival of trade negotiations between the U.S. and China after a months-long standstill has provoked new hopes in financial markets that an all-out trade war between the world's two largest economies may be averted.
Yet this week's meetings in Washington also appear set to highlight the continuing divide inside the Trump administration over how best to deal with Beijing and how China hawks are winning that battle.
U.S. Treasury Undersecretary for International Affairs David Malpass and Chinese Vice Commerce Minister Wang Shouwen are meeting Wednesday and Thursday for the first face-to-face trade discussions held by the two sides since June. Hanging over the meetings will be the next round of tariffs on $16 billion of each nation's exports to the other, which are set to take effect at 12:01 a.m. New York time on Thursday.
The talks between the mid-level officials aren't expected to draw in senior decision-makers and are predicted only to result in a joint statement of productive discussions, according to a person familiar with the agenda. The discussions will touch on the major friction points, ranging from intellectual property protections to re-balancing trade, the person said.
President Donald Trump himself has played down expectations in recent days while reviving a point of friction by accusing Beijing of manipulating its currency to offset the impact of his tariffs.
That, analysts say, is partly because Trump and China hawks in his administration are feeling increasingly emboldened since the two sides held talks in May and June. At home, Trump has watched the subdued reaction of financial markets to his trade maneuvers and hailed recent strong economic news and polls showing his approval rating holding up among Republicans. Meanwhile, in China the economy has shown signs of weakness in recent months — a circumstance Trump has said gives the U.S. an advantage.
Commerce Secretary Wilbur Ross, speaking at an aluminum plant in Kentucky on Wednesday, said it's the right moment for a trade spat with China because of the economy's strength. "If you have to get in a slug fest with someone, right now is a good time to do it," Ross said, later adding that any interaction with Chinese officials offers hope of finding a solution.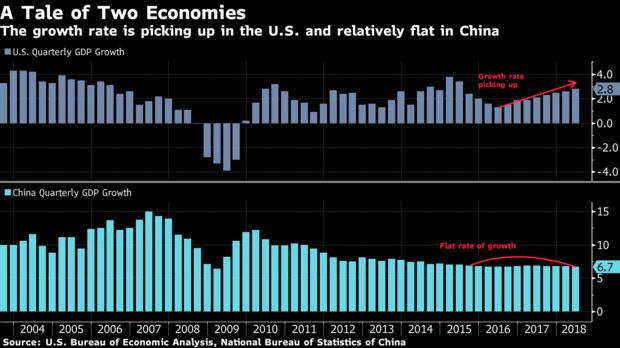 "Here we are three months later and if anything during that time the hawk's position has been consolidated because we drove over the cliff and discovered our car can fly with the U.S. economy still doing fairly well and President Trump still popular among Republicans," said Scott Kennedy, an expert on U.S.-China relations at the Center for Strategic and International Studies in Washington.
The administration still remains divided over how best to tackle China. While Treasury Secretary Steven Mnuchin is eager to find a negotiated solution, other cabinet members such as U.S. Trade Representative Robert Lighthizer are keen to continue increasing the pressure on Beijing, analysts say.
The Treasury Department didn't respond to an emailed request for comment.
Lighthizer has been behind the growing pile of tariffs being rolled out on imports from China. With the further $16 billion in products due to be hit, some $50 billion in annual imports will be subject to added duties. But the USTR's office has also been holding hearings this week on a further $200 billion in imports to be targeted as soon as next month.
"USTR is not going to engage the Chinese seriously right now unless the president orders them to," said Derek Scissors, a China expert at the American Enterprise Institute in Washington. "If you are China and you want to have talks, then it is Treasury that you are going to have to talk to."
Given Trump's obsession with the yuan's recent weakening, which has helped blunt the impact of the U.S. tariffs, the Chinese delegation could this week offer a private pledge to not let the currency weaken further as long as negotiations continue, Scissors said. Such a commitment might lead to further discussions.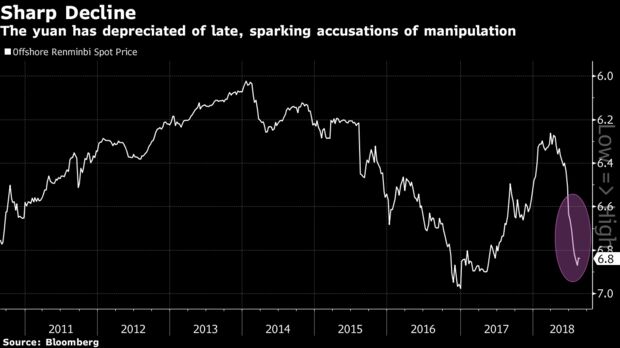 But Trump's decision to tear up a deal negotiated by Mnuchin earlier this year has left Chinese officials perplexed about who to trust in Washington and weakened Mnuchin's position.
"We felt that the Commerce Department is tougher than Treasury, and USTR is tougher than the Commerce Department," said Mei Xinyu, a researcher at the Chinese Academy of International Trade and Economic Cooperation affiliated with the Ministry of Commerce. "The two sides have in common that neither wants a complete breakup despite the fight."
U.S. Treasury officials have been working on a revised list of American demands in the lead-up to this week's meetings, according to people familiar with the U.S. preparations. That effort, however, has been resisted by other parts of the Trump administration and it is unclear whether they will be ready to be presented to the visiting Chinese delegation.
The initial list of U.S. demands presented to China in May included a call for a $200 billion reduction in American's annual goods trade deficit with China by 2020 — which stood at about $375 billion last year — and an end to industrial policies that the U.S. claims violates global trading rules.
The resistance highlights what some see as Mnuchin's weakness within the administration on China after his chastening earlier this year when Trump reversed a carefully constructed initial deal with Beijing.
Rod Hunter, who served on President George W. Bush's economic team and is now at law firm Baker McKenzie, said while other U.S. Treasury secretaries had successfully led talks with China, Mnuchin wields less internal power than many of his predecessors and, importantly, has little control over the cudgel of tariffs.
"While it may be possible for the secretary of the Treasury and his staff to negotiate an agreement, the tools are on the trade side," Hunter said.
This week's talks are also taking place as hundreds of executives and officials from U.S. companies, trade groups and other entities have descended on Washington to weigh in on the administration's planned tariffs on the additional $200 billion in Chinese imports. Most have been asking for goods to be removed from the list of products.
The administration has said it wants to avoid consumer products and target industries critical to China's economic future. Yet companies including Fitbit Inc. and iRobot Corp. are complaining that their bicycles, handbags, sports equipment and a swath of additional products across multiple industries are being unfairly targeted.
"We question the logic that short-term pain will lead to long-term benefits," Naomi Wilson, director of global policy, China & Greater Asia for the Information Technology Industry Council, testified Tuesday. The group represents companies including Amazon Inc., Apple Inc. and Facebook Inc.
By Shawn Donnan, Jennifer Jacobs, and Mark Niquette
— With assistance by Jeff Black, Miao Han, and Joe Deaux
Bloomberg