The leadership committee of Tencent, the Chinese internet colossus, usually holds its annual off-site at a comfortable Japanese resort or Silicon Valley hotel. Last fall it went for something more epic: a two-day hike through the harsh wastes of the Gobi Desert.
The committee traveled in a manner befitting the 14 most senior executives of China's most valuable company. Helpers assembled their tents, and water was trucked in at considerable expense for showers. Yet by the end of the first day's 26-kilometer (16-mile) hike, some members were petitioning to pack it in and go home early. Martin Lau, Tencent Holdings Ltd.'s president, and "Pony" Ma Huateng, its co-founder and chief executive officer, insisted on forging ahead.
On the second day they hiked another 26 kilometers and, weary and blistered, made it to Dunhuang, once a frontier town on the Silk Road. While the executives had been wandering the desert, Tencent's stock had risen to make it the most richly valued company not only in China, but in all of Asia—a record it now trades back and forth with its archrival, Alibaba Group Holding Ltd. The Tencent team launched into an enthusiastic celebration during a hotel banquet.
The executives would like it to be known, though, that their exuberance wasn't about the stock. It was about the journey. "The trip is representative of the culture of the company," says Lau, months later, from the comfort of Tencent's high-rise offices in Hong Kong. "We are much more focused on the direction of where we are going and the process than the share price."
Where the company wants to go, eventually, is outside its home market. Tencent, which is based just north of Hong Kong in Shenzhen, permeates daily life in China. More than two-thirds of Chinese people use its two messaging apps, WeChat and QQ, for everything from texting to shopping, flirting, dating, watching videos, playing games, and ordering food and taxis. According to venture capitalist Mary Meeker, Chinese users collectively spend 1.7 billion hours a day on Tencent apps, more than they spend on all other apps combined.
Ma founded Tencent 19 years ago in a cramped Shenzhen office with three college classmates and a friend. For their first product, they cloned an Israeli-made instant messaging service and adapted it for the Chinese market. Unlike Jack Ma (no relation), the billionaire co-founder of Alibaba, Pony Ma had little overseas exposure, knew only rudimentary English, and rarely appeared in public. Colleagues and friends say he's a typical Guangdong province businessman, shy and wary of the spotlight. In a widely distributed photo, taken at a 2015 meeting of Chinese President Xi Jinping and 28 of the world's most famous technology executives, including Jeff Bezos, Tim Cook, and Jack Ma, everyone is smiling and looking at the camera. Except for Pony Ma, who's staring at his feet.
While Ma is Tencent's chief visionary, Lau, 44, is the lead strategist and steward of day-to-day operations, as well as the one who fields questions during Tencent's quarterly conference calls with investors and analysts. Slender and bespectacled, he's a devout Christian, an avid gamer, and widely liked and respected—at least among those who've heard of him.
"I actually think most people in Silicon Valley have no idea who Martin Lau is at all," says Sean Liu, a China-born investment manager at the San Francisco office of venture firm Vy Capital. "It's shocking, because it would be the equivalent of people not knowing who Sheryl Sandberg is if they cared about Facebook. Except that Martin Lau is even more powerful and influential within Tencent and in China's technology community."
Indeed, though Lau attended college in the U.S., speaks English fluently, and is what passes for the public face of Tencent, he has until now largely evaded Western media attention. But there's no hiding any longer, now that he has one of the most formidable challenges in all of business: taking a quintessentially Chinese company to the world.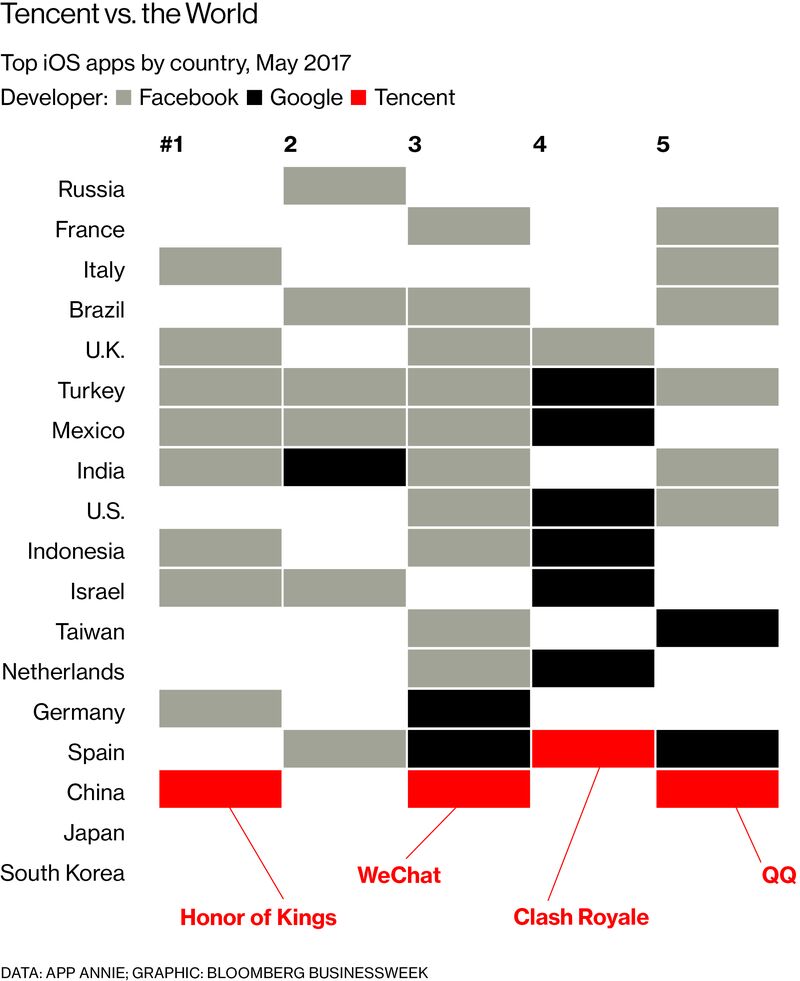 Lau first encountered Tencent in 2003, when the company was five years old and he was still a banker at Goldman Sachs Group Inc. Back then, Tencent had about 1,000 employees and was known primarily for its QQ messaging service—the first to allow Chinese youth with common interests and backgrounds to find each other online—and for its winking, scarf-wearing penguin mascot.
Tencent made 735 million yuan ($108 million) in revenue that year selling ads and upgraded services (such as fancier user names) on QQ, and it was beginning to add games. But the dot-com bust had left its original investors skeptical of its prospects, and they'd sold the majority of their interest to the South African media company Naspers Ltd. Now, Tencent was planning to go public—one of the first listings of a Chinese internet company since the downturn. Lau specialized in telecommunications and media for Goldman's Hong Kong office. In the course of angling to handle the initial public offering, he and his colleagues scrambled to appear savvy, even skirting their firm's computer-network firewall by asking a colleague in Beijing to sign them up for QQ accounts. Then they printed their user names on new business cards before meeting up with Tencent.
Goldman got the IPO. The Tencent management team was so impressed by Lau, in fact, that on the roadshow before going public, they offered him a job. Ma and his co-founders had computer science backgrounds, but they had little international experience and knew they needed help building a sustainable business. As their banker, Lau thought it was a conflict of interest. But he also admits that he wasn't entirely sold on the job's prospects. "To a certain extent, I was trying to see if this was real or not," he says.
The company went public in June 2004, raising HK$1.4 billion ($180 million). Its early games showed promise, boosting revenue 55 percent that year. By the end of 2004, Pony Ma and his co-founders, by then multimillionaires, once again offered Lau a job.
In a sense, Lau had been working toward such a role all his life. His parents, both electrical engineers, were foreign-born Chinese (his father was born in India, his mother in Indonesia) who'd met and married in Beijing. Lau and his older sister were born during the final years of the Cultural Revolution. The family left for Hong Kong when he was 6, during the reformist regime of Deng Xiaoping. "History happened, and eventually they needed to find a better future for their kids," Lau says in lightly accented English. "It was a painful period of time."
Lau, whose full Chinese name is Lau Chi Ping, spent the rest of his childhood in Hong Kong, playing video games on his family's Apple IIe and dreaming about building rockets. His parents, he says, "gave us this notion that if you're an engineer, you can always survive in a lot of turbulence, because your skill is always needed." He tested at the top of his prep school class, then, after concluding that only Americans could join the space race, decided instead to study electrical engineering at the University of Michigan in Ann Arbor.
Lau was picked up at Detroit Metropolitan Airport by Arthur Yeung, a professor of management who would become his mentor and eventually a Tencent adviser. Yeung was also from Hong Kong, and he often helped his countrymen get situated. He introduced Lau to a church near campus. Lau started attending regularly; there he met his future wife, Millie, a business school student also from Hong Kong.
In the spirit of all overachievers, Lau loaded up on academic credentials, graduating from Michigan and then getting an engineering master's from Stanford and an MBA from the Kellogg School of Management at Northwestern University. After school, he went to work at McKinsey & Co., then Goldman.
Tencent's second offer resonated with him, he says, because it would allow him to tap his engineering skills. He accepted—taking, he says, a significant pay cut. Ma initially gave Lau the title of chief strategy officer and placed him in charge of investor relations and mergers and acquisitions, two fields largely unknown at the time in China.
Lau brought standard U.S. corporate practices, such as setting revenue goals, to Tencent and developed a five-year plan to enter new businesses such as social networking and digital media. "This was a discipline that was urgently needed for a young company growing extremely fast in 2004," says Hans Tung, managing partner at GGV Capital and a co-investor with Tencent in Didi, the Chinese ridesharing company.
In 2006, Ma promoted Lau to president and put him in charge of day-to-day operations. Although Tencent's revenue doubled that year, the five founders realized the company would soon need more professional management. In an internal exercise at the time, they all named hypothetical successors. Ma chose Lau.
Tencent grew quickly in the following five years, scouring Asia for games and adapting them for QQ. It had four of the five most popular titles played in Chinese internet cafes in 2011 and did a brisk business selling virtual body armor, healing potions, and other digital baubles to gamers. The company also had a popular social network, Qzone. "The combination of social and gaming is really what they pioneered," says Russian venture capitalist Yuri Milner.
Tencent also developed a reputation as the king of knockoffs, feared and loathed by Chinese entrepreneurs who believed that if they created something cool, Tencent would copy it. Western publications such as Business Insider belittled its creativity and business model. The magazine China Computerworld put a bloodied Tencent penguin on its cover above a profanity that translated roughly as "Tencent has sexual relations with dogs." The company also engaged in an embarrassing legal spat with the Chinese internet security company Qihoo 360 Technology Co., with each side accusing the other of anticompetitive behavior. (Tencent eventually won the lawsuit.)
In 2011, Lau and Ma decided the time was right for some institutional self-reflection. Tencent invited 72 industry experts to a series of 10 closed-door meetings, which employees refer to as the "conference of the gods." The invitees were asked to address executives with their criticisms and recriminations—and the visitors didn't hold back. "Tencent staff were quite clueless to how strong and blunt the feedback would be," says Hu Yanping, founder of the Beijing-based internet consultant DCCI & FutureLab, who took part in the sessions. "It was the first time high-level management at Tencent faced such a fusillade."
The feedback helped the executives understand that their problems ran much deeper than lousy public relations. "We started to realize, OK, there's something wrong," Lau says. In particular, the company needed something to help shake its reputation as a ferocious copycat.
Fortunately for Tencent, the answer was already being developed. One very late night at the end of 2010, a programmer named Allen Zhang, the founder of a Guangzhou-based email startup acquired by Tencent, had sent a message to Ma asking if he could develop a social network tailored for smartphones. Ma, who usually doesn't go to bed until 4 a.m., consented. Zhang and 10 of his colleagues went to work in a blackboard-covered office and came up with Weixin, or WeChat.
The service was released in January 2011 and rose in tandem with booming smartphone sales in China, reaching 100 million users in 2012 and triple that number a year later. Learning from its obsessive control of QQ, Tencent allowed corporations to set up "official accounts" to broadcast messages and interact with users, which in turn gave the network momentum.
At the same time, the company was also learning how to cut its losses and play to its strengths. In 2013, Tencent gave up on its floundering search business, turned it over to a competitor, Sogou Inc., and invested $448 million in Sogou instead. The following year it sold its equally unsuccessful e-commerce initiative to JD.com Inc. and invested $214 million in JD for a 15 percent stake.
Before these deals, Tencent "was involved in everything," says Zhang Lei, founder and CEO of Hillhouse Capital Group and an early JD.com and Tencent investor. After the deals, "it only focused on what it did best and entrusted other sectors to partners." Zhang gives much of the credit for these moves to Lau. "Martin is first and foremost a great business analyst," he says. "He knows what wars to fight."
WeChat now has 937.8 million active users, more than a third of whom spend in excess of four hours a day on the service. To put that in context, consider that the average person around the world spends a little more than an hour a day on Facebook, Instagram, Snapchat, and Twitter combined. Tencent's services are so pervasive in China that startups there find it difficult to refuse forging alliances with or accepting investment dollars from the company. "It's a little bit like the Godfather Don Corleone saying, 'I'm going to make you an offer you can't refuse,' " says Andy Mok, founder and president of Beijing-based consultant Red Pagoda Resources LLC. "If you don't take their money, and they invest in a competitor, it can be deadly."
With WeChat's rise, Tencent has tried to act like, or at least look like, a global technology leader. Later this year it will join Apple, Amazon.com, and Facebook in opening pricey new headquarters—a pair of conjoined glass skyscrapers designed by Seattle-based architecture firm NBBJ Design LLP. The towers, linked by three angular skybridges, resemble giant, slow-dancing robots. Ma and Lau will have adjacent offices.
These days, Ma focuses on products and technology development, chairing the company's marathon fortnightly management meetings, which can last 10 hours or longer. He also handles government relations, because Chinese Communist Party officials expect to talk to the head honcho. Lau's Hong Kong origins handicap him in this regard; when former Chinese President Hu Jintao visited Tencent in Shenzhen in 2010, because of government security protocols only executives who were considered part of the Communist Party apparatus could ride the elevator with him.
Lau has been going to great lengths in search of profile-raising international M&A deals. Tencent is nearing market saturation in China and has to look elsewhere if it wants to continue to grow at the same torrid rate. He says that in 2013 he wanted to make a significant "strategic" investment in Snapchat but had to settle for investing a smaller amount. He declines to reveal the exact numbers he had in mind. "There was a time when Evan wasn't sure whether it was a good thing or not," he says, referring to Evan Spiegel, Snapchat's CEO. "At the last minute, he decided he didn't want to have a strategic investor."
In early 2014, Tencent was interested in buying the messaging service WhatsApp. An acquisition would have shocked the world and given Tencent immediate global reach. But as they neared the final stages of an agreement, Ma, who took an interest in the deal, had to undergo back surgery, which delayed a visit to Silicon Valley to negotiate with founder Jan Koum. Mark Zuckerberg then swooped in and acquired WhatsApp for $19 billion, more than twice what Tencent had considered paying.
Last year, Lau finally landed an attention-grabber. SoftBank Group Corp., the Japanese tech conglomerate, was putting Finnish mobile game company Supercell Oy on the market. "When SoftBank told us they were looking to sell, we took a deep breath and said we should look at it very seriously," Lau says. Tencent entered negotiations to buy the company, maker of the international megahit strategy game Clash Royale, and Lau flew 10 hours to Helsinki, despite a high fever, to meet the company's senior executives. In preparation, he did what any top executive in his situation would: He played Clash Royale. A lot. So much, in fact, that he notched what at the time was the 97th-highest score in the world. "It's a way for me to do due diligence," he says, with no discernible sarcasm. "I still play it. But at that time, it was very intensive playing." When Ilkka Paananen, Supercell's CEO, heard about the score, he apparently expressed skepticism and challenged Lau to play against an accomplished Supercell employee. Lau won. Soon after, Tencent acquired a controlling interest in Supercell.
Tencent has also tried to expand globally the natural way, by introducing its products in different countries. But some of the very things that make it a juggernaut at home have handicapped it elsewhere. Design, for example: Chinese users have developed an affinity for complex bundles of features jammed into dense, supersized apps. In the U.S., where there are different streamlined apps for booking movie tickets, ordering meals, reading news, and so forth, it's a much tougher sell.
Another local hit that Tencent is just starting to try to translate abroad is WeChat Pay, used in China by about 600 million people—and even embraced by its onetime legal adversary, Qihoo. The service takes advantage of Chinese banks' low processing fees, allowing users to send very small monetary gifts dubbed "Red Packets" to each other. In the West, bank fees are considerably higher, which makes such small transactions impractical.
Then there's the matter of Facebook Inc. and WhatsApp, which have a huge market advantage pretty much everywhere outside China. Going overseas, Lau says, "is essentially the challenge of every Chinese company. We tried to make WeChat international. The reality was that there were other products in the market already."
Perhaps Tencent's greatest hope for overseas expansion rests with the increasing number of its Chinese users moving or traveling abroad and carrying the gospel of WeChat with them. But there's a challenge here as well. Civil rights researchers at the University of Toronto recently reported that Tencent scans user submissions for certain keywords and removes content and images related to controversial political and cultural topics—as all Chinese internet companies must. Tencent also censors the accountsof China-registered WeChat users who travel internationally, even if they switch cell phone numbers. The company won't comment on the report, but if the findings are true, the practice could put it in a difficult spot. "To gain wider success, the app must maintain its base in China, all while staying within the Chinese government's boundaries and presenting a compelling experience to attract international users," says Masashi Crete-Nishihata, research manager at Citizen Lab at the University of Toronto.
Tencent, Lau says, "ascribes to the notion that if you operate in a country, you have to abide by their law."
All this means his job is only going to get more difficult. Lau and Ma are also placing bets on different technologies, taking Tencent far from its original businesses. This spring the company announced plans to open artificial intelligence labs in Shenzhen and Seattle; Lau also says it's developing a countertop smart speaker, which could be released in a few months. And Tencent recently took a 5 percent stake in Tesla Inc.—the result, Lau says, of several meetings with Elon Musk in California and an interest in exploring the future of transportation.
As ever, Tencent is still making enemies—potentially some extremely large, rich ones. Earlier this year, the company introduced what it calls "mini-programs" that allow smartphone users to access other companies' services on WeChat without downloading their apps. Many internet observers viewed this as Tencent positioning WeChat as an operating system for phones and an assault on Google Inc.'s Android and Apple's app store. A few months later, Apple Inc. forced Tencent to disable a feature that allowed WeChat users on their iPhones to leave gratuities for bloggers, because it bypassed Apple's own app payment system. Was this a brewing war between behemoths? Lau dismisses the idea. "People from the outside like to have this giant-playing-against-giant story," he says.
But even by the standards of China, land of authoritarian one-party rule, Tencent has to be careful about coming off as a bully. The company ignited another controversy in May when it added to WeChat its own search engine and a Facebook-style news feed. Outsiders worried it gave the company too much control over news and other posts presented to users. Anti-Tencent memes quickly started popping up in Chinese social media. One image that went viral is a screen grab of the new WeChat interface, annotated in a bright red font with all the companies that Tencent was threatening with each feature in the app.
Lau waves off the criticism that Tencent is some sort of predator. Adding search and news, he says, allows the company to use data and AIto serve up more personalized material.
Then he smiles and reaches for his own phone. It turns out Lau also saw the screen grab meme. With an amused look on his face, he scrolls through his WeChat feed to show it off.
By Brad Stone and Lulu Yilun Chen
Bloomberg