Beijing and Shanghai are now well known for their ballooning house prices — double-digit gains last year prompted more regulatory tightening. But the the risk factors that could decide the fate of China's property boom can be found well beyond the capital and biggest city.
A close look at the available economic data of ten cities reveals big differences in the factors that can inflate, and deflate, property bubbles, including population growth, income gains and the ratio between house prices and pay.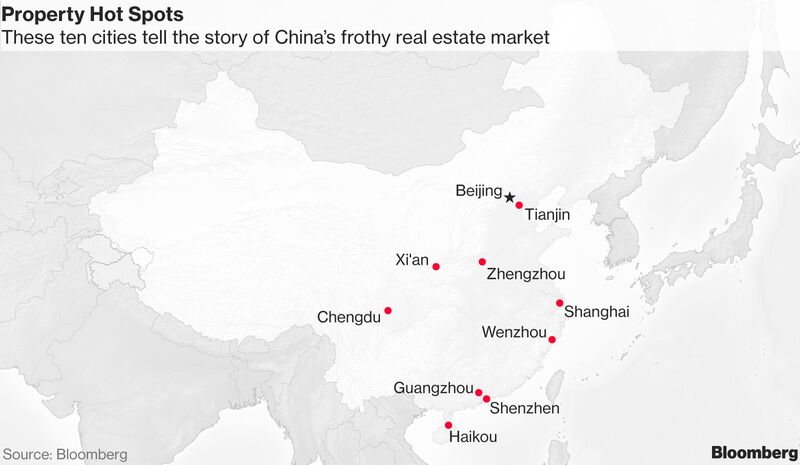 For these ten, selected out of a roster of 70 that the government monitors closely on the basis of their national or regional relevance, how the economic factors perform could indicate which are more at risk from a sudden reversal of property-market fortunes.
On that basis, Shanghai and Beijing — facing lower population growth, moderate increases in wages and elevated home prices — appear more vulnerable. For that reason, they've got among the strictest curbs on who can own property and how it is financed. The two mega cities, both with more than 20 million inhabitants, are also planning to cap on their population, and curb urban sprawl, traffic congestion and air pollution.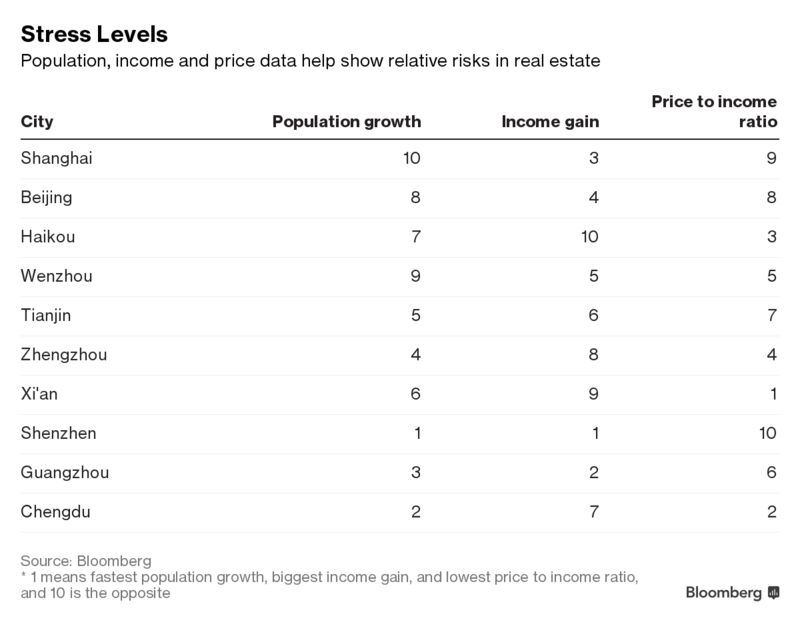 With a proportionately bigger influx of new residents and and top-notch wage growth, Guangzhou and Shenzhen in the south may face less pressure.
Smaller cities can also display dangerous fundamentals. Haikou, the capital of tropical Hainan island — China's Honolulu — displays meager wage gains and lower population growth. That hasn't stopped it topping the table for credit expansion though, as investors from outside pile into property there.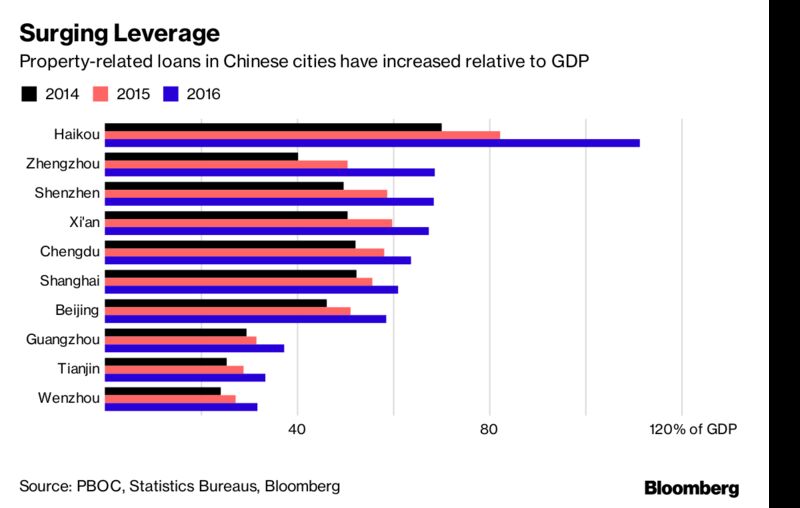 Small cities that have little population inflow, flat income growth but rising home prices, are often regarded as more prone to risks of a property bust, said Zhao Yang, Nomura Holdings Inc.'s chief China economist.
Indeed, Haikou has been here before, having suffered the bursting of an earlier bubble in the 1990s. While most of the ten cities have seen a substantial bulge in property loans, which include both mortgages and developers' debt, Haikou has seen real estate loans jump to more than 100 percent of its 2016 economic output. The city has a population one-tenth the size of Shanghai's, and its GDP is 4.5 percent of the financial hub's.
The exception among the sample is Wenzhou, a cluster for small and medium-sized businesses making goods for export — everything from shoes to lighters. Credit expansion in the coastal city is much more restrained than the other peers, showing that it may have drawn some lessons from its own property bust in 2012.
Hefty mortgages have pushed up Chinese household debt, reducing their room for maneuver should income growth stall, according to recent research by Gene Ma, chief China economist at the Institute of International Finance in Washington.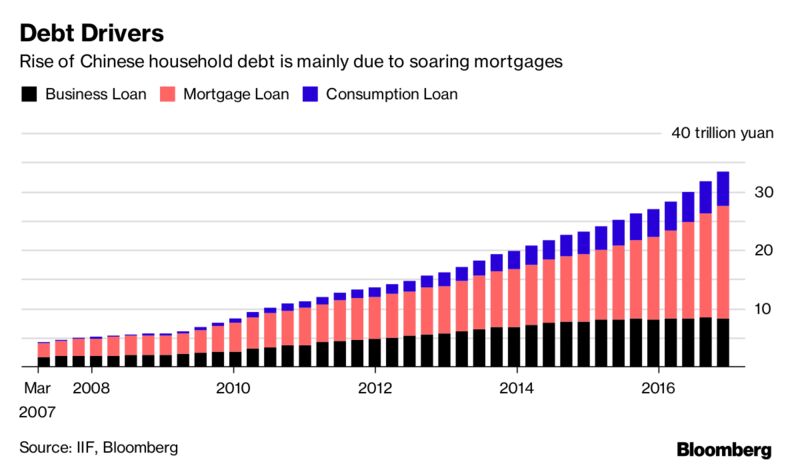 In general, it's debt that's the warning sign. As developers and households become more leveraged, the risk is that a price downturn doesn't remain contained within the property market.
"The high leverage will amplify the damage to the economy if a property bust happens," said Bloomberg Intelligence economist Fielding Chen. "The shock wave will be passed onto the entire financial system, and losses will be greater," he said.
Once home prices tumble, about 40 percent of Chinese banks will be hit hard, according to a recent research note from Ping An Securities.
Analysts have argued that the debt load in the Chinese property market is far from a carbon copy of the situation in Japan's bubble era before its bust in the 1990s, nor is it similar to the sub-prime crisis in the U.S. a decade ago.
With down payment requirements of at least 20 percent for first purchases and as much as 70 percent for second homes, China's household mortgages still stand at relatively safe levels, said Wang Qiufeng, an analyst at China Chengxin International Credit Rating Co. in Beijing.
Ping An Securities also argues that the odds of a property crash happening in the near term are very small.
But as household debt-to-income ratios have risen almost to levels seen in advanced economies, the potential impact on the economy of a popping bubble would be considerable. Chinese policy makers have taken action to cool individual markets, with some effect. In August, prices rose in the fewest cities since the beginning of the year.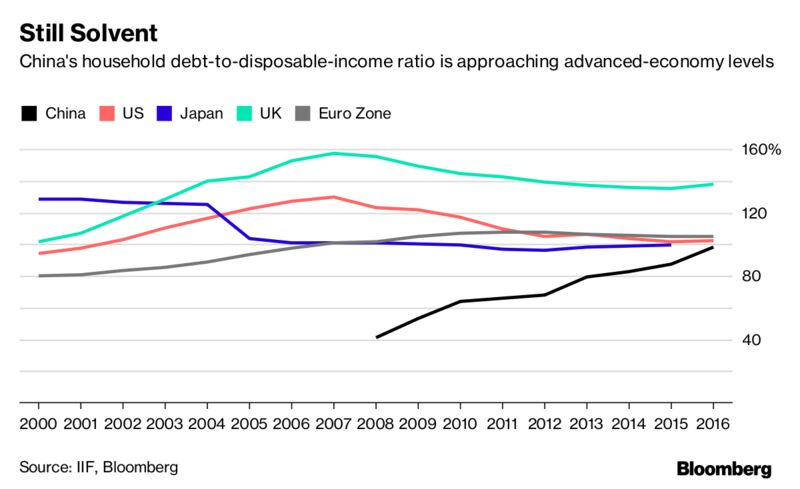 The Chinese government has a lot of "ammunition in the arsenal", ranging from increasing land supply and curbing demand through property taxes, and the market should remain safe unless a "huge" policy mistake occurs, said Nomura's Zhao .
In the end, the fundamental pressure on the property market may originate with the nation's historic excess saving — and the capital controls currently designed to keep funds from fleeing the country. That's not a situation that is likely to last for ever, according to Zhao.
"Whenever capital controls ease to a point that money can go offshore easily, China's real estate market will face elevated risks," he said.
Bloomberg News
With assistance by Miao Han, Molly Dai, Emma Dong, and Paul Panckhurst