The growing wave of Chinese tourists will break across the world with unprecedented force and in unexpected ways over the next decade. Some of that future is taking shape in Macau, which will likely remain a bellwether for these emergent trends. That's the message from a pair of new studies, one peeking over the horizon and one peering deeply into today's mainland China gambler in Macau.
Investment advisor Sanford Bernstein is issuing a series of reports under the heading of China Abroad, examining the cross-sector impacts of increased outbound Chinese travel. Bernstein's team of more than a dozen analysts on three continents forecasts that overseas trips from mainland China will grow from 135 million last year to 260 million by 2025, 100 million of those incremental trips to destinations beyond Hong Kong and Macau.
Chinese travelers will spend US$411 billion and remain the world's largest consumers of luxury goods. After all, Chinese visiting the Hermes flagship store in Paris today seeking a place on the purported secret waiting list for leather goods may not receive their Birkin or Kelly handbag until 2025. Ordering that bag in person, and thus avoiding value added taxes in both France and China, means their trip to Paris is effectively free, or at least feels that way.
Bernstein suggests that China may seek to bring more of that spending home by cutting luxury taxes, a policy sure to find favor with the vast numbers of designer outlets in the mainland. But the sheer number of travelers and the snob appeal of having Gucci loafers from the original Florence shop or a Tiffany necklace from Fifth Avenue, where Holly Golightly or Melania Trump may have tried it on, will ensure China dominates global luxury sales.
The real change will be Chinese travelers moving "from the middle cabin to the middle seat," as Bernstein puts it. Today, Chinese travel beyond Hong Kong and Macau is dominated by ultrahigh net worth consumers, the type who travel business class and wear designer clothes. Bernstein estimates they earn at least four times the US$9,000 average annual income of the top fifth of mainlanders. The new travelers will also come from China's top income bracket, but at the less wealthy end of that pool.
Macau, which last year registered 20 million mainland arrivals, one in seven of the global total, previews how some of these trends will play out. Morgan Stanley's annual survey of 1,000 mainland Chinese gamblers in Macau and the U.S., finds that while Macau's overall number of mainland arrivals has held steady, the number of unique visitors has dramatically increased, from 4.7 million in 2015 to 8.7 million this year.
Even though high rollers are leading Macau's gaming revenue recovery, the growth in numbers, according to Morgan Stanley analysts led by Praveen Choudhary and Thomas Allen, is coming from the so-called grind mass segment, tourists who gamble, not gamblers who travel, taking advantage of bargain rates on dramatically expanded guest room supply. Retail has also had growth spurt in supply, and, along with the usual luxury suspects, features more fast fashion and even mid-market names like Marks & Spencer.
Individual gamblers are visiting Macau less frequently – down from 4.4 trips in 2015 to 2.5 this year – and trying other destinations, a trend Morgan Stanley sees accelerating. However, high end gamblers are the ones most likely going further afield, to Las Vegas, or Australia or Europe, simply because they're part of that small group that can afford such trips. Even though VIP play is leading Macau's gaming revenue recovery, Bernstein says mass market play will drive Macau's growth in the long run, while  Morgan Stanley warns of risks to top tier premium mass market gaming.
Across the globe, Chinese high rollers will still be there and still matter, but they'll be swamped by the emerging wave of more moderately rich travelers. The new winners will be destinations that can serve them best, and it will take more than baccarat and Bulgari to win that contest.
By Muhammad Cohen
Forbes
---
China's Travel Growth to Outpace U.S. Over Next Decade
China's travel industry is projected to grow at an average rate of 8 percent annually from 2017 to 2027, outpacing other major economies like India and the U.S., according to the World Travel and Tourism Council. The upcoming Oct. 1-8 national holidays will be a barometer on the booming industry, with China Tourism Academy projecting 710 million trips, up 10 percent from last year.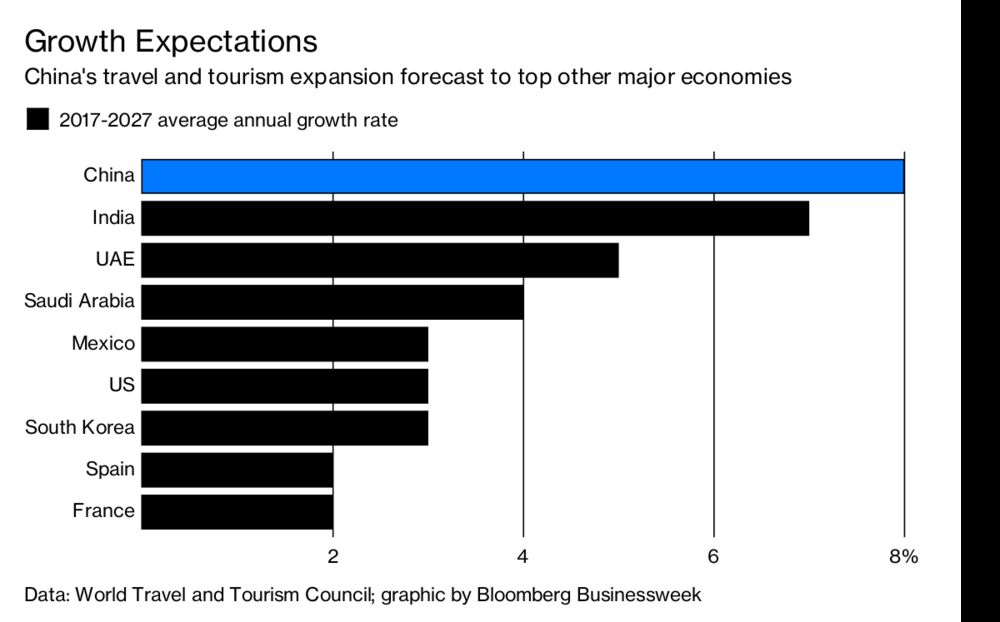 Bloomberg