The head of a Hong Kong-listed property company has become the first big name to formally hit back at high-profile billionaire Guo Wengui by filing a ­defamation suit against Guo in the United States.
Beijing-based sources also confirmed yesterday that Guo's wife and daughter had flown to New York on a mission to persuade him to return to Beijing.
SOHO China chairman Pan Shiyi said on his ­online blog on Friday that he had filed the suit in the Supreme Court of New York, the city where Guo, also known as Miles Kwok, lives in self-imposed exile.
Pan attached a copy of the court filing, which named Soho China and himself as the plaintiffs and Guo as the defendant.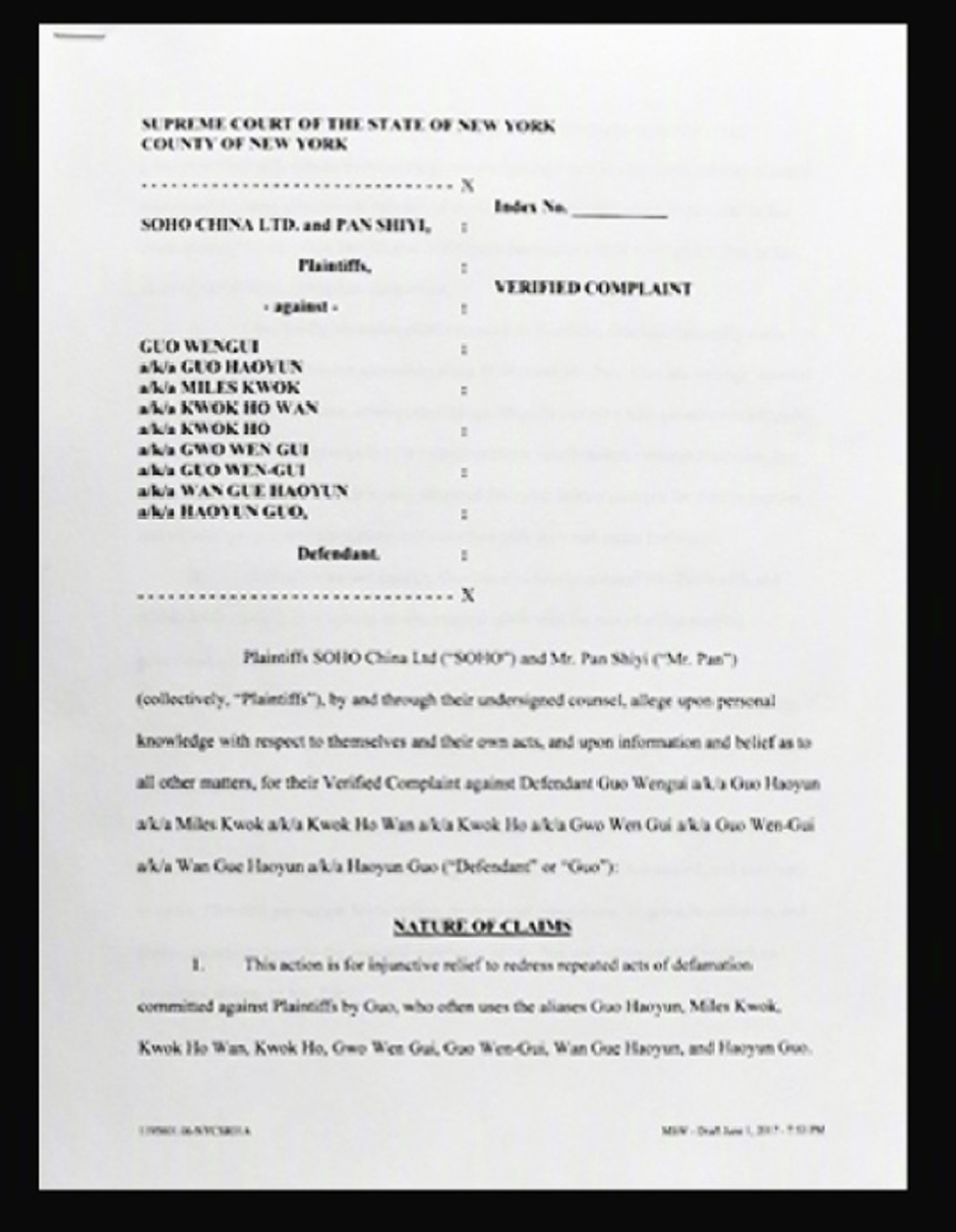 Pan's US suit is in response to claims last month by Guo about SOHO's ownership.
Fugitive tycoon Guo Wengui 'met Abu Dhabi royals through Tony Blair, leading to US$3 billion deal'
Guo has lobbed a string of allegations about ­Chinese businesspeople and officials in live broadcasts from his luxury Manhattan flat. The targets range from China's second-most powerful man, Wang Qishan, to deputy police minister Fu Zhenghua. Most of the claims cannot be independently verified.
Guo alleged in a live-stream on May 11 that Pan and other property developers in Beijing were ­involved in rigging tenders in bids for land near the National Stadium in May 2006.
Pan hit back on May 22, saying: "Guo Wengui spread rumours that we are holding 50 per cent of SOHO's shares for others and I am a white glove for [corrupt] officials. It's nonsense. SOHO China is a Hong Kong-listed company with a clear ownership structure. Everybody can check it out."
In the weeks since, Guo has repeatedly called on Pan to sue him in the US. Pan said in his online post on Friday that when targeted in a malicious attack, he would responded in a civilised manner through legal means. Guo said Pan's lawsuit was "good news".
He also urged Pan to release all official documents relating to his Beijing property projects as soon as possible. Guo also said he had reunited with his wife and daughter, who had reportedly been barred from leaving the mainland since Guo left in August 2014.
Property firm boss to sue Chinese fugitive tycoon Guo Wengui over corruption claims
Beijing-based sources familiar with the case confirmed that both Guo's wife and daughter had flown to New York and joined Guo on the proviso that they would help negotiate between Beijing and Guo.
Interpol issued a red notice for Guo and Beijing was still hoping to persuade him to returning to the mainland, according to the sources. An Interpol red notice is a request to locate and provisionally arrest someone pending extradition.
Some overseas media have suggested that Beijing let Guo's wife and daughter leave China to stop him making more claims about corruption.
Meanwhile, US magazine Forbes reported that Hu Shuli, editor of Caixin Media, has asked a New York court to compel Guo to turn over documents and recordings that prove the claims he has made against Hu and Caixin.
SCMP – Staff Reporter