Anthony Scaramucci, the Trump administration's new communications director, finally made the leap from Wall Street to the White House. Selling his hedge-fund firm to a Chinese company will take longer.
The sale of SkyBridge Capital to conglomerate HNA Group Co. has been delayed by the Committee on Foreign Investment in the United States, according to two people familiar with the situation. HNA has drawn regulators' scrutiny as well because of its global dealmaking, leverage and opaque ownership structure. RON Transatlantic, which invests in energy, telecommunications and finance companies, is also increasing its stake in SkyBridge.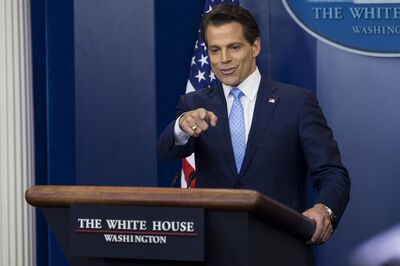 The Friday appointment of Scaramucci, 53, an ardent backer of President Donald Trump, was one part of a broad administration shakeup. White House spokesman Sean Spicer resigned soon after Scaramucci's appointment became public, culminating months of factional infighting.
All year, as Scaramucci tried to clear the way for a government job, he has been in the process of selling his approximately 45 percent stake in SkyBridge, worth roughly $80 million. But after months of effort, the deal for the fund of hedge funds remains incomplete even as questions about the buyer have intensified.
"Particularly given the record so far of this administration, there are so many questions already about possible mixed motives," said Meredith McGehee, chief of policy, programs and strategy at Issue One, a nonpartisan group that promotes on government ethics. "The only thing this does is expand those claims."
Jammed Up
CFIUS, an interagency committee is charged with vetting sales of American companies to foreign buyers to protect national security, can review almost any foreign investment in a U.S. company or asset. If the committee decides that the transaction poses a risk, it can block or request changes. However, the committee, whose head is the treasury secretary, is facing a backlog of cases because senior posts at key member agencies have yet to be filled by the president.
There are no indications that the SkyBridge review is irregular, said the people familiar with the transaction. The deal is expected to close in four to six weeks, one said.
A spokesman for HNA, Robert Rendine, said the deal is proceeding apace.
"We are confident it will close this summer," Rich Myers, a spokesman for SkyBridge, said in an email. "Things can move more slowly than anticipated sometimes in Washington."
Obscure Origins
The ownership of HNA Group, one of China's most prolific dealmakers, is murky. Atop the ownership hierarchy is a person named Guan Jun, according to Chinese corporate filings. Wall Street firms including Bank of America Corp., Citigroup Inc. and Morgan Stanley have decided to largely steer clear of advising and financing HNA because they are unable to get internal approvals from "know your customer" committees.
Just within the past month, the European Central Bank was said to consider a review of the company's stake in Deutsche Bank AG, examining whether the owners are reliable or have criminal backgrounds. Chinese regulators, who are increasing scrutiny of the country's most prolific overseas acquirers, asked banks to report their exposures to HNA and other companies.
CFIUS has had previous dealings with HNA, which proposed an investment in Los Angeles-based Global Eagle Entertainment Inc., a company that provides entertainment programming for airlines. Global Eagle said in April that CFIUS decided the deal presented "unresolved national security concerns." The companies withdrew their application and said they were considering changes. Other HNA deals, including a $6 billion offer for computer hardware distributor Ingram Micro Inc., have won approval.
The White House didn't answer a request for comment on Scaramucci's pending sale and SkyBridge's buyers. The Treasury Department declined to comment, saying it doesn't disclose information filed with CFIUS.
At his first White House briefing Friday, Scaramucci said that his business interests had been vetted by the Office of Government Ethics and the White House counsel and had been found "100 percent totally cleansed and clean."
"You want to go serve the country, and so the first thing you have to do is take on this mega opportunity cost by getting rid of all your assets," he said. "I'm willing to do that, because I love the country."
The New York financier's appointment was a long-held goal, and adds another Wall Street denizen to an administration that has leaned heavily on Goldman Sachs Group Inc. for personnel. Scaramucci once worked for the bank.
"Congratulations to my friend Anthony Scaramucci," Jeffrey Gundlach, the chief executive of DoubleLine Capital LP, said on Twitter on Friday.
The SkyBridge sale was first announced Jan. 17, four days before Trump's inauguration, in the expectation that Scaramucci would enter the White House. Scaramucci said that his title would be director in the office of public liaison.
The job never materialized, and by mid-May, when Scaramucci spoke at the SkyBridge Alternatives Conference in Las Vegas, the sale hadn't closed. A month later, he saidat a conference in New York that the deal was expected to close around July 15, "plus or minus 10 days." A regulatory filing July 12 showed it was expected to happen "in the third quarter."
By 
Simone Foxman

With assistance by David McLaughlin, Miles Weiss, Katherine Burton, Zachary Mider, and Toluse Olorunnipa
Bloomberg