Residents take the street in Daqing despite warnings from the authorities
Fearing pollution, hundreds of residents in a northeastern Chinese city protested on Tuesday against the construction of an aluminium processing plant, ignoring warnings from authorities against disturbing social order.
Urban Chinese residents, angry about environmental degradation and hazardous smog, have become increasingly concerned about living near polluting factories, occasionally protesting against new projects.
Tens of thousands of "mass incidents" – the usual euphemism for protests – take place each year in China, triggered by corruption, pollution, illegal land grabs and other grievances.
In Daqing, residents took part in a protest against the planned building of an aluminium plant by a subsidiary of Zhongwang Holdings.
Photos and videos of a large crowd gathering in the car park outside the city government were circulated on Weibo on Tuesday, along with a hashtag asking Zhongwang to "please leave Daqing".
Protesters shown in the photos held signs saying "Reject pollution, resist Zhongwang" and "Protect our homes".
Reuters could not independently verify the accuracy of the pictures. Two eyewitnesses confirmed the protests had taken place.
"There are about 800 to 1,000 people protesting still against the aluminium plant," said one eyewitness who gave his family name as Zhang, speaking by telephone from Daqing.
Masked pollution protesters in China held briefly by police
The protests took place despite a call by city officials for residents to "rationally" convey demands, warning that "illegal gatherings, defamation, rumours and other acts that disrupt social order" would be dealt by law.
"Everyone please be assured, if Daqing Zhongwang Aluminium's project does not pass muster on environmental issues, then it absolutely will not advance further," the city government said in a post late Monday on its official microblog.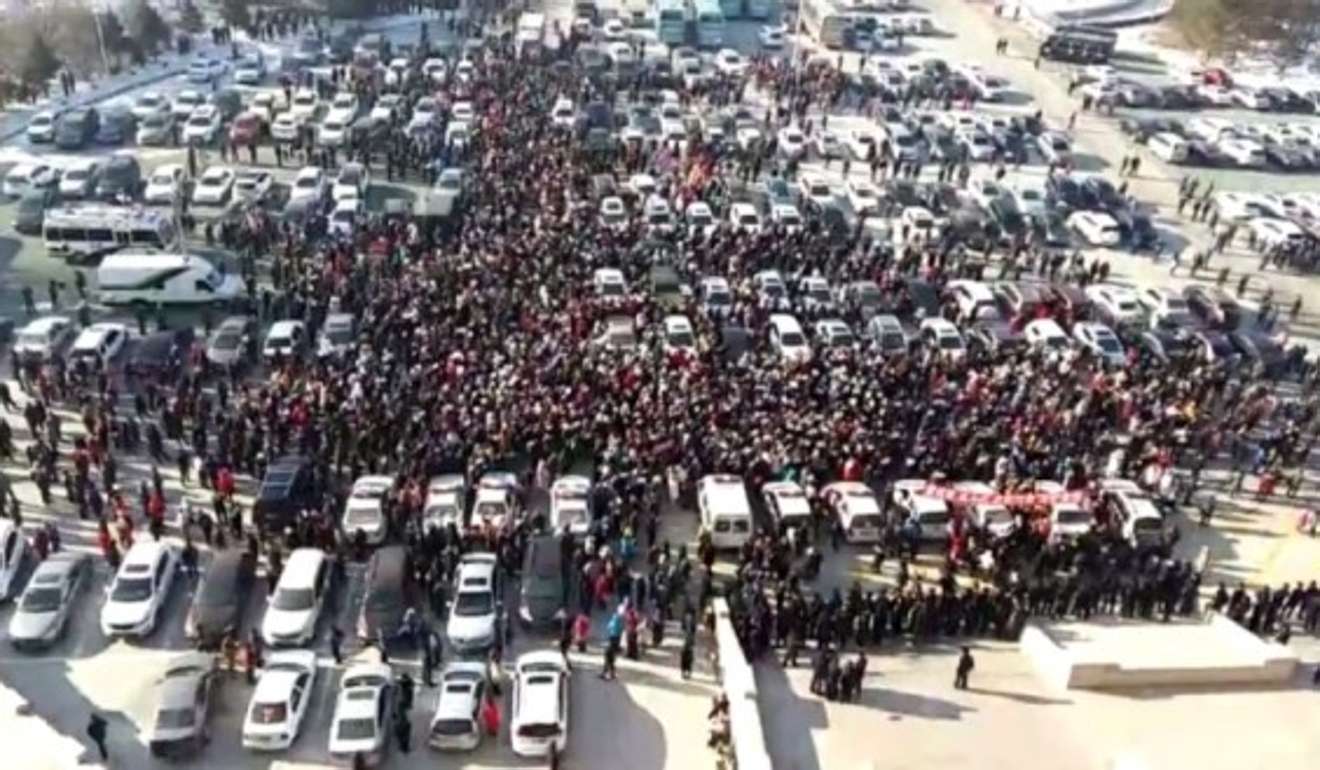 Public concern about pollution from the plant would be met with a "scientific" assessment of the plant's environmental impact, the post said.
A woman who answered the phone at the Daqing police hotline said residents worried about possible pollution protested in front of the Daqing government building Tuesday morning against the project, and dispersed in the afternoon. She refused to identify herself.
"Everyone in Daqing is against the project," she said.
A spokeswoman for Zhongwang Holdings said the company was surprised by the protests and did not know why residents were opposing the project now.
The company bought the land five years ago but building has not yet started, with a feasibility study still under way.
"We're still having internal discussions on the next step and will keep an open dialogue with the government and people there," she said, adding environmental protection was a "priority" for the company.
Mongolians march for action against air pollution
The protests come as the company, one of the world's top aluminium fabricators, is embroiled in a dispute over US import duties and subsidiary Zhongwang International Group pursues a US$2.3 billion takeover of US aluminium products maker Aleris Corp.
US lawmakers have called on regulators to reject the takeover.
The Daqing city government in frigid Heilongjiang province did not answer calls seeking comment. An official reached by telephone at the Daqing police declined to comment.
Reuters/Additional reporting by Associated Press