Donald Trump has said the US was "locked and loaded" and to ready respond to drone attacks on a petroleum processing facility in Saudi Arabia, saying the US knew who was behind them.
The US president tweeted on Sunday night that he had "reason to believe that we know the culprit" behind the series of attacks on the Abqaiq facility, which is the world's largest petroleum processing plant. The attacks disrupted more than half of the kingdom's oil output and will affect global supplies.
Trump tweeted: "[We] are locked and loaded depending on verification, but are waiting to hear from the Kingdom [of Saudi Arabia] as to who they believe was the cause of this attack and under what terms we would proceed!"

It is the first time the president has hinted at a potential American military response to the attack.
Oil prices soared in the wake of the attack to reach six-month highs on Monday, with gains of as much as 20%. Brent crude oil, the international benchmark, gained almost $12 a barrel reaching up to $71.95 a barrel, before dropping back to $68 a barrel.
Meanwhile Trump announced that he had authorised the release of oil from the US Strategic Petroleum Reserve "if needed" and had instructed agencies to expedite approvals of oil pipeline projects so as to meet global supply of oil, tweeting: "PLENTY OF OIL!"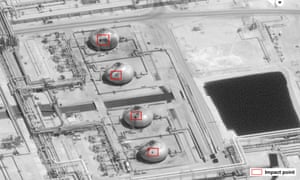 The US secretary of state Mike Pompeo claimed over the weekend that Iran was responsible for the attack after Yemen's Iran-aligned Houthi rebel group claimed responsibility for the attack. However, Pompeo said there was no evidence the drones were launched in Yemen and accused Iran of "an unprecedented attack on the world's energy supply".
"The United States will work with our partners and allies to ensure that energy markets remain well supplied and Iran is held accountable for its aggression," said Pompeo.
Iran's foreign ministry spokesman Abbas Mousavi responded angrily to Pompeo's comments, saying: "Such fruitless and blind accusations and remarks are incomprehensible and meaningless."
Iran has denied claims it was responsible for the attacks, with Iranian officials also warning that US military assets in the region were within range of its missiles. "Having failed at 'max pressure', [Pompeo is] turning to 'max deceit'," the Iranian foreign minister, Javad Zarif, wrote on Twitter.
As the diplomatic crisis deepened, Trump tweeted that reports he had been willing to meet with Hassan Rouhani, the Iranian president, before the drone attacks were false. "The Fake News is saying that I am willing to meet with Iran, 'No Conditions.' That is an incorrect statement (as usual!)," he tweeted on Sunday.
But political commentators were quick to point out that those comments came from Pompeo and treasury secretary Steve Mnuchin, who five days ago said on camera that Trump was willing to meet with Rouhani with "no preconditions" at the upcoming United Nations General Assembly in New York.
Over the weekend a senior commander from Iran's Revolutionary Guards warned that the Islamic republic was ready for "full-fledged" war.
"Everybody should know that all American bases and their aircraft carriers in a distance of up to 2,000km around Iran are within the range of our missiles," the head of the Revolutionary Guards Corps' aerospace force, Amirali Hajizadeh, was quoted as saying by the semi-official Tasnim news agency.
Saudi de facto ruler Crown Prince Mohammed bin Salman has said the kingdom was "willing and able" to respond to this "terrorist aggression."
No casualties were reported but the full extent of the damage from Saturday's attack was not clear, nor the type of weapons used, and reporters were kept away from the plants amid beefed-up security.
Aramco also said it will dip into its reserves to offset the disruption. On Saturday, CEO Amin Nasser said that "work is underway" to restore production, but the incident could affect investor confidence ahead of Aramco's stock market debut.
A significant volume of oil production can be restored within days but the company would need weeks to reach full output again, Bloomberg News reported Sunday, citing unnamed sources.
The Guardian