The Nobel laureate and democracy icon Liu Xiaobo has been cremated in north-eastern China, Chinese authorities have announced, amid growing fears for the safety of his wife, Liu Xia.
The veteran dissident died on Thursday, aged 61, becoming the first Nobel peace prize winner to die in custody since the 1935 recipient, German pacifist Carl von Ossietzky, died under surveillance after years confined to Nazi concentration camps.
Speaking at a press conference in the city of Shenyang, where Liu died, government spokesperson Zhang Qingyang said his cremation had taken place at a local funeral parlour following a "short mourning service" early on Saturday morning.
Xinhua claimed that both family members and friends had attended the dissident's funeral – although friends and supporters have said they were barred from travelling to Shenyang by Chinese security services.
The spokesman told reporters Liu's wife, the poet and photographer Liu Xia, had been in attendance and had been given her husband's ashes. She was in "very low spirits," he added, according to AFP.
Propaganda photos released by Chinese authorities showed mourners, including Liu Xia, gathered beside a casket that was ringed by pots of white chrysanthemums. Above what appeared to be the dead activist's corpse a black banner read: "A farewell ceremony for Mr Liu Xiaobo". Officials said Mozart's Requiem was played.
As the revered democracy activist was cremated, friends of the couple said they were growing increasingly concerned about the well-being of Liu Xia. The 56-year-old has been living under heavy surveillance and in almost total isolation since her husband won the Nobel prize, in 2010, and had hoped to leave Chinaalong with Liu Xiaobo before his death.
"We have lost touch with her now for three full days," Jared Genser, a US human rights lawyer who represents her and her late husband, told the Guardian. "I'm incredibly concerned about her health and welfare."
China News Service, a Communist party-controlled news agency, claimed on Friday that Liu Xia was "a free woman" who was deliberately shunning her friends and relatives because she wanted to grieve in peace.
Zhang, the government spokesman, repeated those claims on Saturday as Liu's cremation was announced. "Liu Xia is free," he said, according to Reuters, without revealing her whereabouts. "I believe the relevant departments will protect Liu Xia's rights according to the law," Zhang added.
According to AFP, Zhang claimed Liu Xia was "emotionally grieving" and did not want "too much outside interference".
Genser rejected claims that Liu Xia was free as "a sick joke".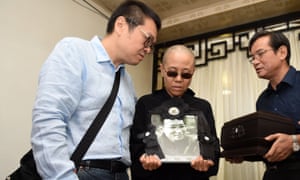 "It leaves me incredulous to think that the Chinese government would think that anybody would believe such a claim: that she is grieving and does not want to be disturbed. I mean, come on. That is just totally ridiculous."
Genser added: "We all know the truth. The truth is clear as day. She has been under house arrest without charge or trial for seven years and even after her husband is dead that appears not to be good enough for the Chinese government."
Meanwhile friends contradicted official claims that Liu Xiaobo's friends had been permitted to attend his funeral. Activist Hu Jia said he did not know of a single friend who had been able to go.
Shang Baojun, a Chinese lawyer who represented Liu Xiaobo and was his friend, said he had not attended the funeral. "I know nothing about it," he said by phone, before explaining that it was "not convenient" to talk – a common expression in China indicating that someone is coming under pressure from authorities to stay silent.
Writing on Twitter, Mo Zhixu, another activist and friend, said he had not recognised any friends of the Lius in the photographs released by the government. "The party-state cannot even be bothered to be halfhearted about their acting in this play," he wrote.
The Global Times, a Communist party controlled tabloid, chose to mark Liu's cremation with a vicious personal assault. "He was paranoid, naive and arrogant," the newspaper said in an English-language editorial. "Chinese society opposes and despises him.
"Deification of Liu by the west will be eventually overshadowed by China's denial of him," it added, branding the Nobel laureate "a disruptive player to China's development theme".
Genser called for international pressure to help Liu Xia "escape this Kafkaesque nightmare that has been her life".
"My heart breaks for her. It is just terrible. We have to get her out. We can't live in a world in which she is not free," he said.
By Tom Phillips
Additional reporting by Wang Zhen
The Guardian