As JD.com pushes into Western markets, with drones, robots and luxury brands, it's time for Amazon to sit up and pay attention.
Pujiang Pu is a smiley, medium-built man in his mid-forties with stylish glasses, a bling gold watch, and a red JD lanyard around his neck. Along with many of the 150,000 employees of JD.com – a city-size e-commerce store sometimes referred to as the Amazon of China – he lives in a free dorm near one of the company's 500 gigantic warehouses. The warehouse I visit is in Jiading, 30km north-west of Shanghai's city centre. Hundreds of people work here, and at 100,000 square metres in size it sits on a JD complex so big it would take at least 45 minutes to walk from one end to the other.
I am allowed here as part of a rare, highly supervised press visit, and warehouse manager Pu is our tour guide. I am not shown everything, but enough to impress – or, as some analysts believe, to show that JD is a kind of company Amazon ultimately wants to become.
JD wasn't always that big. It started out as a small brick and mortar store in Beijing, founded in 1998 by Richard Liu. Then in 2004, Liu moved it online and JD.com, short for Jingdong, was born. Fast-forward to today, and the firm is worth more than $55 billion. In February, logistics magazine DC Velocity called it "the biggest company you may not know all that much about". Not for much longer though – JD is so growing so fast at home in China and expanding so rapidly into other markets such as Thailand, Indonesia and Vietnam and most recently Europe, that even the most devout Amazonians will soon sit up and notice.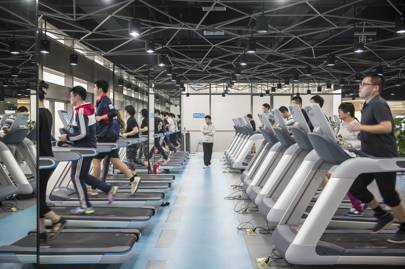 The main reason Pu stays in a dorm on site, and away from his family, is to ensure he can meet key performance indicators set by the firm. Sometimes, especially during JD.com's annual shopping event, he has to work late into the night.
But the future of these dorms is uncertain. Many traditional warehouse jobs like stacking shelves and packing boxes at JD are likely to go to robots in the coming years, as the company starts to automate everything that can sensibly be automated. The tech giant is now busy retraining some staff to take on new roles that machines can't yet do. Pu's warehouses have some of the firm's most advanced robotics – and he gets really excited talking about the autonomous forklift trucks and delivery drones.
These drones have been in the news a lot lately. Remember when Amazon's boss Jeff Bezos made claims that his firm would soon drop parcels off at your doorstep? Well, that was in 2013 – and, some small-scale trials aside, it's still not happening. But it's very much happening at JD – since March 2016, its drones have been delivering products across China, having clocked over 300,000 minutes of flight time. "Today we have over 200 people working on our drone programme," says Zheng Cui, director of the firm's drone R&D centre in Xi'an.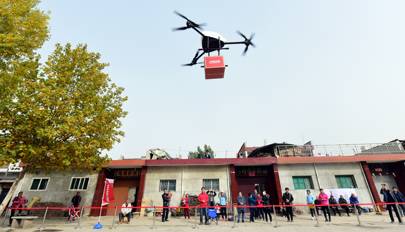 The drones come in various shapes and sizes, but the quickest ones can fly up to 100km/h and have a range of 100km. So far though, the furthest delivery has been 15km and that drone flew much slower than 100km/h – but you have to start somewhere. What the drones can't do yet, JD does with its 65,000 van drivers and couriers.
The drone efforts haven't gone unnoticed though, and other companies are keen to replicate JD's air delivery success. Cui says more and more firms are getting in touch to buy their drones. "We've just got an order for 1,000 at the beginning of this year," he adds.
Those drones are still fairly small, but JD is busy developing larger ones that can carry up to five tonnes. "They'll transfer inventory from one warehouse to another," says Cui. "Within three years we're looking at having a couple of thousand," he says – and they will take off right from existing small airports near the company's warehouses.
It's not just the drones that make the Chinese behemoth different from Western e-commerce stores, though. Robots at JD are everywhere. In the warehouse I visit, machines stack tens of thousands of products on 24-metre-high shelves. Over the road from where I am, another fully automated warehouse can pack and ship 200,000 products a day. Robots are not alone yet, though: the fully automated warehouse has four human helpers.
Automation, growth, scale – the mega but still relatively unknown giant seems unlikely to slow down. Its revenues are growing 40 per cent a year, up to $55.7 billion in 2017. The company's spokespeople tell us proudly the firm is the third largest "internet company" in the world by revenue after Google and Amazon, but ahead of companies like Facebook, eBay and Alibaba, its biggest rival.
It has major backers such as Tencent — the largest internet company in China by market cap and the owner of WeChat. Other investors are Walmart, which has a ten per cent stake, and even Google, which last month announced it was investing $550 million into JD to help it expand further outside China.
And the e-commerce giant is busy doing just that. In January, it opened its first European office, in Paris. It now aims to open another one in Milan, and is actively partnering with Spanish and other European brands – especially luxury ones. In 2017, Chinese made up 32 per cent of the worldwide luxury market.
JD's response: last October, it launched Toplife, a platform for luxury buyers that can benefit from same-day deliveries and premium services, such as ultra-clean and secure warehouses with special air filters. Over just a few months, Toplife has already signed up 20 brands, including Saint Laurent and Alexander McQueen. Amazon beware.
By SAM SHEAD
Wired