Cheap "me-too" smartphones are no longer the only thing Apple can blame for iPhone's falling sales in China as the country's most successful manufacturers are quietly gaining ground in the premium market as well.
Apple, which has long dominated China's top 10 bestselling high-end smartphone list, saw the most number of Chinese rivals break into the category priced over 4,000 yuan (US$579.9) in the quarter ended in March, according to Counterpoint Technology Market Research.
Apple still occupies five spots in the top 10 list with its iPhone 7 Plus 128G being the top seller among all premium smartphones in China, the world largest smartphone market. However, four Chinese models – three from Huawei Technologies and one by Vivo – have made it into the list with one spot left for Samsung Electronics.
Apple posts fifth quarter of sales drop in greater China, hurt by Huawei, Oppo and Vivo
"The top 10 premium phone list was practically a duopoly by Apple and Samsung until Huawei became the first Chinese game changer in the high-end crowd about one year ago. The first quarter of 2017 is the first time that we see Vivo get into the list," said James Yan, Beijing-based research director of Counterpoint Technology.
Chinese smartphone brands have been tightening their grip in China, grabbing local market share and squeezing out Apple and Samsung by producing cheaper phones with not so cheap features.
But an increasing number of them, such as Huawei, Oppo and Vivo, have started to take the high-end market seriously as competing aggressively for razor-thin margins in the low-end market is no longer in their best interest.
Research from IDC shows the average selling price of Android phones in China continued to rise in the first quarter of 2017 largely due to the increasing desire of consumers for key flagship models made by Huawei, Oppo and Vivo – China's top three smartphone makers in terms of shipments for the quarter ended March.
Just how much would you spend on a luxury smartphone?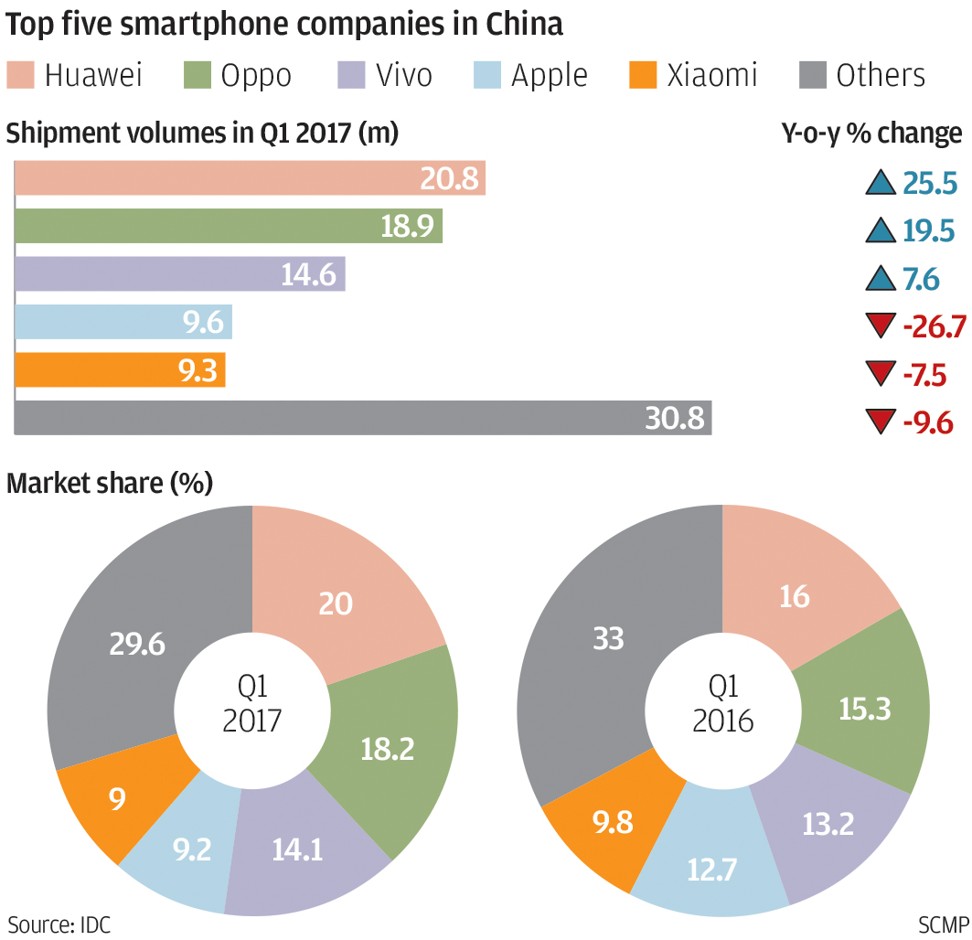 "Consumers are seeking to upgrade their smartphones to seek a better user experience and these companies offer models that can meet their demand," said IDC in a research note released on Thursday. IDC also said the key flagship models released by these Chinese companies have more upgraded specifications such as dual cameras and OLED screens that have driven up average selling prices.
Apple, which reported on Wednesday its fifth consecutive quarter of revenue decline for its greater China business, has seen a double-digit fall in iPhone's first-quarter sales in China, which was a major source of growth before last year.
Data from IDC showed that it ranked fourth in the China market in the first quarter with 9.2 per cent market share compared with 11 per cent in the fourth quarter of 2016.
"But we believe that Chinese consumers are holding out for the launch of Apple's 10-year anniversary iPhone at the end of the year, and this will help Apple to see a rebound in the China smartphone market," said Tay Xiaohan, a senior market analyst with IDC Asia-Pacific.
By Meng Jing
SCMP