Hong Kong's leader Carrie Lam said the territory is likely to record negative growth for the year as months of protests have knocked the economy.
The unrest has disrupted businesses and dealt a particularly heavy blow to the tourism and retail sectors.
The warning comes ahead of preliminary gross domestic product figures due on Thursday that are expected to show Hong Kong entered a technical recession.
That is defined as two consecutive quarters of negative growth.
In a briefing in Hong Kong on Tuesday, Ms Lam said the third quarter growth numbers are likely to show that outcome.
To combat the slowdown, she said the city has so far injected more than HK$20bn ($2.6bn; £2bn) to support the economy including the transport, tourism and retail sectors.
Ms Lam said the government will deliver more relief measures, without giving specific details.
Her comments follow a similar warning from the territory's Finance Secretary Paul Chan over the weekend. He said it would be "extremely difficult" to hit the government's pre-protest forecast of growth of between 0% and 1% for 2019.
"The blow to our economy [from the protests] is comprehensive," Mr Chan said.
The demonstrations began over a proposed extradition bill between the territory and mainland China, and have evolved into demands for greater freedoms.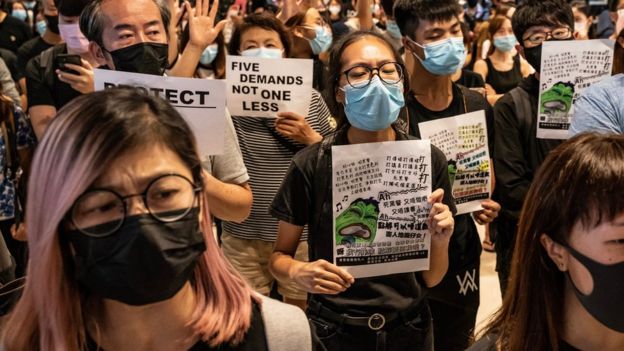 Hong Kong is part of China, but its citizens have more autonomy than those on the mainland.
Clashes between police and activists have become increasingly violent, with police using tear gas and protesters storming parliament.
Those protests have led to a sharp decline in tourist arrivals, with visitor numbers expected to have slumped 50% in October.
Hong Kong was one of the world's most visited cities last year, with 30 million tourists.
Retailers have also been hard hit. Some shops have been forced to shorten trading hours, while workers report fears over their safety as well as getting to work.
Mr Chan said in August that retail sales had plunged more than 25% – the biggest monthly drop on record.
BBC
---
Related>>
Business backs away from Hong Kong
The protest movement in Hong Kong may have badly embarrassed Beijing and further undermined the image of Chinese President Xi Jinping. But it won't succeed in its aim of evading China's uncompromising assertion of its authority – sooner or later.
What the protesters have clearly achieved, however, is to dramatically accelerate the decline of Hong Kong as a vibrant, independent global trading and financial centre able to attract money and investment from both China and the West.
The legislation to approve Australia's free trade agreement with Hong Kong arrived in Canberra this week in a very different political and economic environment from the hopes that accompanied the agreement's signing in March.
More and more Western companies that had been contemplating establishing offices in Hong Kong are now heading straight to Singapore.
"It's an easy decision now," says one chief executive. Many businesses already in Hong Kong are reducing their exposure or thinking about shutting their offices altogether.
One big global private equity player says it has brought forward the timetable for thinking about moving its headquarters from Hong Kong from a decade hence to a couple of years.
Australian businesses and professional services firms have always had a strong presence. Hong Kong is Australia's 12th-largest trading partner with two-way trade worth about $18 billion last year. Despite the FTA, further growth is now likely to be more stunted than expected.
Chinese companies are pulling back from Hong Kong too, apprehensive about the prospect of attacks on their buildings or representatives.
The usual flood of international business conferences held in Hong Kong has been dammed up, not least because the organisers are unable to guarantee the security of the participants.
Alarm bell for business
For businesses, a different form of security alarm sounded back in August with the forced resignation of Cathay Pacific's chief executive Rupert Hogg after some of the airline's staff participated in the demonstrations.
But most Western tourists also prefer to avoid any prospect of chaos or violent clashes for their holidays while tourism from mainland China, Hong Kong's main market, is slumping.
The number of visitors to Hong Kong has fallen by nearly half while retail sales in August were down by a quarter relative to the previous year. Figures will have declined even more sharply as violence has escalated in recent weeks.
Mainland Chinese visitors are not only repelled by the risk of getting caught up in confrontations completely alien to the political "stability" of the mainland. They also resent the challenge to Chinese patriotism, particularly when Beijing regularly blames the US for stirring up the protests and encouraging "terrorism".
Of course, allegations of US interference as well as the protesters' desperate appeals for support from America are particularly ironic given the repeated willingness of the US President to trade away any backing for democracy in Hong Kong for the prospect of reaching a trade deal with China.
The result is a domestic economy heading right into recession. But all this would be manageable as a temporary aberration if there was any prospect of a recovery. The more important question is over Hong Kong's shrinking future as a hub of global trade and financial services.
Xi won't be thwarted
At the time of the handover in 1997, Hong Kong's leaders proudly assured everyone the future was bright and secure despite concerns about how the territory would fare under China. That assessment has always turned out to be right  despite repeated crises and growing economic inequality among Hong Kong citizens, including apartment prices spiralling beyond reach for many.
China's extraordinary pace and scale of economic growth since then has propelled cities such as Shanghai and Shenzhen into becoming potential rivals to Hong Kong as financial centres. Beijing has developed a "Greater Bay" policy to link Hong Kong and Shenzhen into a vast megatropolis.
Yet Hong Kong's rule of law, its more predictable regulations, the free movement of capital and its use of English continued to make it attractive as a gateway – both into and out of China.
This was not just about global investors feeling more comfortable with the legal protections offered by Hong Kong. Hong Kong is also by far the largest offshore centre for bond sales by Chinese firms, for example, also allowing them to raise funds in hard currency.
What hasn't stopped is China's tightening political control over Hong Kong. Xi Jinping is certainly not a president to be thwarted by the 50-year framework of "one country two systems" supposedly guaranteeing freedom of speech and assembly and protest.
Dissent has become much more difficult if not dangerous since the Umbrella protest movement of 2014. Its leaders were jailed while pro-democracy lawmakers were disqualified from the legislature. But China's looming dominance and aggressively authoritarian nature under Xi has also become increasingly visible and foreboding in Hong Kong.
When the growing economic and political frustrations of a younger generation were ignited by the decision of the Chief Executive Carrie Lam to proceed with an extradition bill with China, it was still hard to imagine five months of mass protests. The stand-off and the violence come with no apparent exit route between mutually exclusive demands.
According to a report in the Financial Times, the Chinese government is                               drawing up plans to replace Lam with an interim leader.  Yet neither Lam nor any successor selected by China can ever give the demonstrators what they want. For now, the policy seems to be to rely on the violence and an economy in deep trouble turning off support for the demonstrators.
It's hardly a future that Hong Kong – or Western businesses – relied on.
By Jennifer Hewett
Financial Review