Hong Kong housing prices are close to their peak and economically "unsustainable," said Cusson Leung, managing director at J.P. Morgan Chase & Co.'s Asia Pacific equity research unit.
Price increases in the world's most expensive home market have outpaced Hong Kong's gross domestic product growth "significantly" since 2009, and any external shocks could trigger tighter liquidity in the city's banking system, increasing home buyers' borrowing costs, Leung said in an interview.
"I won't buy," said Leung, who expects that new home prices will remain unchanged this year. "If the bubble bursts, buyers will not only lose their own money, they will also lose all of their parents' money." Buyers have been using all of their assets as well as leveraging parents' existing homes as collateral to help make residential property deposits, he said.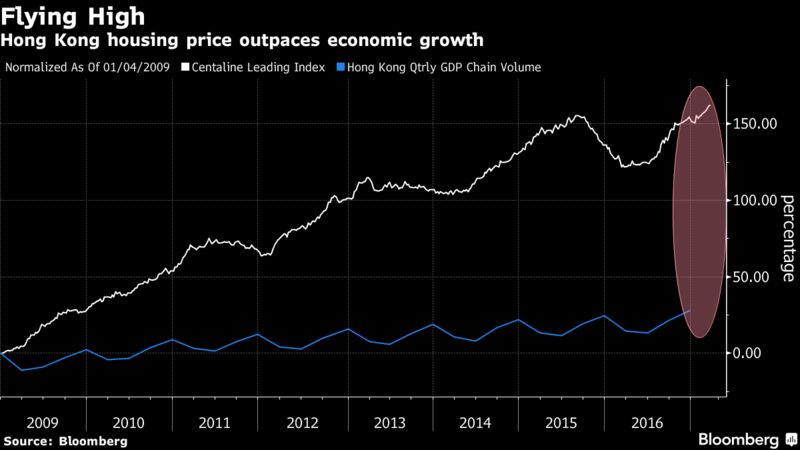 The resurgent housing market has posed a headache for Hong Kong's leaders. After a short-lived dip, existing home prices have set new records in recent weeks. Still, the market isn't immune to risk as the Federal Reserve has signaled it will continue on a path of interest-rate hikes this year.
New property projects prices have also heated up, with Cheung Kong Property Holdings Ltd. last week offering 40-square-meter flats in east Hong Kong island for at least HK$10.3 million ($1.33 million), Apple Daily reported. The amount could buy a two-bedroom, inner-city Sydney apartment with a car park, according to rental aggregator Domain.com.
Housing Policies
Despite efforts by Hong Kong Chief Executive Leung Chun-ying to curb the rally in home prices, investors have found ways to breach barriers. Qualifying as first-time buyers and buying multiple new flats on a single contract is an option wealthy purchasers have pursued, enabling them to skirt a measure that would increase stamp duty to 15 percent for existing property owners. The government is considering ways to plug the loophole, the Hong Kong Economic Journal reported last week.
Closing ways to bypass measures would make the property market "less crazy," while the government could increase supply by selling public flats under its rental housing program, Leung said.
Other Comments
Stamp duty

Cutting a 15% stamp duty for non-first time buyers would eventually help reverse home-price gains as market may get more efficient

Such a move, however, is "unlikely" as neither government nor individuals can afford a significant home price increase after removal of the tax

Sector investment strategy

Short-term trading opportunities seen, with new property-project sales as catalyst
No long-term re-rating drivers seen

Stock picks

Office landlords preferred due to limited supply and enduring demand from Chinese companies
Prefers Cheung Kong Property among developers, based on valuation and stock buybacks
Retail property owners are least preferred
NOTE: Leung's stock picks generated a return of about 17% in the past year, outperforming peers by 6.12%: Bloomberg data
Bloomberg