Of all the mysteries surrounding HNA Group Co., one of China's most acquisitive companies, the 29 percent stake held by Guan Jun has been among the most puzzling.
How did a little-known Chinese investor become the biggest shareholder in a sprawling global conglomerate with $150 billion of assets and major stakes in Hilton Worldwide Holdings Inc. and Deutsche Bank AG?
This week, HNA watchers finally got some answers. But what they learned has raised fresh questions about the company's governance and ownership structure at a time when it's facing heightened regulatory scrutiny in the U.S. and China.
It turns out that Guan never intended to retain control of the stake that HNA had attributed to him in corporate filings late last year. He was holding it on behalf of HNA executives, people familiar with the matter told Bloomberg on Tuesday. This year, Guan distributed the entire position to five individuals and a foundation affiliated with HNA, one of the people said.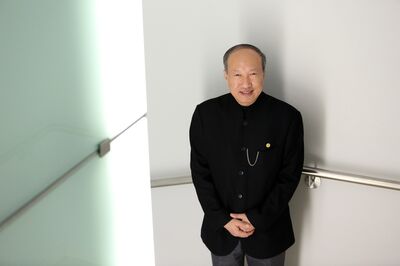 Guan's transactions, along with subsequent donations by the five individuals, resulted in a new shareholding structure unveiled by HNA on Monday. The company is now controlled by two affiliated charities — one in New York and the other in China. The rest of the business is split between Hainan Airlines Holding Co. and twelve HNA officials, including founders Chen Feng and Wang Jian.
Read more on HNA's statement here
While the disclosures from HNA have given the public more information, Monday's announcement does little to address a longstanding concern about the company: Outsiders struggle to understand how the business is managed and how it interacts with shareholders, said Lyu Pin, a credit researcher at Citic Securities Co. in Beijing.
"The disclosure does more to raise questions about some of its largest shareholders than to answer questions about its ownership structure," Lyu said.
Among the biggest remaining mysteries: Who's in charge of the charities that now own a controlling stake in one of China's most prolific overseas dealmakers? And why did HNA executives park their shares with Guan in the first place?
To read a Gadfly column on HNA, click here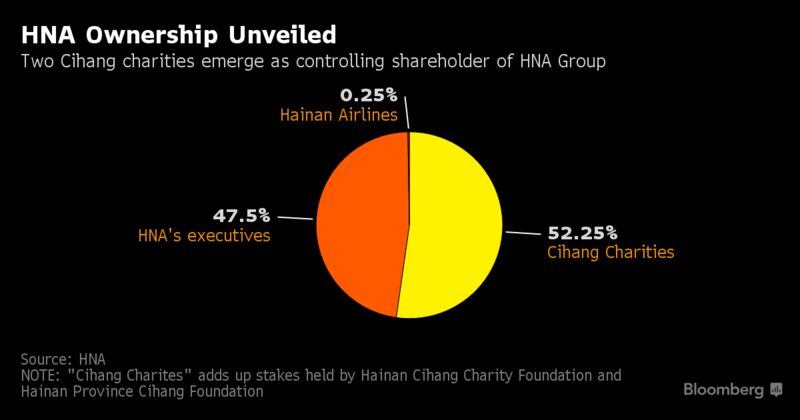 Those questions could hang over HNA as the company tries to assuage unease among regulators, lenders and investors around the world.
U.S. officials are said to be reviewing HNA's purchase of the hedge-fund firm founded by White House communications director Anthony Scaramucci, while the European Central Bank is considering a review of the company's stake in Deutsche Bank and Chinese regulators are assessing the risks posed by HNA and other active acquirers to the nation's financial system. Some of the biggest U.S. and Chinese banks have distanced themselves from the company. The dollar bonds of HNA Group International Co., an offshore unit of the conglomerate, are trading near record lows.
HNA's agreement to buy as much as 34.9 percent in Global Eagle Entertainment Inc. was scrapped after the companies failed to get approval from the Committee on Foreign Investment in the United States.
Read more: a QuickTake explainer on HNA
Little is known about how HNA's philanthropic organizations are managed, or how votes related to its shareholdings are cast.
Hainan Cihang Charity Foundation Inc. was formed in New York in December, according to a filing with the New York State Secretary of State. Its application was acknowledged by the Internal Revenue Service in May, according to Matthew Benson, an external spokesman at Sard Verbinnen & Co. The foundation's office is at 850 Third Avenue in Manhattan, a property HNA purchased in a 2016 joint venture, data from Real Capital Analytics show.
The foundation had no assets at the end of 2016, according to its initial tax return filed with the IRS, and its sole director is listed as Guang Yang, who uses the same address on the filing. The chief executive officer of one of HNA's financial units in the U.S. has the same name.
Foundation documents for public review aren't available at this time, according to a person who answered the charity's telephone on Monday. A Bloomberg reporter was denied access to the foundation's office, while HNA declined to comment beyond its statement on Monday.
Global Precedents
HNA's Chinese charity — Hainan Province Cihang Foundation — was founded in October 2010 and was funded in October 2013 with 20 percent of HNA's equity, according to London-based PSEPS Venture Capital and Private Equity Database. The foundation's website says it's a non-profit charity organization that "cultivates projects in various fields such as educational aids, supporting the poor and helping the underprivileged, fighting earthquake and relieving disaster, cultural promotion, medical rescue, green EP, and scientific innovation."
While it's unusual to see a major Chinese company controlled by a charity, there are global precedents. Ratan Tata used his foundation to oust the chairman of Tata Group, India's largest conglomerate, last year.
And in Denmark, foundation-owned companies make up the bulk of the stock market. The structure has found favor partly as a shelter from Denmark's high inheritance taxes but also to protect against takeovers and to achieve cherished objectives of founders. Foundation-owned companies have more stable management, less volatile financial results and typically survive far longer than other types of company structures, according to a 2015 report by the Copenhagen Business School.
HNA, which has taken on at least $73 billion of debt to fund its global acquisition spree, said it plans to update its ownership status annually and that executives plan to donate all their shares to the charities should they resign or die. Eventually, the company expects the foundations to own 100 percent of the group.
HNA has in the past played down the role of Guan, with CEO Adam Tan saying he's just a Chinese businessman and Chairman Chen telling the South China Morning Post newspaper that he isn't a significant shareholder. Tan told the FT in an interview published Monday that Guan was holding the shares for HNA "the whole time." The stake could be worth more than $17 billion, based on the group's latest reported book value.
Repeated attempts by Bloomberg to reach Guan, including a visit to the apartment listed as his address on a Hong Kong corporate filing, have failed.
For Citic Securities' Lyu, HNA needs to do a better job explaining how its new owners will influence the business, which has grown more complex in recent years as the company expanded beyond its roots as Chinese airline operator.
"It's a complicated company," Lyu said. "There is still not enough information."
Bloomberg News
With assistance by Prudence Ho, Dong Lyu, Tom Metcalf, Pei Yi Mak, and Brendan Coffey