As the European Union forges closer ties with China, the bloc is also moving to calm concern that Chinese exporters will destroy EU-based industries ranging from steel to solar.
The EU will retain the scope to impose hefty levies against Chinese businesses that sell goods below cost in Europe under a planned tariff overhaul, according to Salvatore Cicu, an Italian member of the European Parliament. Europe is revamping the way it calculates duties on these "dumped" imports in response to longstanding Chinese demands for more favorable trade treatment.
"We want to give a political message — especially to China — that we are open for trade, but EU industries mustn't be penalized," Cicu, who is steering a draft law on the controversial issue through the 28-nation Parliament, said in an interview at the assembly's headquarters in Strasbourg, France. "We can find an effective compromise."
At a June 1-2 meeting in Brussels, Chinese and European leaders continued to chart a path to closer trade and investment ties. The EU is seeking to create stronger international bonds without reigniting a populist wave in Europe that rallied against globalism's negative effects on domestic industries and workers.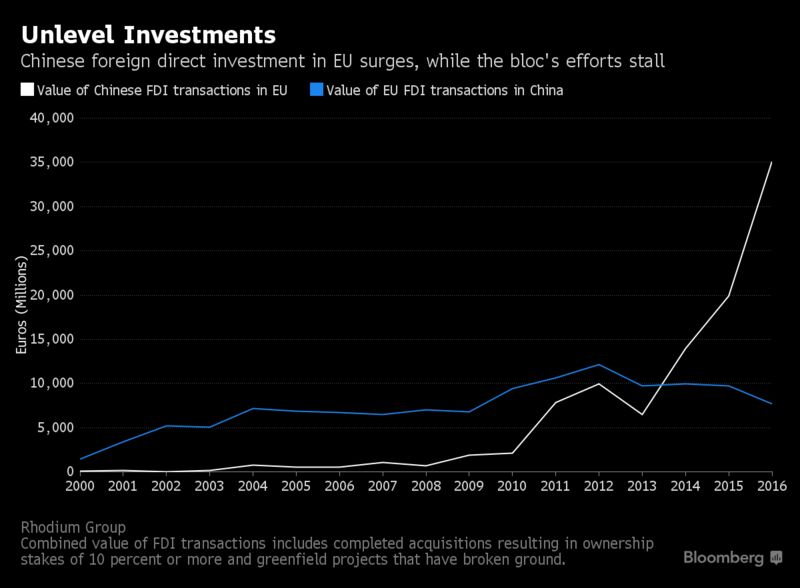 Meanwhile, the bloc is telling China that more open trade with Europe first requires fewer barriers to foreign investment in the Chinese market. After Chinese President Xi Jinping used the Davos forum of global business and political elites in January to portray his country as a champion of free markets, EU Trade Commissioner Cecilia Malmstrom said she's still looking for results.
"We are all waiting now for the remarks by the president to translate into action and make trade and investment more open," Malmstrom told an EU-China business conference in Brussels on June 2.
Disagreements over trade prevented both sides from drawing up as planned their first-ever statement on climate change and clean energy at the summit, according to an EU official, who said the discord over commercial matters had no impact on the unity over global warming.
Ambassador Yang Yanyi, head of the Chinese mission to the EU, told China's official Xinhua News Agency before the summit that some differences between the two regions may arise while others fall away but "the key is to understand how to manage and handle these differences properly."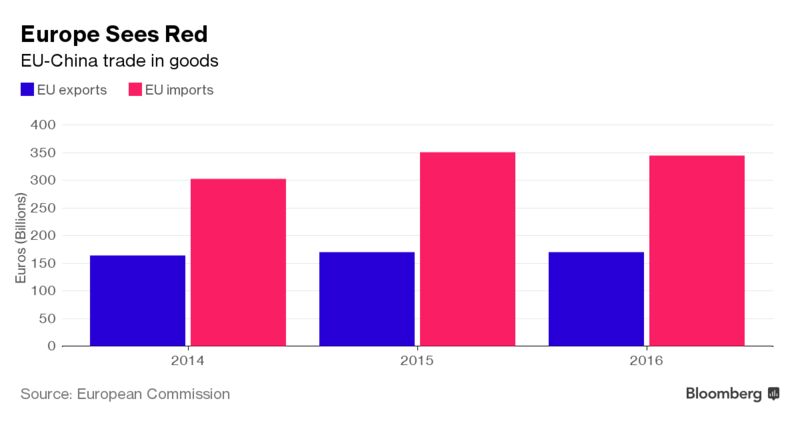 Cicu, a native of Sicily serving his first term as an EU lawmaker, said European industries have little to fear from the planned overhaul of the bloc's system for determining anti-dumping duties. At stake is the level of European import levies on billions of euros of goods.
While it is the EU's No. 2 trade partner after the U.S., China is grouped with the likes of Belarus and North Korea in lacking market-economy designation by Europe and faces more European anti-dumping duties than any other country.
To read about China's complaint with the WTO over EU, U.S. tariff methods, click here
After years of stalling, the EU moved to upgrade China's status in November when Malmstrom proposed to elevate the country's classification in dumping cases. A final EU agreement is likely to be reached by year-end, according to Cicu. The next step is a June 20 vote in the EU Parliament's trade committee on amendments he's proposing.
"We are confident of finding a convergence of views," Cicu said. "If we manage this properly, it won't be so bad for the European industry."
Draft Legislation
To limit a flood of cheap imports from China, the EU has included in the draft law a formula for calculating anti-dumping duties against countries whose markets are deemed to have "significant distortions" from state intervention. A related provision would allow the European Commission, the EU's Brussels-based trade authority, to report on regional distortions, aiding European industries when filing dumping complaints.
After the June 20 vote in the EU Parliament's trade committee, Cicu plans to start negotiations on a final deal with representatives of the bloc's national governments, which have already reached a deal among themselves.
Asked how one of the most politically toxic EU policy questions in years could suddenly seem ripe for settlement, Cicu cited cool heads, widespread consultations and the value of two decades he spent in the Italian parliament and government before joining the European legislature in 2014.
"Twenty years of political experience is a way to manage hot potatoes," he said with a smile.
by Jonathan Stearns
Bloomberg