HNA Group Co., the Chinese aviation-to-hotels conglomerate, increased its stake in Deutsche Bank AG to almost 10 percent to become the top shareholder in Europe's largest investment bank.
HNA's holding in Germany's biggest bank rose to 9.92 percent, according to a regulatory filing Tuesday by investment entities acting on HNA's behalf. The conglomerate initially reported a 3 percent stake in Deutsche Bank in February, saying at the time that it may increase its holding, while intending to remain below 10 percent. It disclosed a stake of almost 4.8 percent in March.
Deutsche Bank Chief Executive Officer John Cryan is focusing his attention on returning the lender to growth after grappling with losses resulting from legal probes and misconduct charges. Last month, the bank sold 8 billion euros ($8.8 billion) of new shares to bolster capital after abandoning an earlier plan to sell its Postbank unit.
"An anchor investor is positive for Deutsche Bank at this juncture," said Michael Huenseler, a fund manager at Assenagon Asset Management, which owns the bank's stock. "The concentration of share holdings among larger investors is not a problem."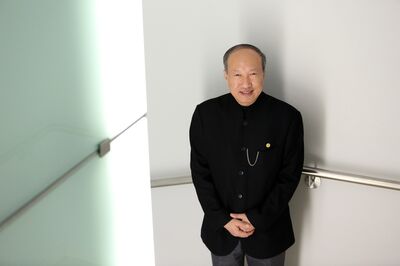 Led by billionaire Chen Feng, 63, HNA has been on a buying spree, acquiring stakes in Swiss duty-free operator Dufry AG, Singapore-based logistics provider CWT Ltd. and hotel operator Hilton Worldwide Holdings Inc. The Chinese firm was reported to have bid for HSH Nordbank, a regional bank in Germany, and earlier this year took a stake in asset manager SkyBridge Capital through HNA Capital, which has ambitions of becoming a global investment bank and financial-services provider.
To read about HNA becoming a major shareholder in February, click here
HNA's voting rights in Deutsche Bank are formally held by a vehicle structured by Austrian asset manager C-Quadrat Investment AG. Alexander Schuetz, the CEO of C-Quadrat, has been nominated to join Deutsche Bank's supervisory board after a confirmation vote of the bank's annual general meeting on May 18.
Spokesmen for Deutsche Bank and C-Quadrat declined to comment.
HNA's holding surpasses BlackRock's 5.9 percent investment, which had been the largest single stake reported in Deutsche Bank, according to data compiled by Bloomberg.
Buying Spree
Deutsche Bank fell 0.3 percent to 16.63 euros at 11:04 a.m. in Frankfurt trading on Wednesday. It has gained 8 percent this year and is up 77 percent from a low reached in September.
The Chinese conglomerate has spent $30 billion on deals over the past year. Last month, HNA agreed to purchase 16.8 percent of Dufry, a stake with a market value of about 1.44 billion Swiss francs ($1.5 billion).
Chen, who two decades ago walked the aisle of his startup Hainan Airlines Co.'s lone airplane serving refreshments, has struck deals from Australia to Switzerland in the past two years as he expands his empire beyond aviation and hotels. In 1995, Chen flew to New York and persuaded George Soros to invest $25 million in his fledgling airline, which now has a market value of $8.1 billion.
by Eyk Henning and Steven Arons Bloomberg