Chinese social media users are questioning the whereabouts of one of China's biggest film stars.
Fan Bingbing is one of the world's highest paid actors, but media reports in the country say that she hasn't been seen in public since 1 July when she visited a children's hospital.
Social media users are also noting her unusual silence on the popular Sina Weibo microblog, where she has more than 62 million followers. She has not been active on her account since 23 July, when she "liked" a number of posts.
In May, prominent TV presenter Cui Yongyuan appeared to accuse Fan Bingbing of tax evasion. Her studio has denied any wrongdoing,
It has not commented on her whereabouts.
Social media concern
Ms Fan is known internationally as a singer and model, as well as for her appearance in the X-Men film franchise.
She is one of China's most influential celebrities and posts regularly on her Weibo account. Her posts consistently receive thousands of user comments.
This makes her current online silence unusual, and hundreds of thousands of social media users have been voicing their concern.
Many are replying to her most recent post on 2 June and asking for her to release a statement and confirm that she is well.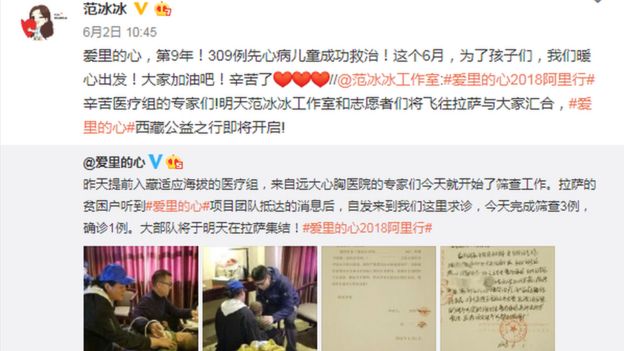 "We love you, Fan Bingbing," many users say. Another adds: "We are waiting for an answer."
Others question if she has been detained, but at present this is pure speculation. They note the recent, highly circulated allegations surrounding her in relation to a wider government tax evasion probe.
Some celebrities are alleged to have used so-called "yin-yang" contracts: dual contracts in which one sets out an actor's real earnings, and another details a lower figure, with the latter submitted to the tax authorities.
In June, the actress's studio addressed these allegations and said that the star had never signed dual contracts, "The studio and Fan Bingbing will fully cooperate with the relevant authority. We hope the investigation result can be released soon to answer the public doubt."
Report censored
In the past week, concern about Ms Fan among social media users has risen after a financial newspaper carried a controversial article hinting that she was under investigation.
The Economic Observer claimed on 26 July that several of Ms Fan's staff were being questioned by the police, and that her brother had been told that he was not allowed to leave the country. He has not commented.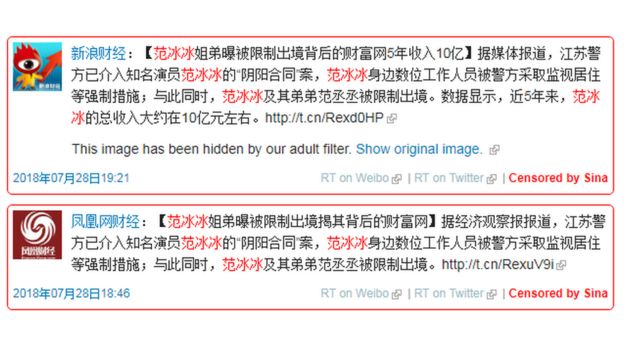 The article was swiftly taken offline, and multiple posts that mentioned it, including some by state-affiliated media have been censored according to Free Weibo, a censorship-monitoring website.
Many financial newspapers in China are independent, but given their traditionally niche subject matter, are often overlooked by the government censors.
Media hint at concerns
Mainstream state media have steered clear of reporting on the whereabouts of Ms Fan.
Financial media have noted that the market value of Huayi Brothers, the production company that she is signed up to, has plunged some seven per cent in the past week. However, the company has since released a statement saying that this is unrelated to Ms Fan.
Independent media including Caixin Online have reported on the "rumours" that Ms Fan has been detained, and note that her studio has not responded to phone calls from the media or fans.
Some outlets say this could be because members of her staff are being investigated, but this is unconfirmed and both Ms Fan and her team could simply be taking a break from the limelight.
By Kerry Allen
BBC