China's "Golden Week" national holiday is under way, and social media users are making light of travel problems that are dogging the annual getaway.
Social media are dominated by video and images of the congestion that is hampering travel to popular destinations such as Beijing.
Official newspaper China Daily estimates that some 650 million people will travel within China this week, with a further six million heading abroad.
Golden Week is one of only two extended periods in which Chinese people can take time off during the year, the other being Chinese New Year, which falls in January or February.
'People, people, people…'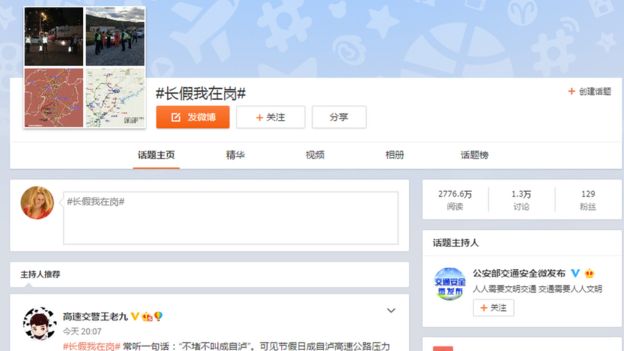 Related hashtags have been going viral on popular microblog Sina Weibo since people began embarking on journeys a few days ago.
Tens of thousands of users are posting using #ImOnTheLongRoadDuringTheLongBreak and #OnTheRoadDuringGoldenWeek to discuss the delays and congestion. Images of extreme congestion posted via Sina Weibo have been a big draw.
And mainstream news portals including Sina News have warned travellers to take extra precautions, posting survival guides and warning of the dangers of dehydration and heatstroke.
The official China News Service agency has shared a composite of pictures and videos, attracting more than 1,000 user comments. "People people people people people people," says one caption. Beijing's Tiananmen Square is shown thronged with selfie-stick users.
Regional newspaper Jiangnan Metropolis Daily shows birds-eye photos taken from inside a railway station in south-eastern Jiangxi, complete with a crying emoji. In some of the images it is almost impossible to see the station floor because of the crowding.
'Hahaha!'
Popular media have carried humorous videos showing how embattled travellers have put on a brave face. Some of the videos have had millions of views and thousands of comments.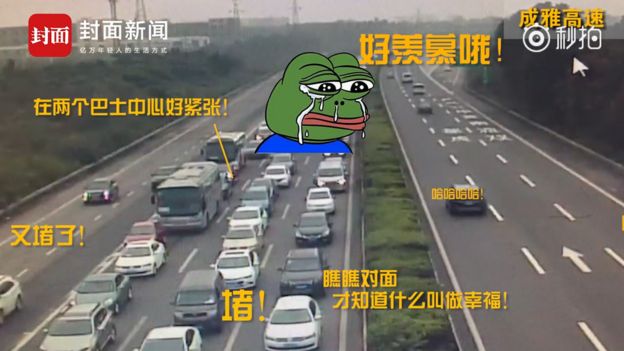 They include a video by news portal Cover News, showing gridlocked traffic heading towards the south-western city of Chengdu, and empty lanes exiting the city. Captions superimposed over images of the congested lane say things like "more queues!", while captions over cars in the empty lane say "Hahaha!"
Video website Pear Video noted that a member of the transport police became an overnight online celebrity in northern Xi'an for entertaining queues of travellers outside a railway station.
The police officer tells them to behave as if they are Terracotta Warriors as they move forward in the queue, and tells them "go with your feelings, and don't hold anybody's hand". The video has been viewed more than five million times.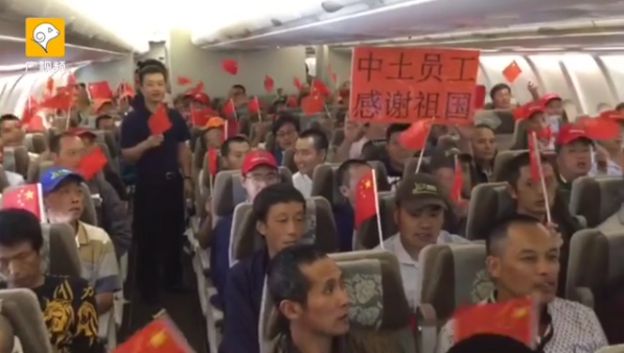 Social media users point out that Chinese travellers abroad have also been affected by travel problems. A video posted on Guangzhou Daily received seven million views after it showed a plane full of Chinese travellers passing the time by waving flags and singing the national anthem.
The newspaper says the 381 passengers had had their flight from the Caribbean back to China delayed for two days as a result of Hurricane Maria.
By Kerry Allen
BBC