Few companies have come to symbolize China's global ambitions quite like HNA Group Co.
In just three years, the private conglomerate has invested at least $45 billion around the world.
How did HNA pay for it all?
That question is gaining new urgency as Beijing moves to curb debt-fueled overseas investments that could ultimately pose risks to the nation's companies and economy. One part of the answer lies inside the country's vast shadow banking industry, whose heady growth has begun to worry Chinese authorities.
A Bloomberg News review of more than 100 investment documents and corporate filings sheds light on how HNA has financed its remarkable run of deal-making, which has included acquiring multi-billion dollar stakes in Deutsche Bank AG and Hilton Worldwide Holdings Inc.
The documents, pieced together from fund prospectuses and disclosures to China's Administration for Industry and Commerce, show how HNA has employed a network of trusts and asset management products, in addition to more conventional financing, to fund everything from takeovers to day-to-day expenses. Among the key findings: Units of the group have pledged more than $10 billion of unlisted shares to non-bank lenders and, in some cases, have paid interest rates on shadow debt that far exceed China's benchmark rates for bank loans and bond issuance.
Read more: Chinese Banks That Funded HNA Are Said to Halt New Lending
While there's no indication that HNA has done anything illegal, the financing is unusual for a company of its size. It suggests that HNA may be turning to more expensive sources of funding as some traditional lenders restrict credit to the group, according to Andrew Collier, the Hong Kong-based founder of Orient Capital Research. For Collier, it also raises doubts about whether HNA's investments will prove lucrative enough to cover its borrowing costs. The group's return on equity fell to 1.7 percent last year from 3.6 percent in 2015, while its effective interest rate climbed to 4.4 percent from 4 percent, data compiled by Orient Capital show.
"It's questionable whether they'll be profitable enough to repay the loans," said Collier, who wrote a 13-page report on HNA's shadow banking activity last month. HNA could eventually face a funding crunch as its dependence on higher-cost financing increases, he said.
To be clear, there's no sign that HNA is struggling to meet its obligations. And while bonds issued by some of its units have slumped this year, the securities are still trading far from distressed levels. The 2018 dollar notes of HNA Group International Co., an offshore unit of the conglomerate, yielded 8.47 percent on Friday.

'Too Big to Fail'
HNA's parent company said in a response to questions that financing from non-bank institutions makes up a "small" portion of the group's overall funding and that its credit limit from Chinese banks has increased by more than 100 billion yuan ($15 billion) this year. The company said its debt-to-asset ratio has dropped for the past seven years and added that HNA Group's profitability and asset quality have been improving.
"We are confident in our ability to create value for our shareholders," the company said.
HNA may have several reasons to choose higher-cost shadow loans over more conventional financing, even after China's government escalated its clampdown on the shadow banking industry this year. For one, the fundraising process tends to be quick, said David Yin, an analyst at Moody's Investors Service who specializes in shadow banking.
A typical peer-to-peer loan, for example, might take just a few days to arrange and involves fewer disclosures than a bank loan or a bond sale. There's also no official limit to the amount of cash HNA can raise from shadow sources. Banks, by contrast, have both internal and regulatory caps on their exposure to specific borrowers.
Individual investors — the ultimate source of funds for many shadow banking products — may be willing to lend to HNA because they assume the company is "too big to fail," said Victor Shih, a professor of political economy at University of California San Diego who studies China's financial industry. "They're betting on a bailout if things go sour," he said.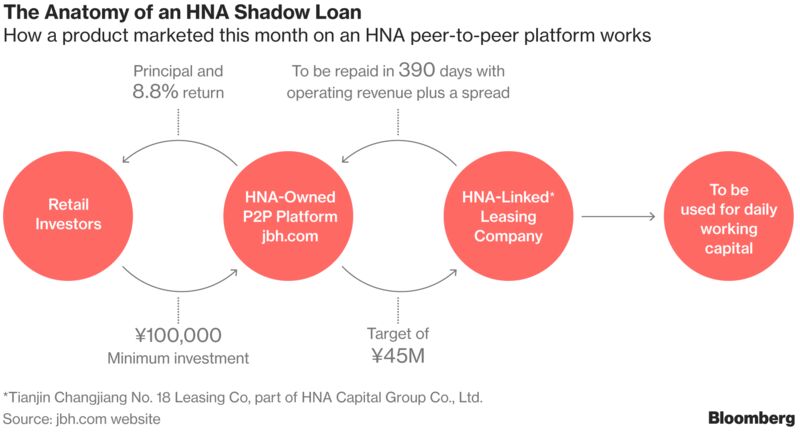 Read more: A QuickTake explainer on shadow banking
While closely-held HNA has declined to provide a full accounting of its financing, the company's AIC disclosures provide a window into its funding tactics. The filings show transactions that impact registered capital, such as stock pledges and share subscriptions. When HNA pledges shares in its units as collateral for loans, for instance, the identities of the lenders are revealed in AIC disclosures.
Bloomberg examined filings from 12 of HNA's largest unlisted units. While these units account for a small fraction of the company's more than 700 subsidiaries, their consolidated revenue covers most of the group's consolidated revenue, according to data compiled by Bloomberg and Shanghai Brilliance Credit Rating & Investors Service Co., a Chinese credit-rating company.
One limitation of the filings is that they only capture funding that affects registered capital; they don't provide insight into other forms of financing such as unsecured loans. To supplement the AIC disclosures, Bloomberg also compiled data on HNA shadow banking products from P2P websites and Use Trust, a Nanchang-based research and advisory firm.
Taken together, the documents suggest that HNA's main units have increased their use of shadow financing in absolute terms over the past two years.
New share pledges to trusts and other non-bank financial institutions at the 12 unlisted units totaled at least $6 billion this year through July, nearly matching the figure for all of 2016, according to AIC filings. The units have more than $20 billion in outstanding share pledges.
Read more: Bloomberg reported last month that publicly-traded HNA businesses had $24 billion of share pledges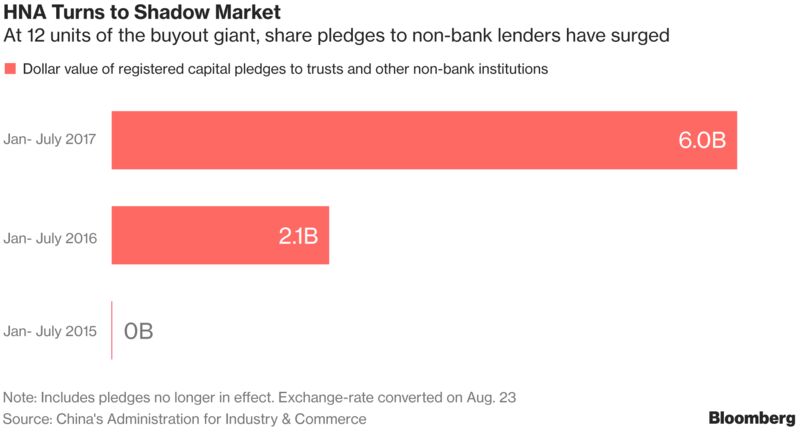 HNA entities have sold 35 trust products since the start of 2016, up from 21 during the preceding five years, according to data compiled by Use Trust. Its Chinese conglomerate peers have been much less active: Dalian Wanda Group issued 10 products since the start of 2016, while Fosun Group offered none, Use Trust data show.
In its response to questions from Bloomberg, HNA said trusts account for less than 10 percent of its overall financing and that their portion of the total has decreased recently, without being more specific about the scale or time period of the decline.
"HNA Group considers a variety of capital markets instruments to fund its M&A and investment activities, and trust financing is one of them," the company said.
Trust funding doesn't come cheap. Products tied to HNA since the start of 2016 promised investors an average return of about 7 percent. That compares with the 6.79 percent yield on China's benchmark junk bond index and the 5.67 percent weighted-average interest rate on bank loans to the nation's non-financial companies in June.
HNA may find trust funding appealing because it can help the company appear less indebted than it really is, said Shih, a former principal at Carlyle Group.
Consider the case of Xiamen International Trust Co., which shows up in AIC filings as a minority shareholder in HNA's technology unit, via a limited partnership owned by the trust. Despite being recorded as an equity owner, the trust has structured its financing like debt. The prospectus advertises a 7 percent to 8.3 percent annualized return and says that HNA's parent company has committed to buying back the stake after 24 months "to ensure the principal and interest of the trust product is safely withdrawn."
Read more: China's Dealmaking Tycoons Scrutinized by Banking Regulator
HNA's unlisted units have reported at least $1.2 billion of equity subscriptions by trusts this year, up from zero in the same period of 2016, filings compiled by Bloomberg show.
The company said its financial statements are prepared by strictly following accounting standards and that relevant trust arrangements have been classified as debt. Calls to Xiamen International weren't returned.
While China's 22 trillion yuan trust industry is seen as one of the more mainstream providers of shadow finance, HNA has also been tapping fringe sources of funding, such as P2P loans. In several cases, the company has even used its own P2P platforms to funnel money from individual savers to other units in the group.
In one of the latest examples this month, an HNA leasing unit in need of working capital is raising 45 million yuan on HNA's Jubaohui P2P platform. The leasing firm is offering investors an 8.8 percent return over 390 days, twice as high as China's benchmark one-year lending rate.
HNA said the P2P platform complies with Chinese regulations.
The conglomerate has also turned to lightly-regulated corners of China's equity market for funding. HNA has listed at least 10 businesses on the nation's so-called New Third Board, a stock-trading platform equivalent to America's over-the-counter "pink sheets." The venue tends to host smaller Chinese companies that lack the ability to qualify for a spot on the nation's biggest exchanges in Shanghai and Shenzhen.
HNA, which also has some subsidiaries listed on China's main bourses, said its choice of exchange varies based on the asset size and performance of each unit.
Still, for Orient Capital's Collier, HNA's funding strategy isn't what you'd expect from a company ranked 170 on the Fortune Global 500 list.
"They're way off the deep end," said Collier, author of "Shadow Banking and the Rise of Capitalism in China." "Their needs for capital are so great that, at the end of the day, they are going to as many people as possible."
By Blake Schmidt, Pei Yi Mak and Venus Feng
With assistance by Prudence Ho, Adrian Leung, and Judy Chen
Bloomberg