President Xi Jinping appointed one of China's few top generals with combat experience to a powerful military post, according to two people familiar with the matter.
General Li Zuocheng, 63, a veteran of the country's brief and bloody 1979 war with Vietnam, was this week named chief of the People Liberation Army's Joint Staff Department, the people said, asking not to be identified because the announcement was internal. He replaces General Fang Fenghui, who last week hosted the U.S.'s top uniformed officer, General Joseph Dunford, and is expected to receive another position, they said.
Li's appointment to the post — created last year as part of the largest military overhaul in six decades — underscores Xi's desire to turn the 2.3 million member PLA into force "able to fight and win wars." China hasn't been involved in a major conflict since the border clash with Vietnam.
The promotion puts Li directly under the 11-member Central Military Commission, which is led by Xi and due for a reshuffle after an upcoming Communist Party congress. Only one of seven vice chairman of the elite CMC since 2002 had combat experience on his service record.
The Joint Staff Department is a central component to Xi's reform and oversees PLA's operations, intelligence and training. Fang's recent meeting with Dunford, the chairman of the U.S.'s Joint Chiefs of Staff, suggests that Li will occupy a top liaison role at a time of increasing tensions between the world's two largest economies.
China's Ministry of National Defense in Beijing didn't respond to a faxed request for comment Wednesday.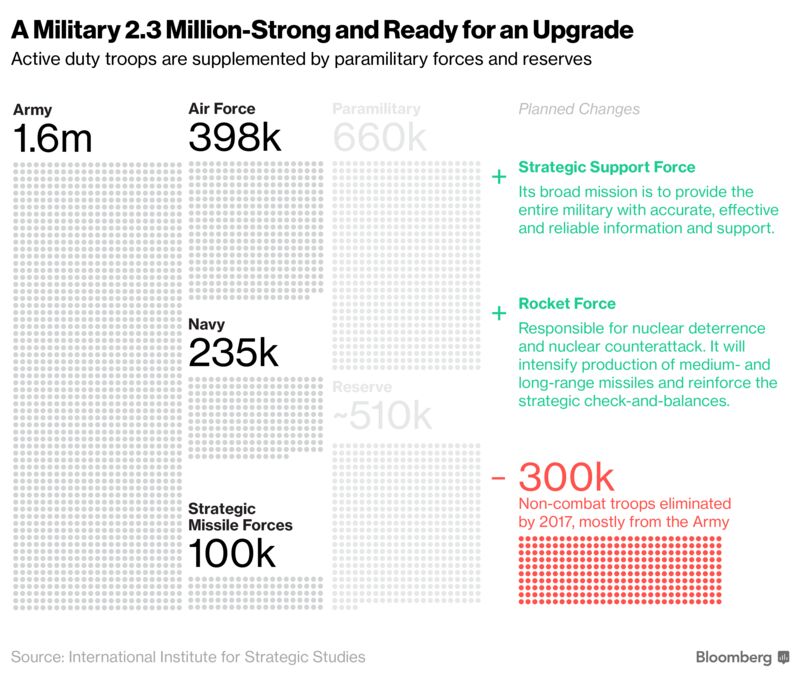 The move is among several promotions ahead of the party congress, in which Xi will preside over the replacement of much of the country's leadership from the military to provincial governments. The twice-a-decade gathering will shape the influence for years to come of a president already considered the country's most powerful leader in a generation.
Li, who most recently led the PLA's ground forces, received China's highest military honor, a first-class merit for his leadership of an infantry company during the war. His unit was credited with killing 294 Vietnamese combatants in less than four weeks, earning him a reputation as China's "most feared war hero," according to a Beijing Daily story published after his previous promotion.
Xi's overhaul has focused on expanding China's ability to project force further from its shores, in part by adopting a joint command structure similar to the U.S. The two-year-old effort has helped challenge more than 70 years of American military dominance in the Western Pacific.
The president is reducing the PLA's overall personnel numbers by 300,000 — mostly from the ground forces — while adding new missile, cyberwarfare and outer-space capabilities. He has replaced the previous seven military regions with five "joint theater commands" and clarified the CMC's leadership role.
Last month, Xi told a gathering of troops to mark the PLA's 90th anniversary that the country must accelerate its military modernization drive because "the world isn't safe."
By 
Keith Zhai
Bloomberg