China's internet titans are set to supply ample evidence that online spending continues to defy a slowdown in the world's second largest economy.
Tencent Holdings Ltd. and Alibaba Group Holding Ltd. — the dominant forces in Chinese online gaming and shopping, respectively — should both report 40 percent-plus sales growth when they deliver quarterly earnings this week, outstripping Amazon.com Inc. and Alphabet Inc. With market values of more than $300 billion each, the Chinese companies are now their nation's biggest, underscoring the rise of the new economy as traditional industry sputters.
The wealth of the middle class is fueling growth in core businesses even as Alibaba and Tencent funnel billions into longer-term bets on Hollywood-style entertainment and web finance. Tencent scored a hit with new mobile title Honor of Kings, while Alibaba likely benefited from the steady expansion of its Tmall shopping site. Tencent's revenue is projected to rise 45 percent to 46.3 billion yuan ($6.7 billion) in the March quarter, the average of analysts' estimates compiled by Bloomberg. Alibaba's sales could climb 48 percent to 35.9 billion yuan.
"The overall economy might be growing slower, but entertainment is counter-cyclical and Alibaba and Tencent are in those sweet spots," said Shi Jialong, a Hong Kong-based analyst at Nomura International HK Ltd. "For Alibaba it's physical goods, it's shopping. For Tencent it's virtual goods in gaming."
Tencent, owner of the WeChat messaging platform, will release earnings on Wednesday while Alibaba's will come a day later.
For a look at trader bets ahead of Tencent's results, click here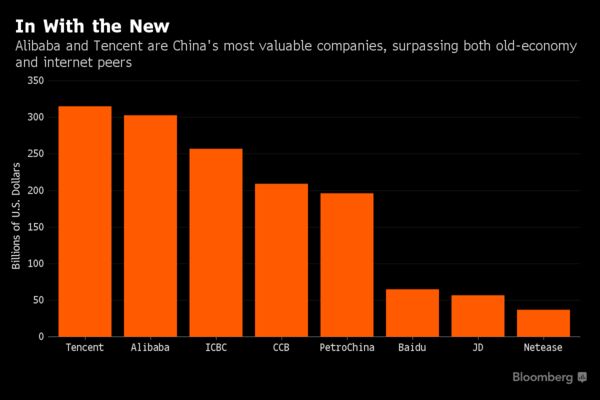 Internet companies are bucking the slowdown as more people flock to the web for goods and entertainment. Last week, No. 2 e-commerce site JD.com Inc. reported its first profit as a public company. Online retail sales of goods jumped 25.9 percent in the first four months while that of services surged 55.9 percent, outpacing a 10.2 percent expansion in overall consumption, according to data released by the National Bureau of Statistics Monday. Transactions on Alibaba's Tmall alone may have grown 25 percent in the March quarter, Citigroup Inc. analyst Alicia Yap said in an April report.
"The market will be positively surprised by the steady commission revenue growth," Nomura's Shi wrote in a pre-earnings report. Transaction "growth for Tmall has been more resilient than market expectation."
Read more: $700 Cuckoo Clocks Show China Consumers' Growing Money Power
Tencent is growing its share of online advertising but remains reliant on in-game spending. It rode a strong reception for Honor of Kings and unveiled another 19 mobile titles in April, including much-anticipated JX Online III, according to JPMorgan Chase & Co. analyst Alex Yao. A majority of those were adapted from hit novels, shows or anime in hopes of appealing to an established fan base.
The Shenzhen-based company is also backing Twitch-like streaming sites including Wuhan Douyu Network Technology Co. and accelerating a foray into Hollywood films. It backed "Kong: Skull Island," which grossed more than $560 million globally according to Boxofficemojo.com, and is helping finance the upcoming summer tent-pole "Wonder Woman."
"Given the strong momentum of mobile games and payment, we are incrementally more positive on Tencent's 2017 outlook," Morgan Stanley analyst Grace Chen wrote in a report, forecasting a "potential upside surprise from games."
Games remain one of the few sectors where Tencent doesn't clash directly with Alibaba, which leverages a different kind of addiction. The e-commerce titan is betting that a growing middle class will demand higher quality goods from Alaskan salmon to iPhone gear.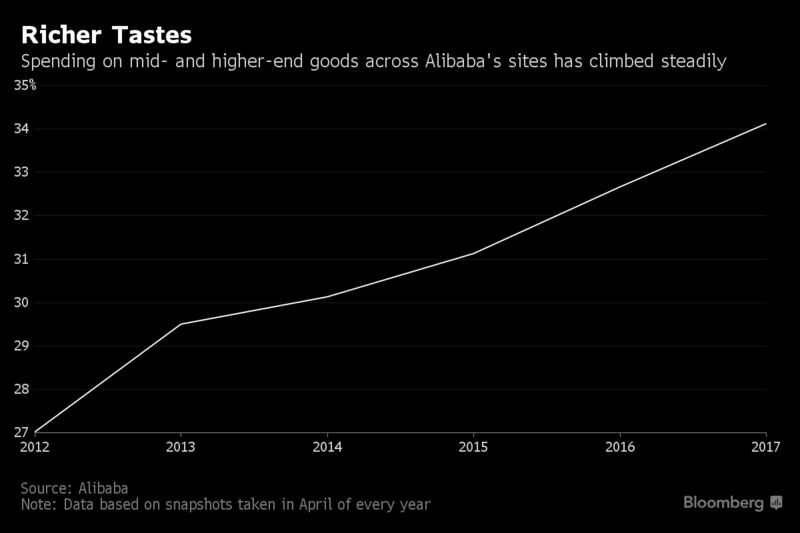 Longer-term, billionaire Jack Ma is betting technology will upend old retail models through logistics, virtual reality and digital payments. The tycoon is investing in stores including Intime Retail Group Co. and Suning Commerce Group Co. Ma's goal is to use them as a new model combining online and offline worlds, where brands monitor inventory and demand in real-time, uprooting the middlemen.
Those investments could undermine Alibaba's profitability. Its gross margin may have slipped 2.1 percentage points to 58.4 percent in the March quarter because of its new business ventures, CCB International Holdings Ltd. analyst Ronnie Ho estimates.
by Lulu Yilun Chen Bloomberg