For years, China's three state-owned airlines kept adding flights on international routes to chase after the country's expanding middle class who can afford to fly overseas. Now, they are slowing that down in favor of the local market.
In the first half of 2017, Air China Ltd., China Eastern Airlines Corp. and China Southern Airlines Co. increased international seats at less than half the pace of the same period last year, according to data from the carriers. Two of them have stepped up domestic capacity.
The pullback on overseas routes may be a sign that Chinese airlines are eschewing aggressive expansion and paring cheaper tickets on long-haul flights from smaller cities to destinations like New York and Sydney. Local passenger traffic rose as much as 16.7 percent in May — the most in more than two years — and grew more than twice the pace of international services in the first six months, data from Civil Aviation Administration of China show.
"If you look at margins, our forecast is that domestic is more profitable," said Andrew Lee, an analyst at Jefferies Group LLC. "If there's a bit more focus on the domestic side, that would be more positive for yields."
Investors will be closely watching the carriers' domestic yields, an indicator of profitability measured by the money earned from flying one passenger per kilometer, as the three carriers release first-half earnings this week. Shanghai-based China Eastern may report a 28 percent jump in net income to 4.1 billion yuan ($617 million). Beijing-based Air China's profit probably rose 9 percent to 3.8 billion yuan and Guangzhou-based China Southern may say profit declined 6 percent to 2.9 billion yuan, according to the median estimates in a Bloomberg survey of three analysts.
"Last year their attitude was 'let's take a hit on yields to increase capacity,"' said Lee. "This year there could be a slight shift to focus more on yield management."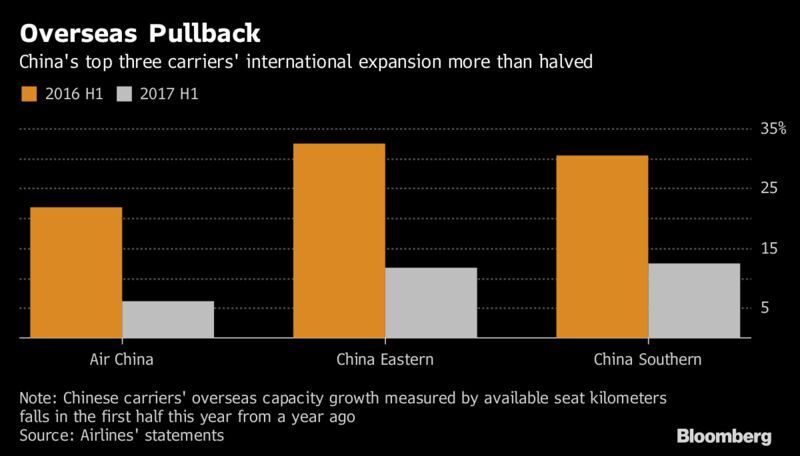 Seat capacity on local routes jumped 8.9 percent in the first half, from 2.4 percent a year ago at China Southern, while it rose 8.7 percent from 7.8 percent at China Eastern. It stayed flat at about 5 percent for Air China.
While China remains the world's biggest source of outbound travelers, the rate of growth was 4.3 percent in 2016, versus 20 percent at the beginning of this decade. It is expected to slide further to 4 percent this year, according to data from China's National Tourism Administration.
"Outbound travel demand is still healthy but growth is no longer explosive," said He Mingliang, a Shanghai-based analyst at Capital Securities Corp. "That means airlines don't have to expand as aggressively as they once did."
Dwindling slots and air-traffic rights for non-stop services from major aviation hubs such as Beijing and Shanghai also contributed to the moderation in overseas expansion. Tensions between China and South Korea in March and terror attacks in Europe dented some demand as well, said Corrine Png, chief executive officer of Singapore-based Crucial Perspective Pte.
"It's difficult to add more capacity to places where demand is strong, while places with ample room for new international flights lack the support of solid demand," said Zeng Fanzhe, a Beijing-based aviation analyst at Tian Feng Securities Co.
Bloomberg
With assistance by Dong Lyu, and Kyunghee Park