The troubled Chinese conglomerate HNA Group Co. is selling a raft of buildings across the U.S. as the once-voracious acquirer looks to cut its massive debt.
Among the properties on the block is 245 Park Ave., in New York, according to a marketing document seen by Bloomberg. HNA bought that skyscraper less than a year ago for $2.21 billion, one of the highest prices ever paid for a New York office building. The company also is looking to sell commercial properties in Chicago, San Francisco and Minneapolis. All told, the properties are valued at $4 billion.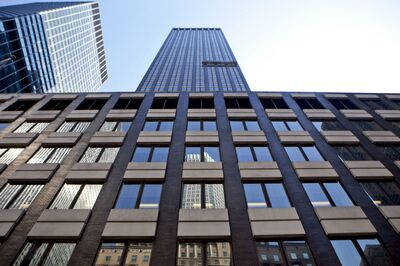 The sales effort is the latest sign of HNA's dramatic fall. The company, which started as an airline operator, became a symbol of China's huge appetite for overseas properties,
spending tens of billions of dollars to buy trophy buildings and stakes in Hilton Worldwide Holdings Inc. and Deutsche Bank AG.
Now HNA is facing a liquidity crunch as China clamps down on what it refers to as "irrational" investments and real estate values languish. As of the end of June, the company had 185.2 billion yuan ($29.3 billion) of short-term debt — more than its cash and earnings can cover.
An HNA representative had no immediate comment.
The U.S. marketing document lists six office properties that are 94.1 percent leased — including 850 Third Ave. in Manhattan and 123 Mission St. in San Francisco — and one New York hotel, the 165-room Cassa. The properties are being marketed by an affiliate of brokerage HFF. A representative for HFF didn't immediately respond to a request for comment.
The purchase of the 1.7-million-square-foot (158,000-square-meter) tower at 245 Park, with tenants including JPMorgan Chase & Co., was viewed as a high-water mark for a real estate boom that saw prices for marquee office buildings in big cities double over a seven-year span. A wave of overseas buyers helped propel prices higher in Manhattan. As those foreign investors have pulled back, the market has slowed.
Last month, HNA agreed to sell a Sydney office building to Blackstone Group LP for A$205 million ($165 million), Bloomberg reported. In Hong Kong, the company is inviting outside investors to buy into two land plots it purchased for $1.8 billion just over a year ago.
HNA owns more than $14 billion in real estate properties globally, according to estimates by Real Capital Analytics Inc. The conglomerate had amassed $190 billion of assets as of June.
By 
Sarah Mulholland

Bloomberg