China's efforts to cool the property market may lead to the first decline in home sales since 2014 next year, highlighting the risks as officials try to battle bubbles without tanking the economy.
As a government campaign tackling excessive leverage and financial risks chokes off some sources of buyer funding, such as consumer loans, developers could also find that credit is tighter next year. As dozens of cities maintain their curbs on property sales, new mortgages have dipped and funds for building have slowed. JPMorgan Chase & Co. sees a 6 percent decline in home sales in 2018.
An overheated real-estate sector is one of the prominent dangers to the world's second-largest economy as policy makers step up efforts to tackle financial risks, now that the political hurdle of October's 19th Communist Party Congress is cleared. Officials must judge how tightly to squeeze with ad-hoc curbs while trying to keep the economy humming and searching for long-term structural remedies, such as a property tax or a bigger rental market.
"Slowing property investment will drag on economic expansion," said Wang Qiufeng, an analyst at China Chengxin International Rating Co., a ratings company part-owned by Moody's Investors Service. "There is little sign that policy makers will relax curbs on home purchases."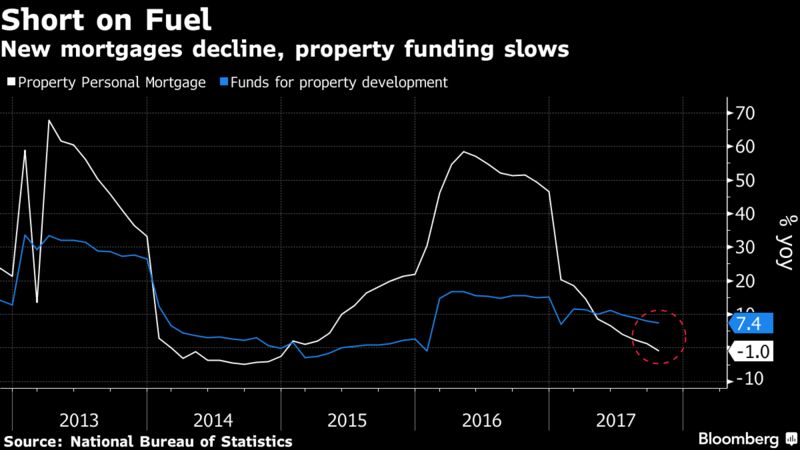 Restrictions on home purchases that were rolled out since March 2016 will likely be maintained, and market oddities caused by the hand of the state may persist. With local officials able to effectively set maximum prices for developers' home sales, new properties have sometimes cost less than old ones in Beijing and Shanghai.
An array of city-by-city curbs includes bans on buyers reselling for multiple years; mortgage restrictions; increased down-payment requirements; bans on purchases by non-residents; and limits on the number of homes that people can buy.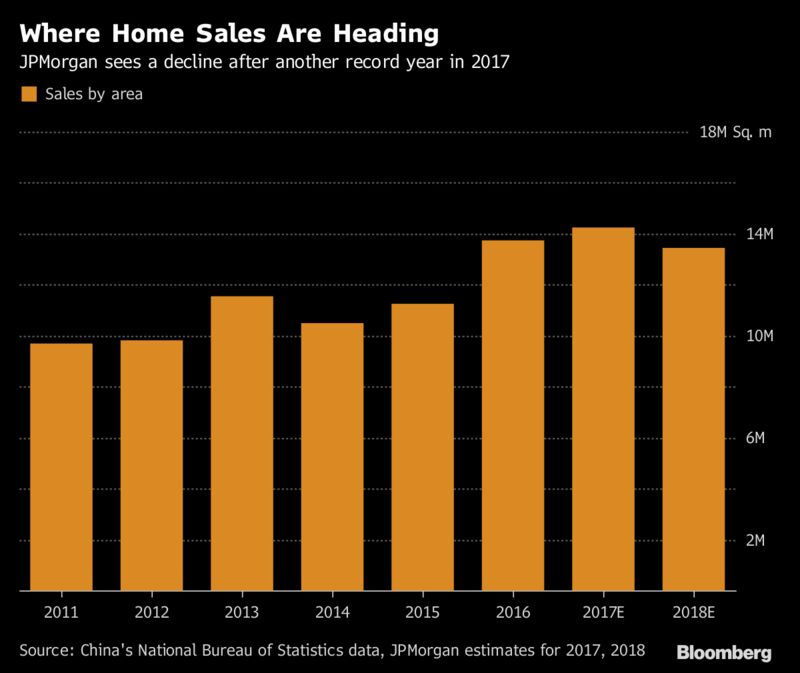 The home-sales decline forecast by JPMorgan is driven by the smaller cities that can account for two-thirds of demand, according to a note from analysts led by Ryan Li. Sales will bounce back in the biggest cities but sink in the smaller ones, where economic fundamentals are weaker and buyers are more sensitive to credit conditions, they say. Real-estate investment growth will cool from an estimated 11 percent this year to 9 percent next year, according to the bank.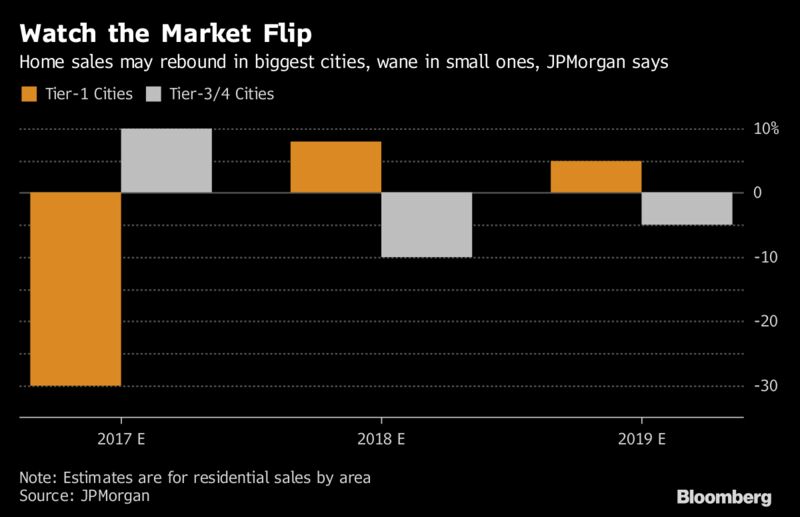 The stakes are high: A bubble in the biggest cities such as Beijing and Shanghai risks spreading to smaller ones, increasing the likelihood and costs of a sharp slump, according to an International Monetary Fund working paper this month. Developing a bigger and better rental housing market is touted as one long-term method of cooling prices and stabilizing the market, but those efforts are in their early stages.
There's also no imminent sign of a long-discussed property-holding tax that would discourage speculative investors from buying homes that stay vacant as they wait for prices to rise — that's what Standard Chartered Plc calls the "missing piece" of China's bubble-fighting toolkit.
Indeed, China lacks a nationwide real estate registration scheme, and that's a major factor delaying a property tax. The nation aims for a basic registration management platform by the end of 2017, according to the website of the Ministry of Land and Resources.
Bloomberg
With assistance by Emma Dong, and Miao Han