Diaper maker Hangzhou Haoyue Industrial Co.'s profit margins got crushed late last year on surging paper and wood pulp prices. Even after its first price hike in years, the company was "just holding on," according to Damon Xia, who's in the trading department.
Then this year, the economic pain started to subside. Pricing pressures for key supplies and labor eased, while the yuan steadied and demand for its baby and adult diapers picked up.
Raw material prices "probably still will increase this year but overall they'll be much more stable," Xia said in an interview during the biannual Canton Fair in Guangzhou last week.
That's good news for the global economy, given China's outsize impact on all manner of consumer product prices.
In 2016, China's exporters mulled what then seemed unthinkable: price increases for the first time in years. The risk was that such hikes from the world's biggest exporter would reverberate across the globe, helping reflate the world economy but also potentially introducing inflationary pressures to a fragile global recovery.
For more about how exporters considered price hikes, read here
Since then producer prices roared back to end four years of declines. They rose 6.7 percent in April, according to economists surveyed by Bloomberg, after a 7.6 percent gain in March.
Xia's view that the worst is over for rising producer prices was shared last week by makers of everything from camping equipment to wheelchairs at the fair. It's one of the world's largest such gatherings, where more than 24,000 exporters and 180,000 mostly foreign buyers ink deals in booths spanning exhibition space equivalent to 2,500 basketball courts.
Anecdotal evidence from the front lines of the export economy is backed up by a gauge of input prices in the official purchasing managers index, which fell to a 10-month low in April. Producer price gains also slowed in March for the first time since turning positive again in September, as did manufacturing prices.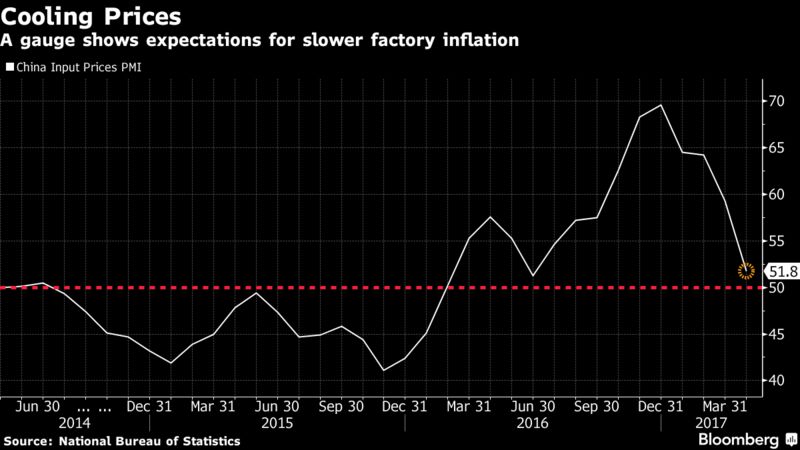 While Chinese manufacturing executives still say they face intense profit margin pressure amid fierce competition at home and from lower-cost foreign competitors, things have steadied after a roller coaster ride late last year.
"The worst of the recent burst of increases in raw materials prices seems over with prices of coal and steel having come down quite a bit from heights at around the turn of the year," said Louis Kuijs, head of Asia economics at Oxford Economics in Hong Kong. "Conditions for export-oriented manufacturing companies have improved substantially."
At Foshan Dongfang Medical Equipment Manufactory Ltd. in southern China, sales director Amy Zhou says profits are still being squeezed for the wheelchair and hospital bed maker in a segment with low entry barriers for new, low-cost competitors. But the rapid escalation of prices on materials from iron and plastic has slowed, said Zhou.
"It's not so wild now, but still increasing," she said. "Raw material prices have stabilized."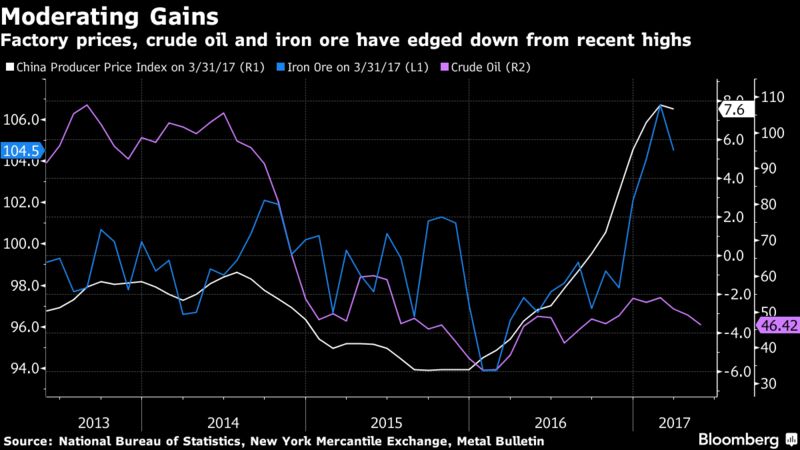 Wage gains also have moderated, rising 3 percent to 5 percent annually versus 10 percent two years ago, Zhou said. A similar trend is seen at yoga clothing exporter Zhejiang Willing Foreign Trading Co. in Hangzhou, where garment factory pay remains stable this year, according to assistant manager Zhang Tao.
"Workers used to see business was good and they realized they could ask for more," Zhang said. "But now profits are squeezed they have no choice but to accept less."
China is keeping a tighter lid on wage increases for its lowest-paid workers. In 2016, just nine of 31 provinces and regions raised the minimum wage, the fewest in at least four years and about a third of the number in the prior year. Local governments also issued guidance for companies to slow the pace for raises.
Read More: China Seeks Slow Wage Gains for Lowest Paid to Stay Competitive
"Wages increased far too much and we lost our advantage on cost," Zhang said. "Now I think the government realizes its not a good thing, too. Last year salary was stable."
Recovering global demand is also bolstering exports while a steadier yuan, following the biggest drop in two decades last year, is helping keep a lid on prices for imported materials and components. That may just be the beginning of a virtuous circle.
"The rise in global demand, and to a lesser extent a weaker yuan, have given Chinese exporters more pricing power," said David Loevinger, a former China specialist at the U.S. Treasury and now an analyst at TCW Group Inc. in Los Angeles. "Given this, we expect less need for China's currency basket to weaken significantly this year."
Bloomberg
— With assistance by Kevin Hamlin, and Xiaoqing Pi