China's economy showed further signs of entering a second-half slowdown, as curbs on property, excess borrowing and industrial overcapacity began to bite.
Key Points
Industrial output rose 6.4 percent from a year earlier in July, versus a median projection of 7.1 percent and June's 7.6 percent
Retail sales expanded 10.4 percent from a year earlier, compared with a projection of 10.8 percent and 11 percent in June
Fixed-asset investment in urban areas rose 8.3 percent from a year earlier in the first seven months, versus a forecast 8.6 percent rise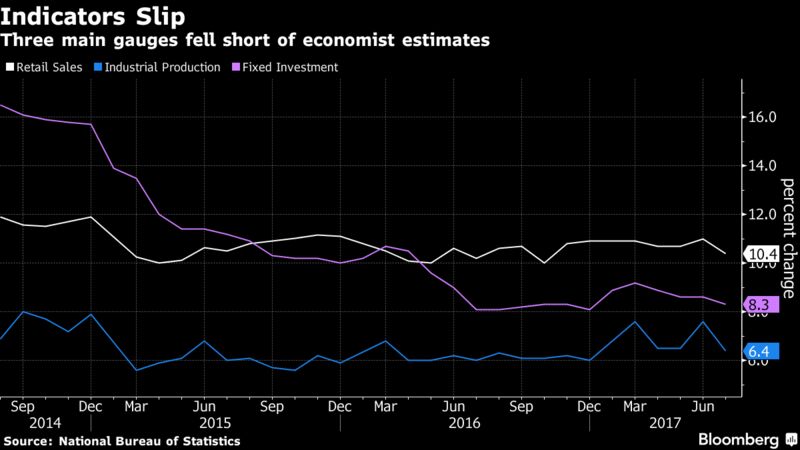 Big Picture
The world's second-largest economy faces some headwinds this year as the effects of deleveraging and industrial capacity cuts kick in, and those factors are beginning to show up in the hard data. With cooling property markets and uncertainty in the trade outlook, policy makers may refrain from tightening too aggressively to keep growth humming, especially with the political transition entailed in the 19th Party Congress looming.
Economist Takeaways
"The economy has peaked in the first quarter," said Tao Dong, a senior adviser for private banking with Credit Suisse Group AG in Hong Kong. "I don't expect growth to fall sharply in the short term because China is in a politically sensitive year. Stability is of utmost importance."
"Both foreign and domestic demand appear to have softened," Julian Evans-Pritchard, a China economist at Capital Economics Ltd. in Singapore, wrote in a note. "A few sectors, such as steel, seem to have defied this slowdown in economic activity. But the strength in these areas likely won't last given that policy tightening is set to further weigh on infrastructure and property investment in coming months."
All three indicators falling from strong June readings is "an initial signal of economic slowdown in the second half," said Ding Shuang, chief China economist at Standard Chartered Plc in Hong Kong. "It doesn't necessarily indicate a big shift in policies, since the readings aren't very bad, but slight adjustments are possible, especially in monetary policy."
"Our expected China slowdown is happening," said Callum Henderson, a managing director for Asia-Pacific at Eurasia Group in Singapore. "Chinese July import growth was the weakest since December and now retail sales are the weakest since October. The lesson is that political and economic stability for China – and more specifically solid, but not excessive growth – does not necessarily equate to market stability for those exporting to China."
Bloomberg Intelligence
At Bloomberg Intelligence, Tom Orlik and Fielding Chen's take is that the materialization of a second-half slowdown will mean that the People's Bank of China is hardly likely to push policy tightening further for now.
"President Xi Jinping has focused attention on financial stability and deleveraging as a critical objective," they write. "For now, that is more likely to be pursued through targeted measures rather than a tightening of the overall monetary stance."
The Details
Services output index rose 8.3 percent in July, slowing from 8.6 percent in June
New-energy vehicle output rose 48.6 percent on-year, up from 29.2 percent in June
Fixed-asset investment in ferrous and non-ferrous metals smelting and processing fell 11.8 percent and 5.2 percent year-on-year, respectively
The surveyed jobless rate in urban areas was about 5.1% in July
Property development investment will slow to a gradual pace, NBS said
Bloomberg News
With assistance by Xiaoqing Pi, Ailing Tan, Kevin Hamlin, Miao Han, Enda Curran, and Yinan Zhao