Almost a year after China rolled out steps to rein in soaring corporate leverage, concerns are rising that undeserving companies are benefiting while households are getting saddled with risks.
China unveiled guidelines for debt-to-equity swaps in October, part of measures to trim the world's biggest corporate debt loads. The idea was that healthy firms would use the program to cut interest-bearing borrowings, while bloated companies would be shunned. But it hasn't always worked out that way, even as the total value of swaps reached 776 billion yuan ($116 billion) in the second quarter when volumes jumped to a record, according to Natixis SA.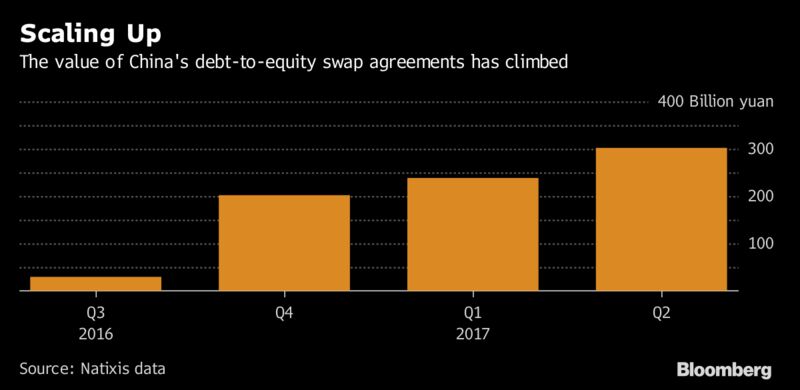 While China's State Council said in October that zombie firms may not take part, 55 percent of the swaps last quarter were in the coal and steel industries, which are plagued by overcapacity, Natixis says. The stakes are high for lenders and even individual investors, some of whom buy wealth management products repackaged from the swaps.
The absence of a clear definition of "zombie" is part of the problem, according to Fitch Ratings. Views vary on whether further guidelines on the program released this month by the banking regulator will help address these issues.
The program is attracting bad companies because they see debt-to-equity swaps as a way to get a bailout, said Chi Lo, Greater China senior economist at BNP Paribas Asset Management. "You can imagine the zombie companies will be just like cancer cells that eat into the system."
The swaps generally work like this: A bank agrees to take over a company's debt from its original lenders. The bank sets up a unit which has other shareholders that help share risk. The unit assumes the debt and conducts a transaction with the company to convert it into equity. It can then dispose of the stake.
In the most recent draft guidelines released earlier this month by the China Banking Regulatory Commission, a bank is required to own no less than a 50 percent stake in the unit conducting the swaps. The guidelines also say that the units can sell bonds and borrow from the interbank market.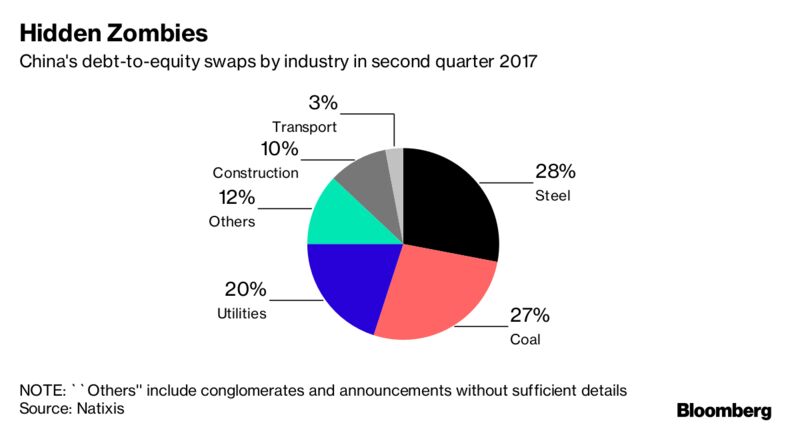 Among struggling companies that have signed swap agreements are Sinosteel Corp., which received support from the Chinese government to avoid defaulting on its debt in 2015.
Another firm, Shandong Gold Group, signed a debt-to-equity swap agreement with Industrial & Commercial Bank of China Ltd. in December. Shares of its listed unit Shandong Gold Mining have dropped about 13 percent since then, compared with a 1 percent gain for the broader Shanghai Composite Index in that period.
"China intends debt equity swaps as part of corporate de-leveraging and to help clean up bank balance sheets, but the list of deals announced so far suggests China's definition of a good versus a zombie company is quite different from that of international investors," said Matthew Phan, analyst at CreditSights.
The growth in such swaps has also prompted concerns that risks are being shifted to individual investors, as funds repackage equity stakes into wealth management products. "Households are being harmed," said Alicia Garcia Herrero, Hong Kong-based chief economist at Natixis.
China Construction Bank Corp. raised capital by repackaging swapped debt of Yunnan Tin Group and Wuhan Iron & Steel into wealth management products aimed at individual investors, according to S&P Global Ratings.
Household Risk
Two calls to Li Chengyang, media officer at China Construction Bank in Beijing, went unanswered.
While debt-to-equity swaps reduce refinancing risks for firms, if there are no measures to make those companies better, the program is only "kicking the can down the road," according to Ivan Chung, head of Greater China credit research at Moody's Investors Service.
The debt swap program may be challenging to implement if banks see no upside to the transactions and banks may prefer to hold debt rather than subordinated equity, said Jason Bedford, banking analyst at UBS Group AG in Hong Kong.
"As a whole, I'm pretty skeptical about the debt to equity swap program and how effective it is at saving good companies," said Phan at CreditSights. "Bad loans have been bought partly by households but in five years' time, the companies could be in trouble again."
By 
Denise Wee
 and 
Lianting Tu
Bloomberg