China wants its Pearl River Delta megalopolis, a global manufacturing engine with more people than France, to be even more dominant.
Policy makers plan to boost economic output of the region beyond that of greater Tokyo, New York and San Francisco by 2030 with factory upgrades and hubs for innovation, finance, shipping and trade, state media report.
The region of nine cities in Guangdong Province, including Guangzhou and Shenzhen, plus Hong Kong and Macau will grow from the current population of 68 million to 86 million people within 14 years, according to Morgan Stanley.
"Cities naturally expand outward as their populations grow," analysts including Robin Xing and Jenny Zheng in Hong Kong wrote in a recent report. "But whether this expansion evolves haphazardly or is carefully planned makes a crucial difference to future economic growth. China's central government is leaving little to chance in the Greater Bay Area."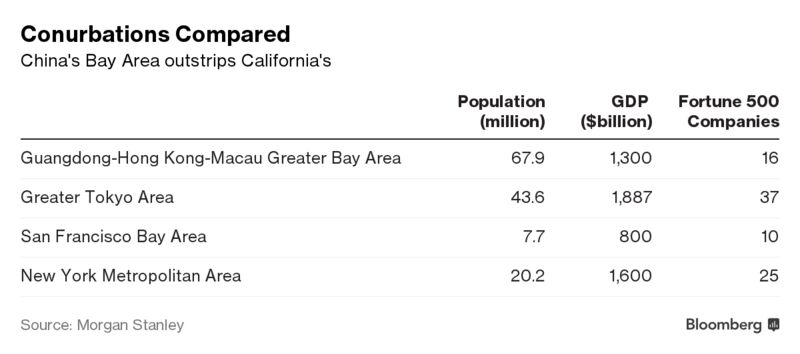 They project the highest population and property market growth over that period will be in seven smaller satellite cities, such as Huizhou, Jiangmen and Zhaoqing, potentially creating there a real estate market worth 9.6 trillion yuan ($1.44 trillion) with some 640 million square meters of living space. The delta-area population rose by 1.24 million last year alone—about the size of Brussels or Dallas.
Morgan Stanley's stock analysts recommend shares of companies with high exposure to the region, citing Country Garden Holdings Co., China Overseas Grand Oceans Group, Yuexiu Property Co., Agile Group Holdings Ltd. and CIFI Holdings Group.
The nation's top economic planners said last week they'll release a Guangdong-Hong Kong-Macau Greater Bay Area master plan by year-end. Local and central government officials signed a development framework agreement on July 1, the 20th anniversary of Hong Kong's return to China following British rule.
The former territory is increasingly integrated with mainland China, from connected stock and bond exchanges to a nearly complete high-speed rail link. Also under construction is a cross-bay bridge that will slash travel time between Hong Kong and Guangdong's Zhuhai from three hours to 30 minutes.
China's development model will "change from supercities to city clusters," the analysts wrote. "It enhances the competitiveness of the region if the hub and satellite cities are positioned well."
That approach will reduce overpopulation in hub cities, and urban railways will become a key means of transportation, saving energy, reducing pollution and easing traffic congestion, they wrote, citing initiatives such as Guangdong's plan to quadruple its intercity urban rail network by 2030.
Gross domestic product in the region is estimated to more than triple from $1.38 trillion last year to $4.62 trillion by 2030, surpassing the Tokyo, New York and San Francisco metropolitan areas, the official Xinhua News Agency reported last month.
History shows that rising populations in those three regions came mainly from inflows to satellite cities, driven by better infrastructure connecting hub cities with satellites, as well as government policy, according to Morgan Stanley.
Key risks to that outlook include coordination problems between local governments, further property policy tightening, and delays to the central government's development plan, the analysts said.
Among the lessons from the U.S. and Japan: smaller satellite cities get the biggest boost from better transportation networks, high property prices pushing residents out of hub cities, and government intervention to move industries.
Bloomberg News
With assistance by Xiaoqing Pi