China's foreign currency holdings fell for a sixth month in December, bringing last year's drop to $320 billion as the yuan posted its steepest annual slide in more than two decades.
Reserves decreased $41.1 billion to a fresh five-year low of $3.01 trillion, the People's Bank of China said Saturday. That was in line with estimates in Bloomberg's survey of economists.
The central bank's effort to stabilize the yuan was the main reason for the drop last year, the State Administration of Foreign Exchange said in a statement. The world's largest stockpile has fallen for 10 straight quarters from a record $4 trillion in June 2014, while eroding confidence in the yuan has pushed the currency to the lowest levels in eight years.
"Looking ahead, China should and probably will continue implementing strict capital controls," Yu Xiangrong, an economist at China International Capital Corp. in Hong Kong, wrote in a report. "Reserves may fall below $3 trillion in January. Although this will not change the basic situation of its reserve adequacy as measured by various metrics," it will "have a psychological impact and may induce additional market pressures," Yu said.
Deterioration in the currency and reserves contrast with strengthening momentum in other benchmark economic indicators. Manufacturing and services both ended 2016 on relatively robust notes that signal expansion is strong enough for policy-makers to keep pushing for reforms in 2017. Economists have been raising their estimates for 2016 and 2017 growth.
The decline of foreign exchange reserves in December was mainly because the PBOC supplied funds to maintain balance in the foreign exchange market and depreciation of non-U.S. dollar currencies, according to the statement from SAFE, which executes currency policy.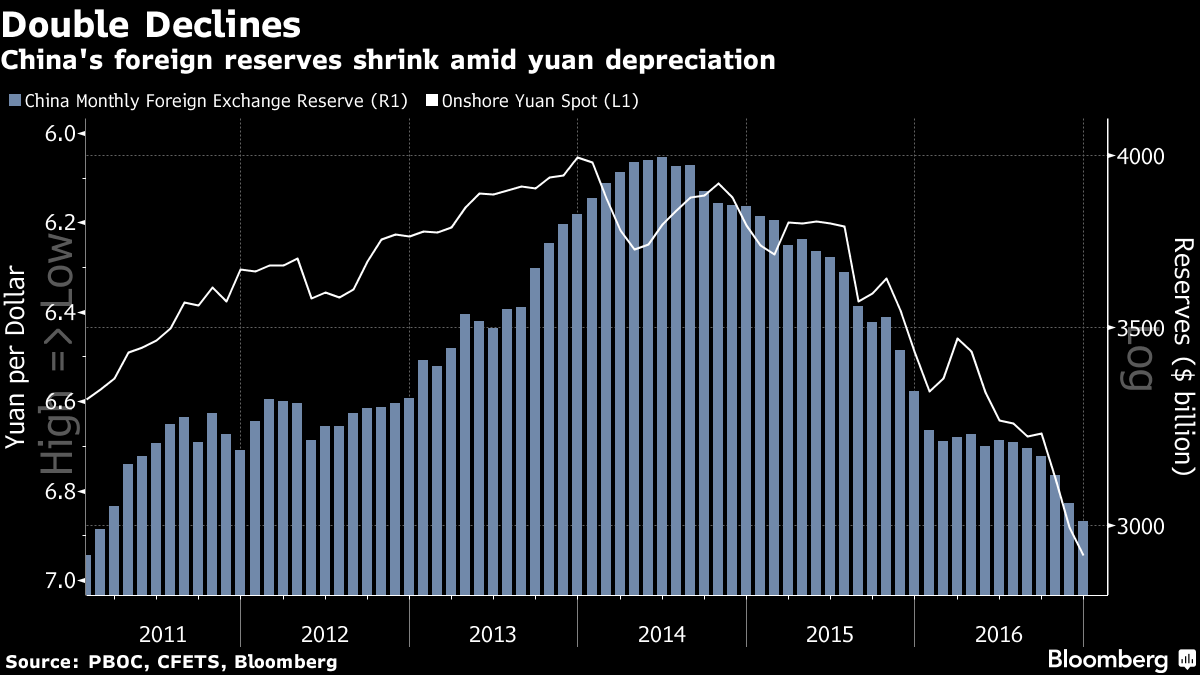 Policy makers intensified measures at the beginning of the new year to reduce capital outflows, including extra requirements for citizens converting yuan into foreign currencies after the annual $50,000 quota for individuals reset Jan. 1.
"The combination of policy-induced yuan stabilization and higher reporting requirements for households buying FX will buy the PBOC a little breathing room, preventing escalating outflows in the first month of the year," Tom Orlik, chief Asia economist at Bloomberg Intelligence in Beijing, wrote in a report.
Read More: China Gets Stricter on Forex Transactions to Limit Outflows
The currency has had greater volatility, with the offshore rate notching up its biggest two-day gain on record just days after posting its worst yearly performance against the dollar. The yuan fell 0.9 percent last month, capping a 6.5 percent drop over the year.
Policy makers now may prefer using capital controls instead of burning through their foreign exchange reserves to defend the yuan, according to Gao Yuwei, a researcher at the Bank of China Ltd.'s Institute of International Finance in Beijing.
There are still uncertainties facing the yuan as to whether the resurgent dollar will continue its rally in January and the Federal Reserve's future U.S. interest-rate hikes, said Wen Bin, a researcher at China Minsheng Banking Corp. in Beijing.
Gold reserves stood at $67.9 billion in December, little changed from $69.8 billion a month earlier. Officials kept them unchanged at 59.24 million troy ounces for a second month in December, the first time it halted purchases for two consecutive months since disclosing holdings as of June 2015.
"China's government is well positioned to control outflows more effectively if it wants to, though it may not want to be seen as reversing China's 'opening' strategy," Wang Tao, head of China economic research at UBS Group AG in Hong Kong, wrote in a recent note. "In the long run, it may not have much choice if FX reserves fall more sharply on the back of intensifying capital outflow pressures."
— With assistance by Xiaoqing Pi, Jun Luo, and Miao Han
Source: Bloomberg