China's official factory gauge declined on lower commodity prices, clouding the outlook for sustaining the past two quarters' acceleration in economic growth.
The manufacturing purchasing managers index fell to 51.2 in April from an almost five-year high of 51.8 in March, missing the median estimate of 51.7 in a Bloomberg survey and falling short of all projections. The services PMI decreased to a six-month low of 54 from 55.1. Both gauges still show momentum as readings over 50 indicate improving conditions.
The first official economic indicator for the second quarter signals growth is poised to slow after unexpectedly picking up to 6.9 percent in the first quarter, the first back-to-back acceleration in two years. Factory and services activity remain at relatively robust levels, but April data showed weakening across employment, output, new orders and export orders.
"We may have already seen the peak," said Lou Feng, director of the economic analysis department at the Chinese Academy of Social Sciences, a state-backed think tank in Beijing. "Government investment can't last long, and growth momentum will slow when the policy emphasis goes back to reining in risks and the effects of earlier fiscal support fade."
While analysts have upgraded their forecasts for growth this year, according to a recent Bloomberg survey, tighter property curbs introduced in major cities and a higher base of producer prices than last year are likely to weigh on output in coming months, and top officials have signaled they will introduce stricter regulatory measures to curb financial risk.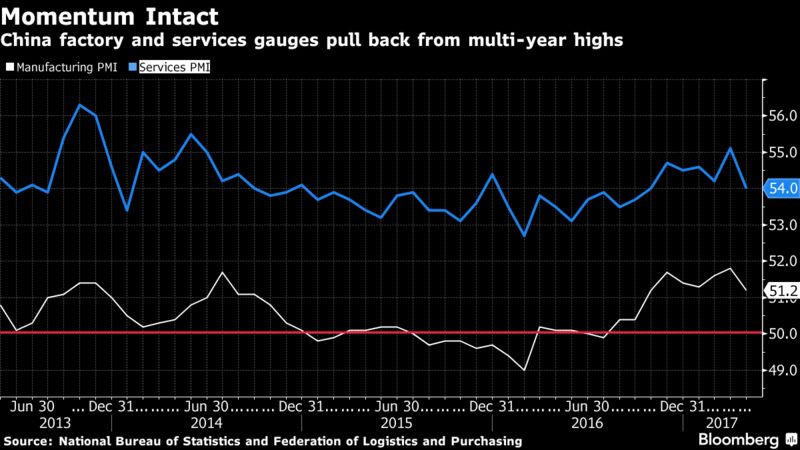 The sub-gauge for employment slipped to 49.2 from 50 in March, according to the National Bureau of Statistics report released Sunday. Output decreased to 53.8 from 54.2, while new orders and export orders also posted declines.
"The weakness is across the board," signaling slower growth momentum, Zhou Hao, an economist at Commerzbank AG in Singapore, wrote in a note. "This on one hand reflects that there's little improvement in underlying demand; on the other hand, the deleveraging effort by the Chinese authorities has started to work. In general, China is in the course of monetary tightening and regulation strengthening."
Manufacturing weakened on falling market demand, lower commodity prices, and slower export growth, the NBS said in a statement. Factories remain in expansion mode, driven by the growth in high-tech equipment and consumer goods, it said.
Economists have upgraded 2017 growth forecasts, though projections show deceleration in each quarter. Full-year expansion will slow to 6.6 percent from 6.7 percent last year, according to an April 18-25 Bloomberg survey as well as a report Friday by CASS's Lou. Growth in the remaining quarters will to slow to 6.7 percent, 6.6 percent and 6.5 percent, Bloomberg's survey and CASS estimates show.
Read More: Economists See Faster China Growth, Moderate Inflation
"Initial signs for April add to the case that China's growth may be close to a peak for the year," Tom Orlik, chief Asia economist at Bloomberg Intelligence in Beijing, wrote in a note. "The main driver of that: a turn in the real estate sector, with sales slowing in the first quarter. A slightly tighter monetary policy stance, as the People's Bank of China edges rates higher and loans slow, is also a factor."
A gauge of input prices tumbled to 51.8 from 59.3, reflecting lower commodities prices. Producer prices surged in March at nearly the fastest pace since 2008, though pulled back from February, suggesting the reflationary boon to industrial profits will moderate. Those earnings jumped 23.8 percent in March from a year earlier.
Read More: China Producer Price Reflation Moderates as Commodities Cool
Prices were the main drag on the factory gauge, which fell largely on slower heavy-industry output growth, according to China International Capital Corp. economist Eva Yi in Hong Kong.
The outlook was brighter for small businesses, though they still lag the biggest firms, which are dominated by state-owned companies with easier credit access. The small enterprises PMI rose to a two-and-a-half year high of 50, while large and mid-size companies declined.
Financial Stability
Manufacturing will likely stabilize or retreat slightly amid a stronger government emphasis on financial stability, said Wen Bin, a researcher at China Minsheng Banking Corp. in Beijing.
President Xi Jinping is ramping up efforts to ensure stability ahead of a twice-a-decade leadership transition this fall at the 19th Communist Party Congress. Xi said safety is "strategically important" last week at a meeting of the Communist Party Politburo also attended by PBOC Governor Zhou Xiaochuan and other top financial regulators. Nomura Holdings Inc. analysts said it signals stricter financial regulatory measures to come.
Read More: Xi Calls Financial Security Foundation of Stable Economy
CICC's Yi said she doesn't expect higher rates or tighter regulations to sap the expansion.
In other data due this week, a private factory gauge probably edged up. The Caixin Media and Markit Economics China Manufacturing PMI rose to 51.3 in April from 51.2 in March, economists said in a Bloomberg survey before the report Tuesday. Markets in mainland China and Hong Kong will be closed Monday for the Labor Day holiday.
Bloomberg
— With assistance by Yinan Zhao, and Jeff Kearns