64 people have been killed in a blast at a chemical plant in Yancheng, eastern China, local authorities say, over 600 injured, 72 critically.
Today President Xi Jinping, who is visiting Italy, sends his instructions to local Jiangsu province, demanding full efforts in rescue, thorough investigation, timely publication of updates, and strengthening direction in media reporting, so as to safeguard social security.
More than 900 firefighters were mobilized to battle a blaze that erupted after a powerful explosion ripped through a pesticide plant in eastern China on Thursday, killing at least 47 people and badly injuring hundreds of others, including children.
According to latest report from BJnews or Xinjingbao, over 3000 medical staff from 16 hospitals have joined the rescue and medical efforts. BJnews reported 640 injured persons but later deleted the figure.
There are seven locations on fire at the scene, and some factories nearby have been affected by the explosion.
It's reported that there are many residential buildings, schools and a kindergarten near the blast site.
State-run news agency Xinhua reported that the blast occurred at a plant owned by Jiangsu Tianjiayi Chemical at the Chenjiagang Industrial Park in Yancheng, Jiangsu province, just before 3pm.
The explosion was so powerful that the China Earthquake Administration reported that it had detected a magnitude 2.2 earthquake believed to be from the blast.
"Workers were trapped after buildings were knocked down by the shock wave, which also shattered windows of nearby homes," Xinhua reported. "Witnesses said many workers were seen running out of the factory covered in blood after the blast."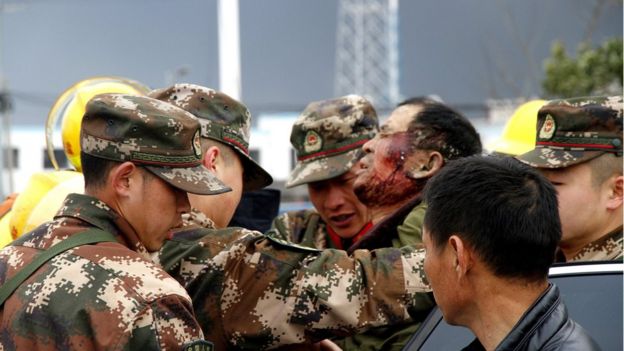 Images on social media showed a fireball exploding at the site, billowing clouds enveloping the area, injured people and damage to buildings.
The Yangtse Evening Post reported that windows of nearby residential buildings and a school were shattered and dozens of cars parked nearby were badly damaged. Many people were injured by the flying debris and residents helped to take the injured to hospital, it said.
Shanghai-based news outlet Thepaper.cn reported that 176 fire trucks and 928 firefighters were at the scene and at least 31 seriously injured people had been rescued.
According to media reports, the explosion occurred at a Tianjiayi Chemical production facility and the explosive substance was benzene.
The fire was brought under control as of 3:50 p.m on Thursday and a search and rescue operation is underway. The ecological environment department has carried out emergency monitoring work.
Tianjiayi Chemical, founded in 2007, has received six government penalties in the past over waste management and air pollution, according to the South China Morning Post.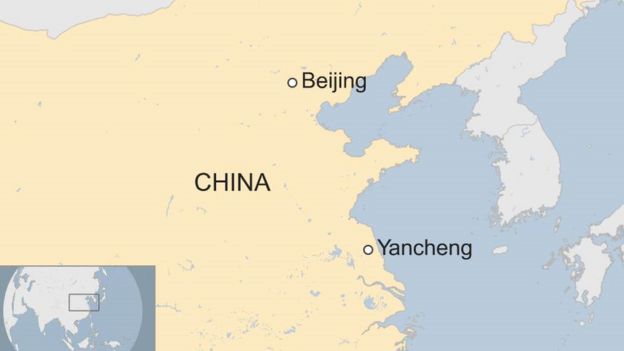 Several chemical plants operate in the nearby area, according to local press.
Industrial accidents are common in China due to poorly enforced safety regulations, and authorities have pledged to improve standards.
More than 160 people died in 2015 after two massive explosions in the port of Tianjin in northern China.
Source: SCMP/Xinhua/CGTN/CCTV/XinJingbao/BBC