Chinese censors appear to be stifling online discussion of North Korea's latest missile launch, a move apparently linked to China's hosting of this week's Brics summit.
Posts on the popular microblogging network Sina Weibo and the mobile messenger WeChat which highlight or make jokes about the bomb test coinciding with the summit have been censored.
State media are focusing on lauding the success of the meeting, which brings together leaders from emerging economies: Brazil, Russia, India, China and South Africa. China is hosting the summit in the south-eastern city of Xiamen.
But many web users are expressing concern that the increasingly volatile relationship between China and North Korea may result in a nuclear catastrophe.
'Alarming' wording removed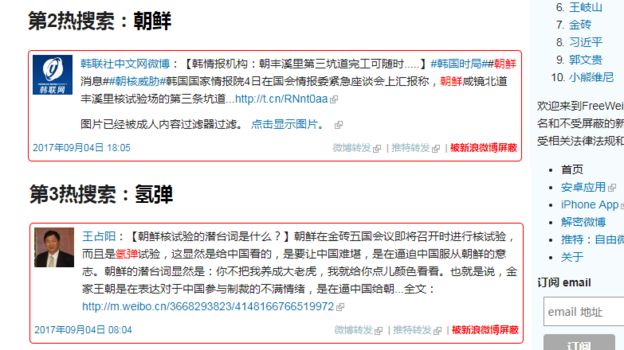 "Hydrogen bomb" has been censored as a search term on Sina Weibo. A search on the platform brings up the message "According to the relevant laws, regulations and policies, the results cannot be displayed."
According to FreeWeibo, a censorship-monitoring site, "North Korea", "Hydrogen Bomb" and "Brics" are three of the top ten most censored Weibo search terms in the last 24 hours.
A number of posts have also been censored from chat app WeChat. The FreeWeChat site shows that posts from a number of independent outlets, particularly ones that might be seen to cause panic through alarmist wording or imagery, have been removed.
You may also like:
'Firecracker'
Many of the posts removed from Sina Weibo are critical of China's scant media coverage of its neighbour's missile activity over the last 48 hours.
One Weibo user going by the name Shi Yonggang had their post removed by suggesting that it was "disappointing… that North Korea's chosen to time this at the same time as Brics".
Zhang Hongjie quipped that "North Korea set off a 6.3 scale firecracker to applaud the start of Brics", and had their post removed.
And one commenter going by the name IAmDaGang used an insulting nickname for North Korean leader Kim Jong-un: "Kim the Fat had set off a blast to celebrate".
And users also had their comments removed for pointing out the extent of censorship, like one going by the name Beijing JinGege, who wrote: "The Sina cyberspace monitors are working hard today, deleting posts about Kim Jong-un."
'How can we feel secure?'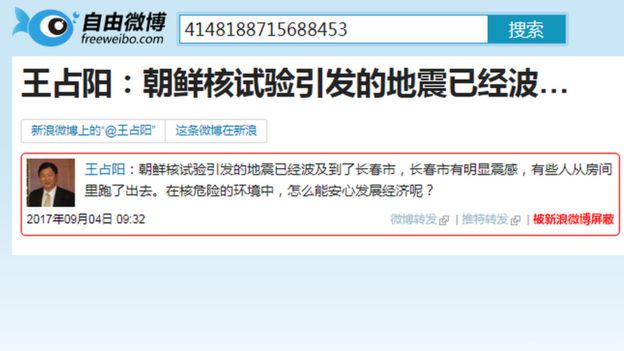 Many posts that draw attention to the increasingly tense border situation between the two countries have also been censored .
In particular, comments that voice fears about a volatile nuclear situation in north-east China are being muted.
One user said that the risk of nuclear contamination is "worrying", and asks whether China could face a catastrophe like the 1986 Chernobyl disaster.
"Wang Zhanyang" said that tremors were felt in Changchun, a city 269 miles (433 km) away from the North Korean border. "There were people running out of their houses; in such a hazardous nuclear environment, how can we feel secure about the development of the economy?" he asked. His post was removed from the platform.
In another post, he said that the recent missile "was surely aimed to make China to see, to embarrass China, and to force China to obey the will of North Korea". The post was also removed.
Reporting by Kerry Allen, BBC Monitoring