China is building a $2 billion fish farm in French Polynesia – its second-largest investment in the Pacific – as a string of US officials have raised concerns about Chinese activity and warned that Washington and Canberra need to do more in the region.
The massive fish farm project on Hao atoll has raised eyebrows in Canberra because it will sit next to the airport the French military previously used to carry out nuclear tests in the Pacific – though the French Polynesian government says the Chinese investor will not control the four-kilometre airstrip.
Two senior US defence figures have recently expressed concern about Chinese "soft loans" creating potential debt traps among the Pacific nations and giving Beijing leverage over island governments.
Joe Felter, the Pentagon's deputy assistant secretary for South-East Asia, likened China's expansion into the Pacific to its recent history in the Indian Ocean, where it has taken control of assets including a strategic port in Sri Lanka after the country defaulted on loan repayments.
"In the south Pacific, we've heard some other disturbing news on China's predatory economic activities there, to also try to gain a foothold in ways that we don't think are consistent with the interests of those individual states," Dr Felter told reporters on a conference call. "So, yes, we're concerned."
The commander of the US Army in the Pacific region, General Robert Brown, told an audience in Canberra recently that China was making "efforts in Oceania where they'll go in with bags of money and 'no strings attached'".
He added: "But there are strings attached."
China has been dramatically expanding its footprint across the Pacific – a development Australian officials have been watching closely. Fairfax Media recently reported China was looking to establish a permanent military presence in Vanuatu.
The increased activity has sparked debate in Australia about whether it needs to engage more with the region to avoid having it slide into Beijing's orbit.
A senior US government official, who spoke on condition of anonymity, told Fairfax Media Australia had been a "positive force in the region" but both it and the US would need to do more to ensure the remote island nations prospered.
"Australia's done a tremendous amount and the quality of the work Australia does is very good … Can we ramp up our game a little bit? Yes we can," he said.
In the latest instance of a major increase in Chinese presence, cement and mining firm the Tianrui Group has finalised a deal with the French Polynesian government for an aquaculture project on the remote Hao atoll that is expected to produce 50,000 tonnes of fish a year, most of which will be sent back to China.
Jean-Christophe Bouissou, French Polynesia's development minister, said the company had vowed to invest US$1.5 billion ($2 billion) in the first decade, creating jobs for more than 1000 locals. It will be the second-largest Chinese investment in the Pacific after the Ramu nickel mine in Papua New Guinea.
Concerns in Canberra focussed on speculation Tianrui could seek a lease on their airport, giving Beijing a strategic foothold 11,000 kilometres into the Pacific Ocean.
The 4 kilometre runway formed part of the French military's support base for its Pacific nuclear tests until 1996.
But Mr Bouissou said firmly there was no airport lease.
"This airport is owned today by the French Polynesian government … There is no deal possible about leasing an airport," he said.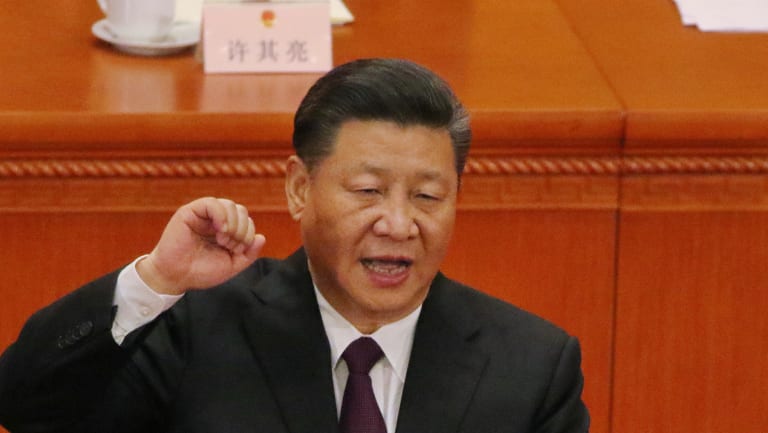 The company will lease 34 hectares of land and will use existing port facilities to ship fish back to China. Mr Bouissou said if the Hao project went well, it could expand to other atolls and require port upgrades to take larger ships.
Jonathan Pryke, a Pacific Islands expert at the Lowy Institute, said the Hao project was further evidence that Australia needed to deepen its efforts in the Pacific to remain the so-called partner of choice for island nations.
"This engagement from China is happening at all levels. It just shows you how profound a disrupter China is in the Pacific," he said.
Tianrui is a private sector company, but the Chinese government is backing the Hao project reportedly through China Development Bank funding. The firm did not respond to requests for comment.
While Australia's total aid budget has shrunk in recent years, Foreign Minister Julie Bishop said help to the Pacific would hit a record $1.3 billion this year. She said the government had expanded the number of diplomatic posts and increased defence and police co-operation.
"These active and constructive approaches are ensuring we remain a valued friend and trusted, reliable partner for the Pacific – a partner of choice," she said.
Mr Bouissou said the Hao project had been discussed with the French government in Paris – which is responsible for foreign affairs and defence issues for French Polynesia – but no strategic concerns had been raised.
"We are allies of the US, Australia, New Zealand, France. We see what the limits are," he said. "I understand today some other countries in the Pacific Islands like Vanuatu are dealing with China but that's their own subject. We are not dealing that way."
By David Wroe
SMH