Dubbing the Conservative leadership race a zoo exhibition is the easy way out.
Maclean's contributor Scott Gilmore expressed his distaste of how far right the party has gone, from Maxime Bernier wanting to send troops to the border, to Brad Trost denying climate change flat out. Gilmore is left wondering how he "ended up in party seemingly dominated by xenophobic, economically illiterate, populist buffoons."
What he doesn't realize is that some of the organizing tactics that Conservative supporters are using to target ethnic communities are particularly problematic. To many people's surprise, a candidate with the name Brad Trost has become hugely popular in the Chinese community, especially with the Chinese evangelicals.
Brad who? Yeah, my thoughts exactly. If you follow mainstream Canadian politics, you are probably oblivious to what a Conservative backbencher from Saskatchewan does. Targeting ethnic communities is not new in Canadian politics. However, this Conservative leadership race has opened up a whole new can of worms of ethnic and identity politics which will haunt them in the long run.
The most visible political mobilization has not come from the left, but rather from the far right of the Chinese communities. And they have had some recent success. In 2015, the riding of Markham-Unionville was considered a safe Liberal seat with 57 per cent Chinese residing in the riding. However, the Parents Alliance of Ontario, a now-defunct organization which consists of mostly Chinese Christians from mainland China, distributed rounds of fliers in the riding claiming the Liberals will make children smoke marijuana, build injection sites and force children to address their parents as "sperm donors." That coupled with a very unpopular sex-ed curriculum in Ontario pushed out the heavily favoured Liberal candidate. The Conservatives snatched that seat to everyone's, surprise including their own.
A specter is haunting the Chinese-Canadian community. But nobody can agree about what it is, and whether it's good or bad. In my opinion, it is a very interesting phenomenon that deserves national attention. In this round of Conservative leadership race, some of Brad Trost's Chinese supporters have exploited the same tactics and rhetoric that were used during the Cultural Revolution. I am just as amused and bewildered as I am frightened.
(Screencap: Karen Lin)
Literature I received on my phone reads in Chinese: "In order to save Canada, we need to join the Conservative Party on the firing line to vote for Brad Trost." The phrase "join the party on the firing line" was a frequently used slogan during the Cultural Revolution. Its purpose was to urge the mass to join the communist party and pledge allegiance to chairman Mao.
Free oil changes at a body shop, a discount on visa applications at a travel agency, a discount at a restaurant in the multitudes of $15 (the cost of buying a Conservative Party membership) were also offered by this apparent supporter.
Other campaign literature content is far more incendiary. They consistently demonstrate a theme of homophobia and Islamophobia. But it is far too easy for me to call these people homophobes, Islamophobia or bigots, although some of them probably are.
The Conservative Party's tactics of campaigning on social values will no longer pay out political dividends.
I talked to some Chinese Christians who openly support Brad Trost. Beneath the veneer of their anger and frustration, I sensed their pain and struggle. They felt that casting a ballot for Trost is their way to tell the rest of the world that they still exist and their values still matter. If we are honest with ourselves, we have to admit that these are legitimate reactions they have when they experience cultural change. We are asking these new immigrants to absorb a lot very quickly. And not everybody is good at that. Change is hard. Canada has become far more cosmopolitan, multicultural, tolerant and socially liberal than it was a generation ago. These social and demographic shift cannot be undone.
Traditionally, Conservatives have always organized and mobilized the Chinese community with the message that Chinese Canadians and they share similar social values, such as a strong sense of family with the occasional add on of opposition to same sex marriage, marijuana and abortion depends on which riding they are targeting at the time. What they do not realize is that there is an undercurrent of social change within the Chinese community, too, as more people from Mainland China immigrate to Canada.
In a recent survey done by Global Times, a communist propaganda mouthpiece, more than 40 per cent polled said they would support same-sex marriage in China, another 40 per cent expressed a neutral position on the issue, while 19 per cent opposing the same-sex marriage. This represents a gradual shift from their perceived "value voters" base within the Chinese community. In a decade, the Conservative Party's tactics of campaigning on social values will no longer pay out political dividends as the issue of same-sex marriage will likely be sidelined by the changing demographic within the Chinese community.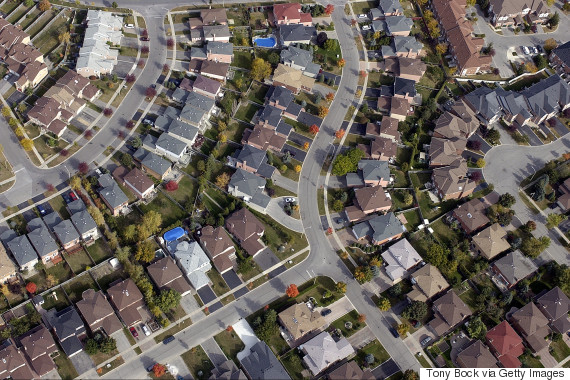 A new development in Markham, Ont. (Photo: Tony Bock/Toronto Star via Getty Images)
In the age of alternative facts and fake news, both the Conservative and Liberal parties must rethink their outreach strategies.
The Conservatives and Liberals have traditionally organized the Chinese community on social and economic issues, respectively. They have consistently and intentionally swayed Chinese Canadians to the polar opposite of what mainstream Canadians feel on these issues. Pew Research Global in 2013 have shown that at least 75 per cent of Canadians are overwhelmingly supportive of same-sex marriage. But the Conservatives have always used this as wedge issue in their outreach to the Chinese community. Similarly, the Liberals have always campaigned on its trade success with China when the most recent Nanos polls have shown that 90 per cent of Canadians are weary of trade deals with China.
Instead of creating these artificial fissures just to gain a few seats within some heavily Chinese-populated ridings, both political parties must spend some of their political capital to educate and encourage Chinese constituents to embrace Canadian values and give them time and space to accept cultural shifts they experience as newcomers.
By Karen Lin
Huffpost