Warren Buffett's rival in the electric-bus business is ceding potential U.S. sales to the billionaire's BYD Co., saying there are enough profits to make in countries that are more welcoming to Chinese products.
Tang Yuxiang, chairman of Zhengzhou Yutong Bus Co., said the world's biggest bus maker has vehicles in more than 130 markets outside the U.S. — including Singapore, Russia and Saudi Arabia. That helped power a revenue increase of 15 percent last year, extending the company's streak of higher profits to 21 straight years since he took charge.
"We won't do business in North America," Tang, 63, said. "China and the U.S. don't have a very good relationship. We would like to go to the markets that are friendly to China."
Sales of Yutong buses for public transportation, tour groups and schoolchildren dwarf those of competitors such as Buffett-backed BYD and Germany's MAN SE, even without a presence on U.S. and Canadian roads. Its coaches are ubiquitous in China, carrying commuters in Beijing, Shanghai and the Tibetan city of Lhasa, and ferrying delegates at the annual gathering of the legislature in the capital.
Yutong's lack of interest in the American market contradicts what Chinese carmakers have been trying to do since 2005, with Guangzhou Automobile Group Co. being the latest to announce a push into U.S. showrooms as early as 2018. Great Wall Motor Co. is reviewing sites in the U.S. to assemble a car designed for the North American market, Chairman Wei Jianjun said Monday.
These efforts come amid the possibility that trade tensions between the U.S. and China may escalate if President Donald Trump follows through on his campaign threat to slap a levy on Chinese products of as much as 45 percent. Trump accused China of unfair trade practices and currency manipulation, and he pledged to address both issues if elected.
"Doing business needs a harmonious setting," said Tang, who leads a group of investors controlling the company. "I will do business with you if you need me. Otherwise, I won't."
Chinese exports to the U.S. totaled $462.8 billion last year, with the auto industry being represented primarily by BYD and parts suppliers. Shenzhen-based BYD sold electric buses to the mass-transit authority in Long Beach, California, and rolled out the first electric buses from its plant in Lancaster, California, three years ago.
BYD wants to boost its brand awareness in the U.S. via bus sales before expanding into the passenger-car market there, Senior Vice President Stella Li said earlier this year.
Still, unit sales by BYD and competitors, including Beiqi Foton Motor Co., trailed Yutong's total last year of 70,988, including 26,856 new-energy buses. Beiqi Foton sold 39,800 buses last year and BYD 15,000, according to the companies.
And Munich, Germany-based MAN reported a loss of 7 million euros ($7.6 million) last year.
"Yutong is a legendary company that has pretty much beaten all rivals," said Yale Zhang, managing director at researcher Autoforesight Shanghai Co.
Buses are a niche part of China's auto industry, with Yutong's annual vehicle sales representing less than a week's worth for China's biggest automaker, SAIC Motor Corp.
Yet they could play a key role in transportation policy as Chinese authorities try to ease traffic congestion and air pollution choking the nation. Yutong's most-popular vehicles are buses more than 7 meters long (23 feet) but no longer than 10 meters.
Yutong started as a bus repair shop in 1963. It moved into manufacturing in 1993, selling 708 vehicles, before becoming China's first publicly traded bus company in 1997.
Since taking charge in 1996, Tang has overseen a global expansion, the opening of an electric-bus factory and the testing of a driverless bus.
Yutong's net income for 2016 rose 14 percent to 4 billion yuan, according to the company. Among 22 analysts tracked by Bloomberg, 18 recommend buying the stock and the rest are neutral.
Shares have risen 8.6 percent this year, compared with a 5.1 percent increase for the Shanghai stock exchange. The company currently is valued at about 47 billion yuan.
"Yutong is very efficiently run and has solid technology capabilities," said Li Jia, a Beijing-based analyst with IHS Automotive. "Its product is not only competitive in China but also known as value for money globally."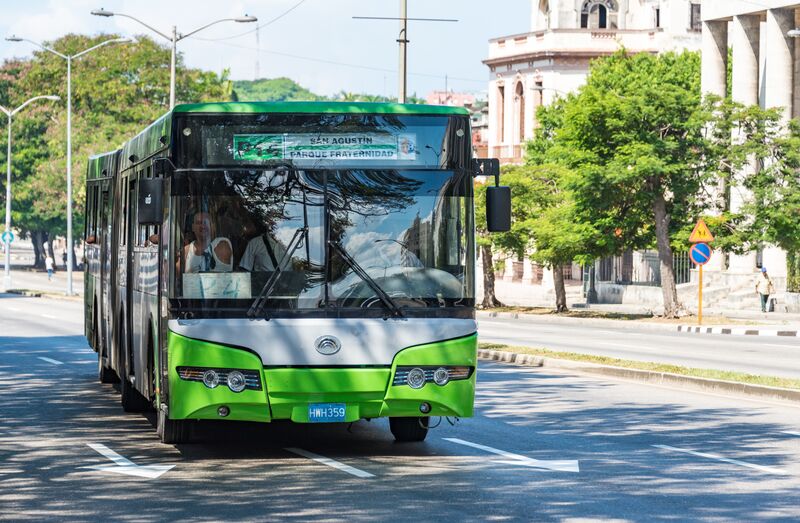 Yutong sold the most electric-powered buses in China last year, Zhang said. The company is counting on that technology, along with Internet-connected features, to push into European markets where its gasoline-powered vehicles won't generate much profit, Tang said.
In 2016, Yutong generated about 11.49 percent of its 36 billion yuan in revenue from overseas markets, primarily those with immature auto industries such as Cuba, Venezuela and Israel. Other customers are in the U.K., France and Bulgaria, according to its annual report.
Yutong started exporting to Brazil in 2005 with a batch of 12 buses, and those sales now total about 1,000 a year, Tang said.
"We would like to go to markets where we are competitive and welcomed," Tang said. "Companies that can take advantage of the advancing technologies will be able to make a living, and those who can't will be squeezed out."
— With assistance by Tian Ying
Bloomberg