Guo Jingye was shocked by the deaths of 19 people, including seven children under six years old, in a fire in her village on the outskirts of Beijing. But her forced departure from her home and workplace under a government-mandated evacuation in the aftermath of the tragedy broke her heart.
"I have been a tailor since I was a teenager and have been living in this area for almost 20 years," Guo said as she tried to stuff the last bag of clothes into her car in the cold of an early winter.
"I am attached to this area and have never imagined I would be leaving Beijing in such a way."
Guo was packing everything she owned in Beijing, from used fans to clothes hangers, so she and her husband could drive back to their hometown of Tianmen in central China's Hubei province.
Their move came on the heels of a government-ordered shutdown of the small clothes processing workshop Guo had owned in the village of Daxing, an outer district to the south of the city centre, a day after the deadly fire struck last weekend.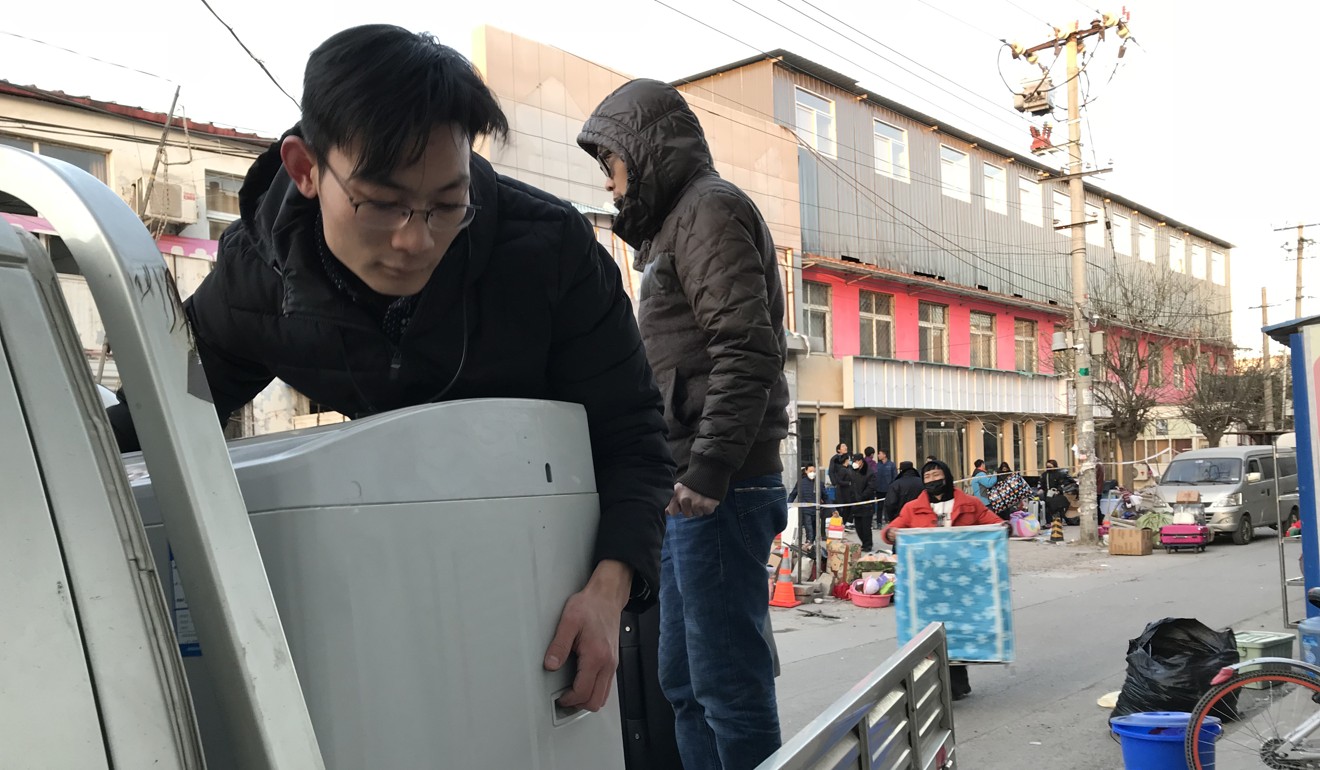 The tragedy has sharply accelerated the authorities' drive to move migrant workers out of the city as it tries to cap population growth.
Before the fire, workers with no job options had already been leaving central Beijing amid a shutdown of wholesale markets, warehouses and construction materials markets.
Since the blaze, the main target of the evacuation has shifted to the city's outskirts.
That is where migrant workers usually have stayed, lured by cheap rent and lax controls on construction to small flats with multiple occupants.
The fire started on November 18 in a cold storage area in the basement of a two-storey building that was divided into mini studios and cramped with migrant workers for cheap rent, according to the Daxing district government. The cold storage section had been in operation since being converted by the building owner to its present use in March 2016, the government said.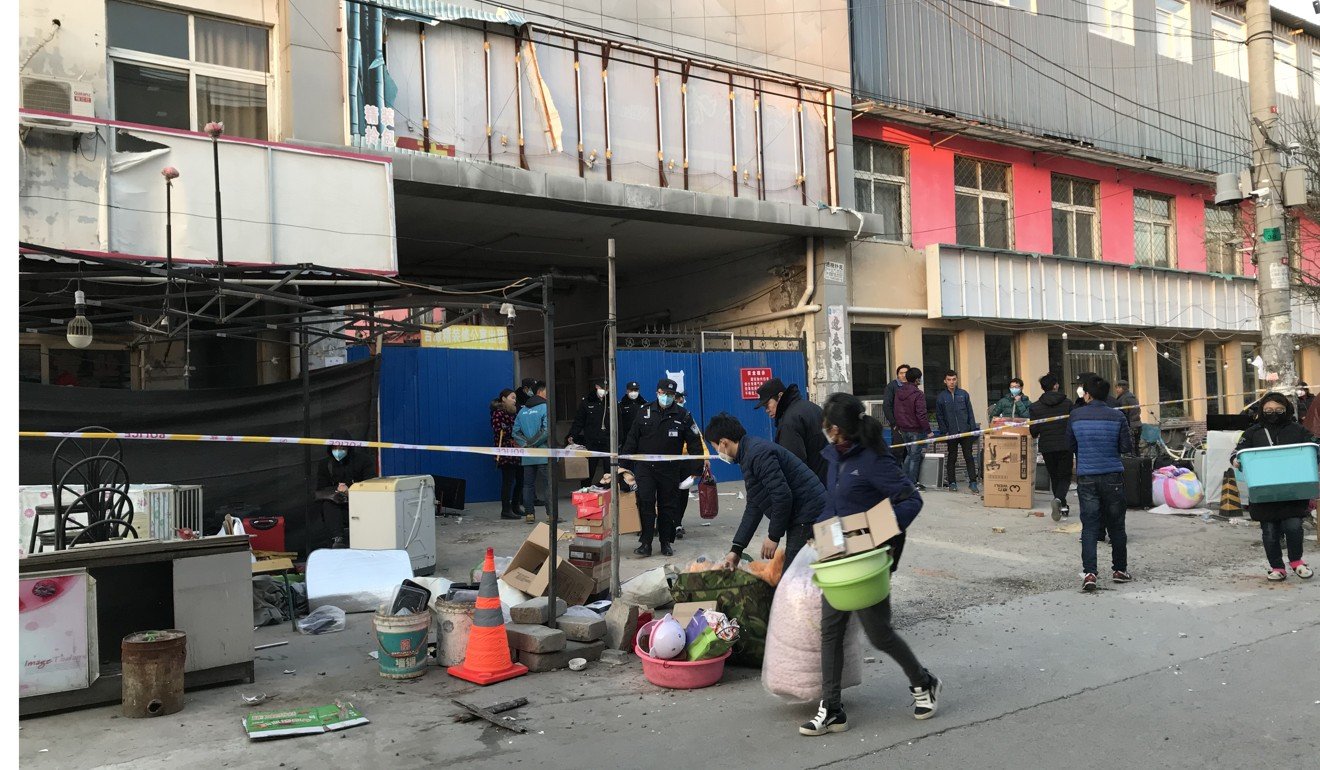 The government has blamed the fire partly on technicians it said were unqualified to oversee and implement the cold storage power design.
Eighteen people, including seven flat managers, seven electricians and four construction workers, have been detained over the fire.
Worker injured in Hong Kong airport vehicle fire
Meanwhile, the government has ordered a 40-day inspection of warehouses, logistic centres, wholesale centres near airports and rural-urban fringe areas while seeking to identify safety risks at flats and big rental compounds.
Beijing Daily, a government mouthpiece, has denied claims that the evacuations are meant to drive out the so-called low-end population. Rather, the programme's goal was to eliminate safety hazards, it said.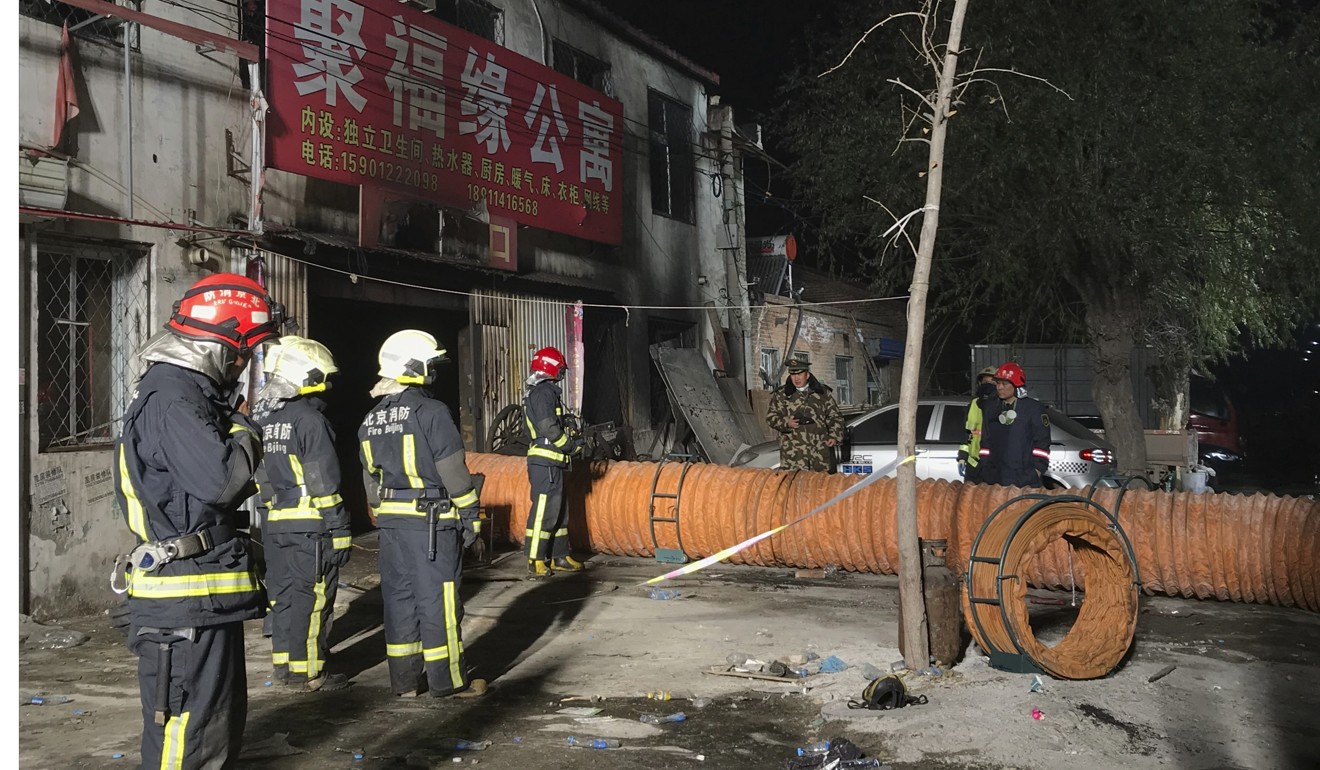 Daxing, a district covering Beijing's southern suburbs that is known for big factory plants, small clothes workshops and logistics centres, has seen a number of forced evictions and demolitions, leaving people either looking for new flats or leaving Beijing.
Owners or tenants of illegally constructed buildings, warehouses and garbage collection stations have received notices ordering the removal of all equipment, products and people from those sites.
Businesses near the fire have been ordered closed. Since destroying their shop banners, owners have done what they can to move stock out as quickly as possible, according to residents.
Even migrant workers who did not live in the gutted building suddenly have found themselves in the street, toting wheeled suitcases as they search for another place to set up home. In their wake, they have left the avenue strewn with unwanted belongings from clothes to stuffed animals.
Meanwhile, vans and cars heading out of the area have left roads jammed.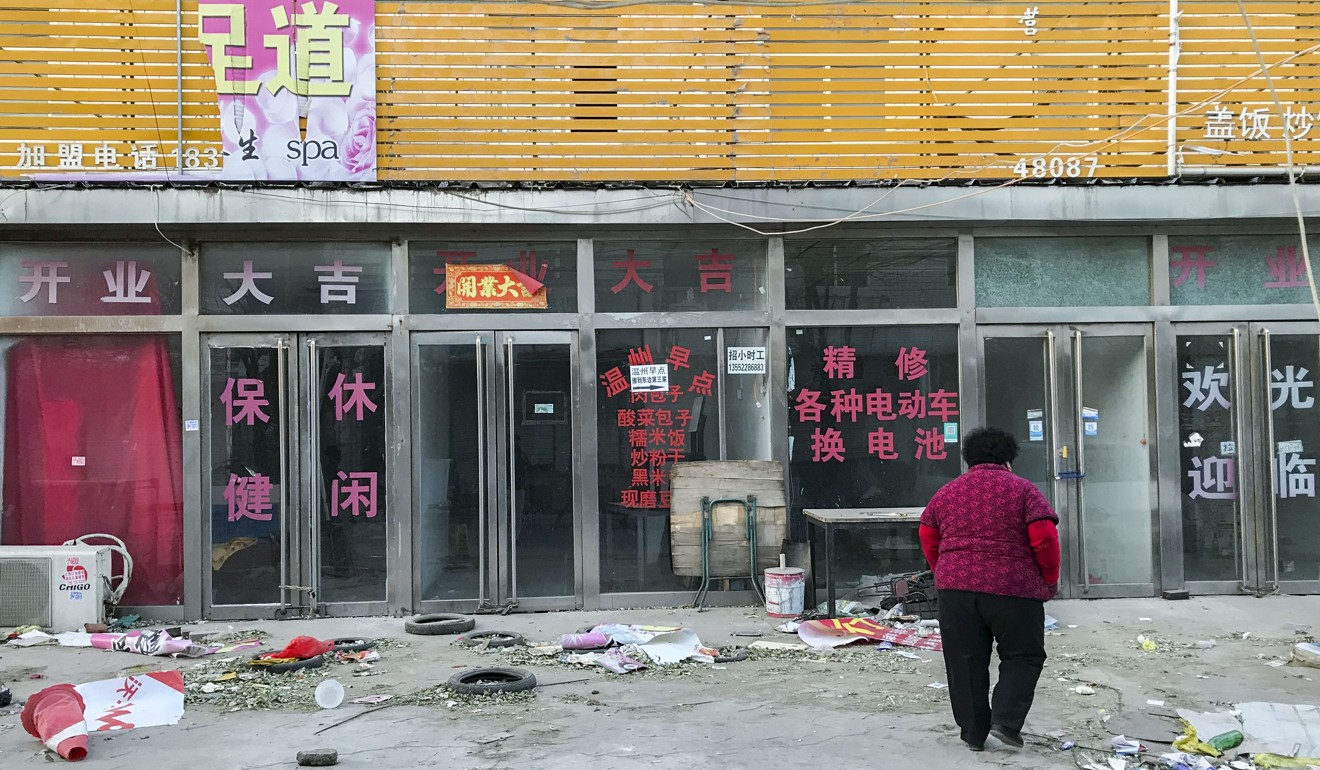 "I used to live in the south third ring before 2008 and have been moving further and further away from the city because we are not wanted any more," said Liu Jianbin, a former Jilin province resident who had eked out a living running small businesses including a convenience store and an advertising banner printing operation.
Liu had lived in the building that caught fire in a first-floor 16-square-metre studio flat that he rented for 450 yuan (US$68) a month. He said he was working late on the night of the fire and missed it.
On Tuesday, after being given one day to evacuate the premises, he packed the up raw materials he had stacked in the flat and set off for Langfang in the nearby province of Hebei, where he planned to set up a new home.
Dong Fen, a 55-year-old office cleaning lady who shared a studio flat in the burning buildingwith three others, worried about where she would spend the night. She had been moving around since last Saturday night.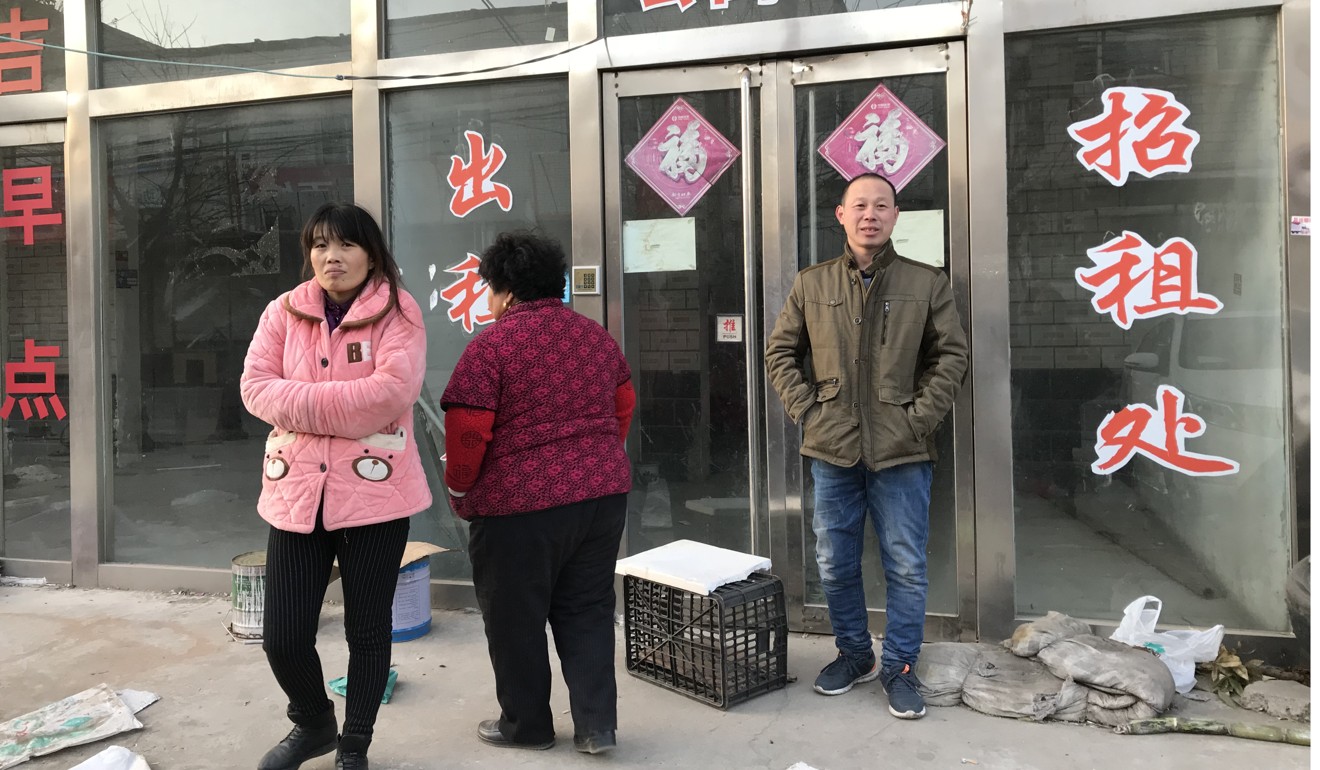 "[We] stayed in one hostel for the first night for 90 yuan and then it was closed the next day," Dong said, her luggage and a big television set by her side. "We found a hostel farther away but it was closed the day after."
Ning Ya, 26, moved from his Yuncheng, Shanxi, hometown a year ago to work at a car parts assembly operation in Daxing. He had been making 5,000 yuan a month and lived in a flat that cost just 450 yuan, much less than the 2,000 yuan he would have been paying in Yuncheng.
On the night of the fire, he was at home, enjoying a cigarette when he smelled something stronger than his own smoke. He checked the corridor and saw black fumes.
Shouting to his wife to run for her life, he dashed next door, where his sister was sleeping, and kicked her awake to tell her to run.
After spending a cold first night outside, he spent the next three days at a friend's place.
"I am leaving Beijing this month, back to my hometown," Ning said, moving boxes and suitcases to the back of a borrowed van. "They [my sister] will leave before Lunar New Year. I wanted to make more money but now it looks Beijing is not for people like us."
Adding insult to injury, several courier companies have told residents they will not collect packages. The warning has come as some logistics centres and courier dormitories classified as illegal buildings have been included in the forced evacuation.
Many Beijing residents, sympathising with the migrant workers, have pleaded with the government to show leniency during winter.
In his Weibo account, musician and internet talk show host Gao Xiaosong said he was grateful to the migrant workers "who had dedicated their youth and blood and sweat to building a glamorous Beijing".
"I felt guilty that your dream was not cherished and respected, that your water and electricity were cut off and that you were chased away in the cold winter like chickens and dogs," Gao wrote.
It may be accepted that China's children, air and even dogs need protection, but "who are there to protect our fellow countrymen who are migrant workers and worked from dawn to night?", he wrote.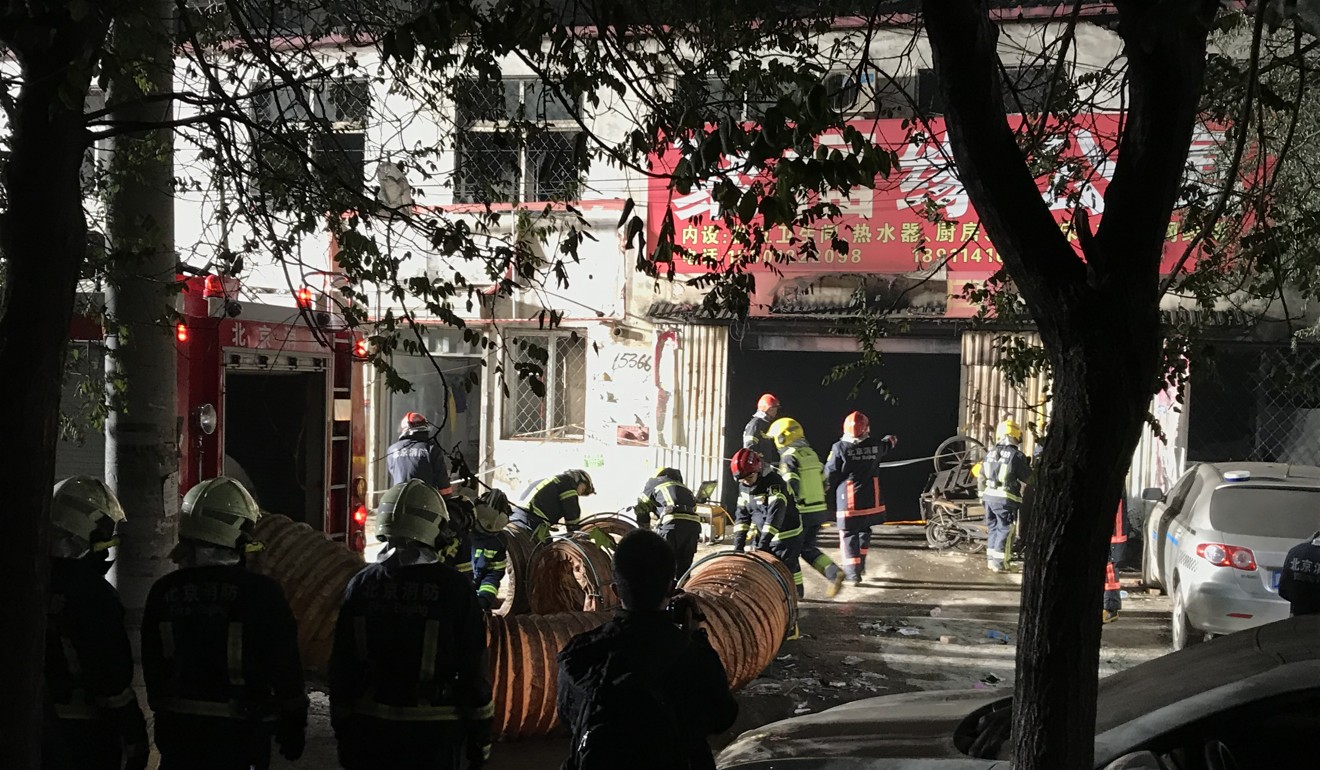 A blogger who registered as Jingcheng Loushao wrote that it was one thing for the government to take its cue from the fire to "eliminate any safety risk", but it was another "to use it as an excuse to drive away the so-called low-end population".
Beijing not only needed officials, lawyers, programmers and financiers, it also needed couriers, electricians, migrant workers and waitresses, the blogger wrote.
"Nobody likes to live in the basement or with a crowd of people, but many could not afford to live in decent conditions," the blogger wrote. "They should be allowed to keep their dignity, fit in with society and given a chance to survive in the city."
For tailor Guo Jingye, starting over may be easier, given the absence of an alternative. As she prepared to leave, everyone she had known in Daxing had already moved out.
By Zhuang Pinghui
SCMP