White House chief strategist Steve Bannon's recent comments on taking a harder line with China got at an essential truth about the U.S. economy: It almost certainly won't be on top forever.
The nationalist architect of Donald Trump's shock victory told The American Prospect that he's battling trade doves inside the administration as he pushes for tough sanctions against China.
"We're at economic war," Bannon, whose last day on the job was Friday, was quoted as saying earlier this week. "It's in all their literature. They're not shy about saying what they're doing. One of us is going to be a hegemon in 25 or 30 years and it's gonna be them if we go down this path."
China's $11 trillion economy still lags U.S. output of $19 trillion, but that's narrowing as the Asian nation expands more than 2.5 times as fast – and with more than four times the population, gains in per capita output offer an additional boost to becoming biggest. After opening up in the late 1970s, growth averaged 10 percent for three decades through 2010. It's already No. 1 in output measured by purchasing power parity, a comparison of relative living standards by normalizing pricing and currency differences across countries.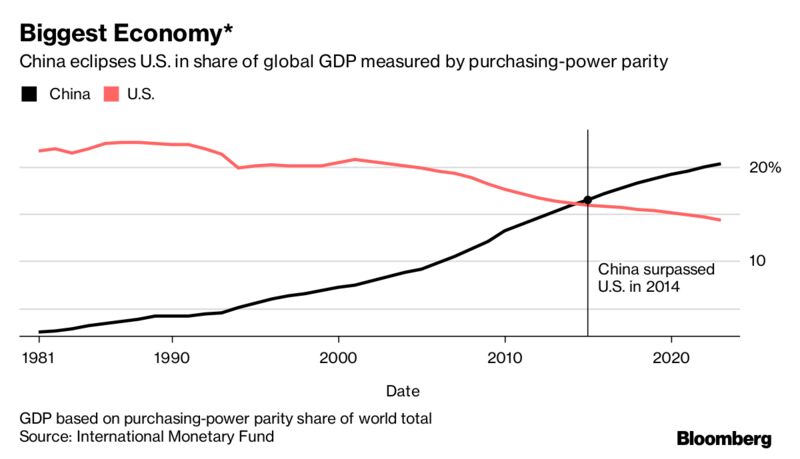 China also is the largest trading nation, and the U.S. its biggest partner, with almost $600 billion in total trade last year, International Monetary Fund data show. That's helped make it the top foreign owner of U.S.Treasuries, with holdings of $1.15 trillion in June.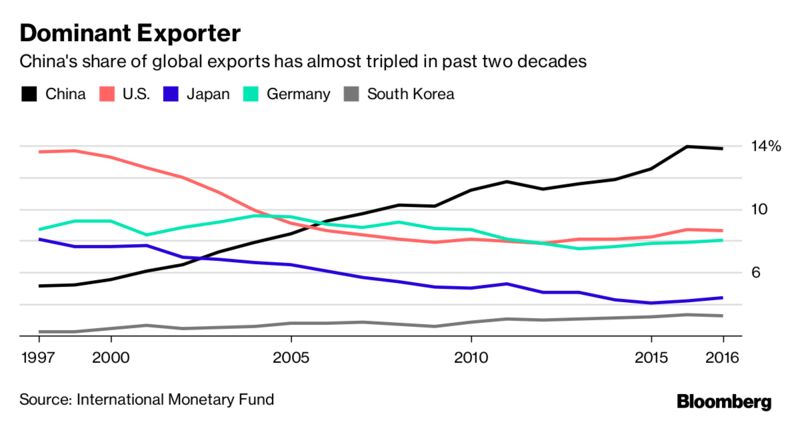 Before his departure was annonced, Bannon said he's determined to push back against Chinese economic expansion, arguing only one country will emerge as a leader.
"The economic war with China is everything," Bannon said. "We have to be maniacally focused on that. If we continue to lose it, we're five years away, I think, ten years at the most, of hitting an inflection point from which we'll never be able to recover."
If anyone's maniacally focused, however, it's leaders in Beijing. The country sets – and meets – annual targets for economic growth, and also sets objectives for everything from inflation and employment to population size and artificial intelligence. While the ruling Communist Party makes such discipline simple, free markets and democratic elections make economic policy harder to set in the U.S., where waxing and waning political control makes long-term planning nearly impossible and even the annual process of passing a budget leads to impasses that can roil markets.
The contrast is visible in infrastructure, which is decaying across the U.S. with massive investment deficits that weigh on long-term growth. China, meanwhile, is doubling down on megaprojects such as its growing 20,000-kilometer of high-speed rail network . There's a target for that too: 45,000 kilometers by 2030.
Breakneck growth and ubiquitous exports aside, though, the wealth of China's nearly 1.4 billion people lags far behind developed nations in relative terms. Per capita GDP will rise to just 64th out of 166 countries by 2022, up from being the 133rd-poorest in 1992, according to a Bloomberg analysis of IMF data.
The U.S. also isn't about to be knocked off its perch anytime soon, with IMF predictions showing the U.S. will remain the biggest economy up to 2022 and beyond.
And China's currency doesn't match its status as trade juggernaut. Fewer than 2 percent of global transactions used yuan in June, down from a record 2.79 percent in August 2015, when the government roiled markets with a surprise currency devaluation. The dollar remains the dominant coin of the global realm.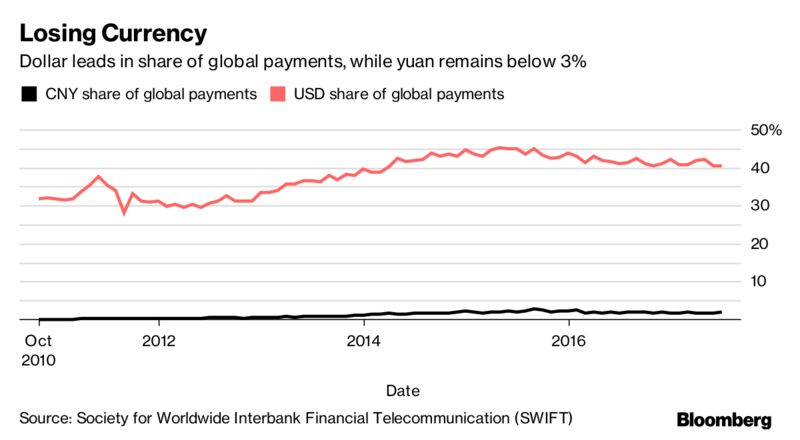 To keep its edge,  Bannon said he backed filing a complaint that allows for sanctions against countries that violate trade agreements or engage in unfair trade practices — as well as follow-up complaints against steel and aluminum dumping, the magazine reported.
"We're going to run the tables," Bannon said. "They're crushing us."
Bannon's departure was agreed on mutually with White House Chief of Staff John Kelly, White House press secretary Sarah Sanders said.
Bloomberg
With assistance by Jeff Kearns, and Xiaoqing Pi