Afghanistan has long been known as the "Graveyard of Empires."
Conquerors like the Persians, Mongols, Brits and Russians all packed up and left — just as the U.S. has tried to do. Next in line to try its luck may be China.
President Xi Jinping is spending more than $50 billion in an economic corridor in Pakistan, Afghanistan's neighbor. The highways and gas pipelines, designed to provide China an alternative land route to the high seas, also give it an interest in stabilizing the volatile region.
China's money is a boon for Pakistan, allowing its leaders to ignore President Donald Trump's pressure to get tougher on militant groups that operate on its porous border with Afghanistan. In a defiant statement rebuffing Trump, Pakistan's foreign ministry cited China's praise of its counterterrorism efforts.
But China isn't just a rival power source to America — its rising influence in the region can help Washington too. The U.S. and China have already joined together to try and start peace talks with the Taliban.
While China has traditionally avoided the Great Game, its broadening array of foreign investments is making it a player. Afghanistan is a perilous place to start.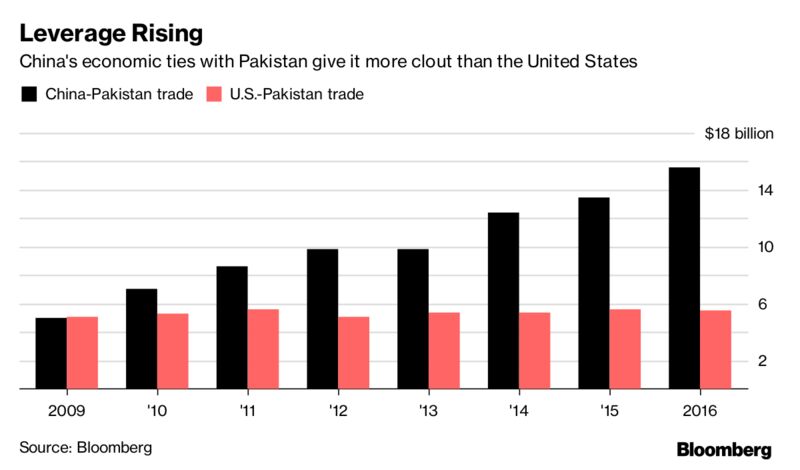 Sign up to receive the Balance of Power newsletter in your inbox, and follow Bloomberg Politics on Twitter and Facebook for more.
Global Headlines
Xi's battle-tested general | Chinese President Xi Jinping has appointed one of his few generals with combat  experience to a powerful new military post ahead of a sweeping Communist Party reshuffle, Keith Zhai reports. General Li Zuocheng — decorated after his unit racked up almost 300 kills during China's 1979 war with Vietnam — appears set to play a crucial role in Xi's efforts to secure his power into the next decade.
Kelly can't control Trump | Although Trump now routinely tells aides to check with "The General" before signing off on proposals, new Chief of Staff John Kelly hasn't yet figured out how to stop the president from following his worst instincts. Margaret Talev and Jennifer Jacobs take a closer look at the former Marine commander's impact in his first weeks on the job — and the challenges ahead.
Qatar's survival plan | As a Saudi-led blockade wears on, the tiny emirate is raising money in Asia and spending cash in the West — it's bought U.S. fighter jets, Italian warships and the world's most expensive soccer  player, Brazilian superstar Neymar. Peter Waldman and Mohammed Sergie explain how Qatar is using its time in isolation to become more self-reliant.
Trump's Venezuelan debt squeeze | The U.S.'s next bid to pressure Venezuelan President Nicolas Maduro to drop plans for constitutional changes may include sanctions targeting the country's debt, according to people familiar with the talks. One potential measure would block trades of some dollar-notes sold by state-run oil giant, PDVSA. That could be worse than a default for bondholders because they would be stuck holding the notes through the tumult.
Wait – politics don't matter? | The chief of Denmark's largest private pension fund PFA says he rejects the current obsession with politics, arguing that politicians matter less and less to investors. His reason? The same globalization trends blamed for a resurgence in populism and nationalism in developed countries are making it easier for companies to move production elsewhere.
And finally…  "This is how empty a shelf is without foreigners" and "We will be poorer without diversity." The stunt by Germany's largest supermarket chain, Edeka, is making the rounds on social media today, serving as a reminder that liberal values persist: both Chancellor Angela Merkel and her main challenger, Martin Schulz, are seeking re-election next month on pro-immigration platforms.
By 
Daniel Ten Kate
 and 
Iain Marlow

With assistance by Kathleen Hunter, and Ismail Dilawar
Bloomberg