The Trump administration will next week talk to Australia on stepping up efforts to counter China's grab for international sea lanes and its "pernicious meddling" in the small countries of the South Pacific.
The Pentagon's top Asia official, Randy Schriver, said that the US expected Beijing's armed forces to show "a little more assertiveness" in claiming ownership of the entire South China Sea, which includes the world's major commercial artery.
The US was weighing further measures to impose "costs" on China for militarising the artificial islands it built in the South China Sea, he told Fairfax Media in an interview in Washington. "I expect there will be more" costs he said, while declining to be any more specific.
Australian Foreign Affairs Minister Julie Bishop and Defence Minister Marise Payne are due to meet their US counterparts, Mike Pompeo and Jim Mattis, in California on July 23 and 24 for the annual AUSMIN consultations between the two nations.
The allies share serious concerns over China's relentless push to extend control over the South China Sea. Beijing has overridden the maritime claims of its neighbours and created new military bases on artificial islands, raising questions about the openness of the international waterways.
Even more grandly, "a geopolitical competition between free and repressive visions of world order is taking place in the Indo-Pacific," in the words of the US national security strategy.
The director of the Australian Strategic Policy Institute, Peter Jennings, last week predicted that China would pose its biggest challenge yet to the US Navy in the year ahead, testing Washinton's will by declaring an exclusion zone.
The US was caught "off guard" by China's campaign to exert influence over the island states of the South Pacific, said Mr Schriver, appointed as Assistant Secretary of Defence for East Asia and the Pacific in January.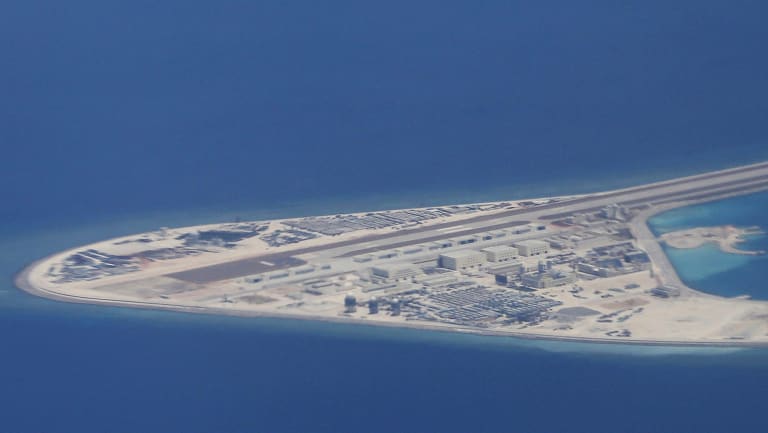 He said the US and Australia and other like-minded countries would discuss co-operating to give these countries an alternative to China's "predatory habits".
"In my discussions with counterparts there's a sentiment that we want to co-operate," he said.
It was important to give the governments of the region confidence and to help them build capacity, he said.
"We fundamentally approach economic relationships and capacity-building in a different way to the Chinese."
"It's not predatory, it's clean and transparent. But we've got to show up, we've got to do it."
The US and allies would seek the involvement of government agencies and the private sector to invest in Pacific states.
"You can't begrudge the Chinese for being smart in extending their influence over the Pacific island countries they see as vulnerable because of their size or their GDP, so they've been on a campaign that involves inducements, military assets, infrastructure" and other measures, Mr Schriver said.
He said that the US expected the Chinese military to continue efforts to impose Beijing's claim of sovereignty over the South China Sea, a claim that defies a ruling in the Permanent Court of Arbitration in The Hague in 2016.
"Associated with that, you will see a little more assertiveness" by the Chinese armed forces on the seas, "more challenges, more shadowing" of other country's naval vessels, Mr Schriver said, "signalling that you are in Chinese territory."
"I think that's the trajectory", and the US would counter with a variety of measures, he said, including freedom of navigation operations by the US Navy to maintain access to international waters despite Chinese claims.
Australian participation is this effort would be up to Canberra, he said: "Australia needs to work through its comfort level. We have a shared interest in support for international law, for international norms." Mr Schiver said that "we want to see countries demonstrating" that they are not going to accept Beijing's unilateral claims.
In May, the Trump administration cancelled an invitation to the Chinese Communist Party to take part in a major naval exercise called RimPac  (for Rim of the Pacific). It was a reversal of the Obama administration's policy of inviting increased Chinese naval co-operation.
The move was in protest at China's militarisation of the Spratley Islands, the Trump administration said. Beijing installed batteries of anti-air and anti-ship missiles on some of the artificial islands, together with runways and reinforced concrete hangars.
Mr Schriver said: "At the time, we said it was a first cost. There could be future steps. I would expect there to be more." They would not necessarily be "right on point", he said, without elaborating.
The US and countries supporting a free and open Indo-Pacific needed to keep close attention on events in the region: "We have to be consistent – any slippage will be pocketed by China."
On US negotiations with North Korea over its nuclear weapons, Mr Schriver, asked whether the Kim regime was trustworthy, replied: "It remains to be seen. The history is not great but given the alternatives it's in our interests" to try.
Mr Schriver is a former navy intelligence officer, served as a top Asia policy official in the State Department under Colin Powell in the Bush administration, and worked as an attache in the US embassy in Beijing.
Harvard-educated, he most recently co-founded a consultancy, Armitage International, with Richard Armitage, a one-time deputy secretary of state and a well-known advocate for the Australian alliance.