As the shockwaves ripple from the federal government's decision to knock back the CK Group's $13 billion bid for local gas pipeline outfit APA, one Australian banker sees things in very black and white terms.
"State-owned Chinese companies will never buy anything material in Australia again," the banker told Fairfax Media.
The banker who has worked on multiple Chinese investment projects, and preferred to remain anonymous, tipped Chinese investment will keep knocking on the door in Australia but the days of aggressive Chinese state-owned acquisitions are in the past.
"There's no way they could buy in the current environment, at best they could take minority stakes. There have been no major state-owned deals since [Chinese firm] State Grid's Ausgrid takeover offer was rejected."
Hong Kong based CK Group was also knocked back from buying Ausgrid under the same Foreign Investment Review Board (FIRB) decision.
After CK Group was then granted permission to spend $7 billion buying energy infrastructure company DUET, many considered its Ausgrid rebuff to have been unfortunate and many pointed to the DUET deal as proof it could get APA over the line.
But it was not be so. Instead Treasurer Josh Frydenberg has all but refused permission as some policy makers have warned about growing Chinese control in industries such as infrastructure and agriculture.
The rejection of such a large offer has now raised the question of whether Australia's doors are still open to continued major Chinese investment or if the country is pushing back against increased Chinese influence in Australia and countries around the Pacific.
"There is a clear cautious attitude in Australia to Chinese investment in infrastructure," says Australian National University professor Peter Drysdale.
Officially Canberra skirted the issue of nationality with the decision saying the government was concerned about granting undue control of major energy infrastructure to a foreign-owned company.
If APA was acquired by CKI it would give the company control of more than two-thirds of Australia's gas pipeline network.
The timing was difficult to say the least coming in the same week Australia's Defence Minister Marise Payne travelled to Beijing to improve Sino-Australian relations.
From the outset of the bid, som observers believed CKI's bid presented a national security issue with Citi analysts calling the topic one of acute sensitivity.
While CKI is a publicly listed Hong Kong-based business, concerns over mainland Chinese interference has become a hot-button issue in Australia.
The last major buys?
Between 2014 and 2017, there was around $40.4 billion in Chinese investments from state-owned and private companies. The highest level of investment was seen in 2016, reaching $14.9 billion before falling to $8.9 billion in 2017.
These Chinese state-owned enterprises targeting Australian companies reached a peak when China's finance minister Lou Jiwei told former Australian Treasurer Joe Hockey he wanted to buy miner Rio Tinto and 15 per cent of Australia's top 200 listed companies.
In 2017, both Chinese government-owned State Grid and CKI bid for the NSW-based electricity infrastructure group Ausgrid, but both were rejected on the grounds of national security.  An Australian-led consortium won the bid.
However, soon after this rejection, CKI successfully bought West Australian gas pipeline company Duet for $7.3 billion.
The banker predicting the end of state business deals said the ability to acquire DUET demonstrated there were still  opportunities for private investment but in the current political environment the acquisition of major infrastructure without local or non-Chinese partners is likely over.
"There's plenty of private companies who bought into big businesses here, just look at Alinta and EnergyAustralia [which were bought by Hong Kong-listed companies Chow Tai Fook Enterprises (CTFE) and CLP]. It's not a big issue, it's not about who owns it but the concentration of ownership," the banker said.
Lowy Institute East Asia expert Richard McGregor agreed saying it was important not to conflate Hong Kong-based entities such as CTFE, CLP and CKI with Chinese-owned companies.
CKI holds gas pipelines around the country
, as well as the majority share of South Australia's only electricity distributor, SA Networks, and Victoria's largest electricity distributors, CitiPower and Powercor.
"So what is in it for the government to approve the APA bid in its current form? Nothing. The government can get them to wind back concentration and get concessions for a political win ahead of a federal election," the banker said.
Australian China Business Council chief executive Helen Sawczak said foreign investment, regardless of the source, is crucial to Australia.
"The reality is Australia is not a nation of savers, we need foreign investment in order to maintain our standard of living," Ms Sawczak told Fairfax Media. She said the perception of a flood of Chinese investment is overblown.
China changing tack
One analyst, who preferred to remain anonymous, said it was a numbers game for Chinese investors.
"They made so many approaches that a significant number would eventually be approved but over the last few years they have been forced to become more strategic in the way they carry out acquisitions," he said.
He said the $14.4 billion takeover offer made by US private equity firm for Australian oil and gas company Santos as a different approach to increase Chinese investment in energy and infrastructure assets.
In that deal Harbour partnered with Chinese firms ENN and Hony, which were already major shareholders in Santos, to complete a takeover which would give both companies greater exposure and control of Santos' assets.
While the deal was ultimately rejected by Santos, it demonstrated Chinese firms willingness to step away from the more common solo takeover approach to a different structure to get deals over the line. Santos declined to comment.
KPMG said in the last few years Chinese firms have recognised the need to change the structure of their investments in Australia.
"They are appreciating the benefits of partnering with Australian investors now," KPMG's China business partner Helen Zhi Dent told Fairfax Media.
"When they started investing in Australia they tried going it alone but in the last three years they've come to realise it is easier to partner up, we're seeing this in the healthcare and agricultural sector."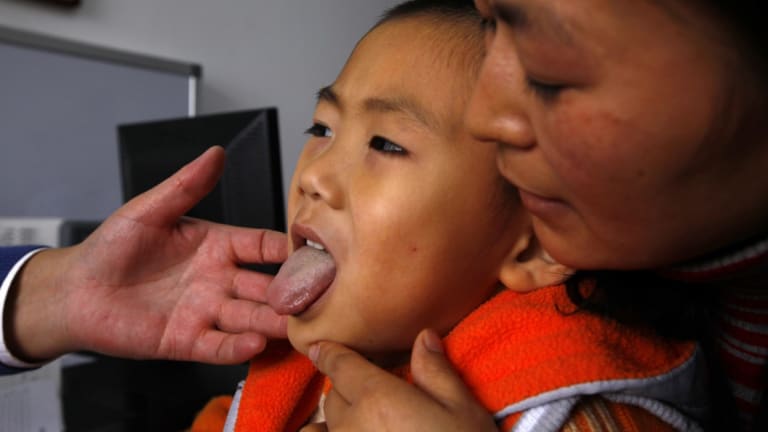 Queensland has seen much of this continued Chinese investment in its healthcare and education sector. State Premier Annastacia Palasczuk welcomed the increased Chinese presence, seeing it as an opportunity for Australia.
"[Chinese] President Xi's announcement about a willingness to invest in the training and education sectors is positive," Ms Palasczuk said.
"Chinese companies are particularly interested in Queensland childcare centre operators to train Chinese workers."
On the agricultural front, Chinese investors Shanghai CRED partnered with Australian mining mogul Gina Rinehart to buy the S.Kidman & Co. pastoral operations for $385.6 million in 2016.
Is Australia losing its shine?
The Chinese Investment in Australia Database (CIIAD), a combined development from PriceWaterhouseCoopers and the Australian National University, and KPMG data both show that investment may have already peaked and private and state-owned investors are becoming more wary of Australia.
This is due to a shift in Chinese investor perception. KPMG said these investors are becoming more apprehensive because of political instability in Australia
"Last year, less than a quarter of Chinese investors said they felt welcome in Australia, particularly state-owned companies," KPMG's Ms Zhi Dent said.
For APA it is business as usual until a final decision comes within fortnight. At the time of CKI's $11 a share proposal, APA was in the largest single capital spend program in its history. It had committed to around $1.2 billion for growth projects and launched a $500 million capital raising.
The company said it plans to continue down a path of organic growth if the deal were to collapse, with around $1 in its own war chest for acquisitions.
However, the continued upward movement of APA's share price on Friday showed a market that believed the company
While the APA's share price slumped nearly 11 per cent on Thursday, falling from Wednesday's closing of price of $9.48 to $8.46, by the end of trade on Friday it had regained more than half of this lost value, rising more than 4 per cent to $8.92.
By Cole Latimer
SMH